With Cinco de Mayo right around the corner, now felt like a good moment to shout out some of our favorite places for paletas (when spring brings those balmy days) and pan dulce (for stormier times when you just want comforting cookies and bread). Of course, any time is the right time to celebrate Mexican food culture. Whenever it is a sweet craving strikes you, look to these panaderías and paleterías around Dallas.
Bakeries
---
Baker Maricsa Trejo makes miracles out of laminated dough, crackling cruffins, braided babkas, cakes, breads, and the list truly goes on. And her holiday menu game is siempre on-point, like the one she's lined up for Cinco de Mayo (more to share her culture, less to celebrate the holiday, per se). We're eyeing the elote tart, coconut tres leches cake, mole con pollo croissant, and margarita tart. While this isn't a tongs-and-tray panadería, the way Trejo bakes—for cultural holidays or just any day—is something to celebrate.
When the morning is cold and the world is not feeling quite awake, you want the gaiety of purple, blue, and yellow oilcloth on tables and the smell of freshly baked pastries wafting from a kitchen that feels as though it's been humming since long before you were awake. Vera's is the right place—humble, family-run, perfect. If the brightly colored cookies don't brighten your day, the pineapple jam stuffed into crimped pastries and spread between fluffy scone-like cookies infallibly will. And the pan dulce is very good with milk.
This is another one of those come for the tacos, stay for the pan dulce places. Yes, they make a quintessential breakfast taco—handmade flour tortilla cradling scrambled eggs and machacado. But believe us when we say the breakfast pastries, like the conchas and churros, keep customers lining up out the door.
On a corner of Davis Street and Clinton Avenue in Oak Cliff, a stone's throw from the Kessler Theater, Manuel Tellez's Maroches Bakery sells the most decadent pan de muerto in Dallas—the sweet, orange blossom-scented bread that's as symbolic as orange marigolds or painted sugar skulls for the Mexican Day of the Dead. Of course, outside of the holiday you'll often find milk-drenched tres leches cake, feather-light conchas, and chocoflan.
At the Dallas Farmers market, let yourself be drawn to the rainbow hues of these vegan rainbow conchas, which peek from their packages on the stand of this family-owned, plant-based Mexican food micro-company whose claim to fame is its corn husk-swaddled tamales. The soft sweet breads' crumbly cookie tops function as mood rings. We love to be surprised by the whimsical inspiration that leads to pink-purple-blue swirls on the market's Watermelon Day or orange and green around pumpkin time.
Vegans, vegetarians, and omnivores alike all flock to this Pleasant Grove gem where soy protein tacos do an impressive impersonation of real-deal al pastor, carnitas, or carne guisada. But do not sleep on the classic pan dulce, like marranito (little pig-shaped molasses cookies), concha, and pecan-studded semita.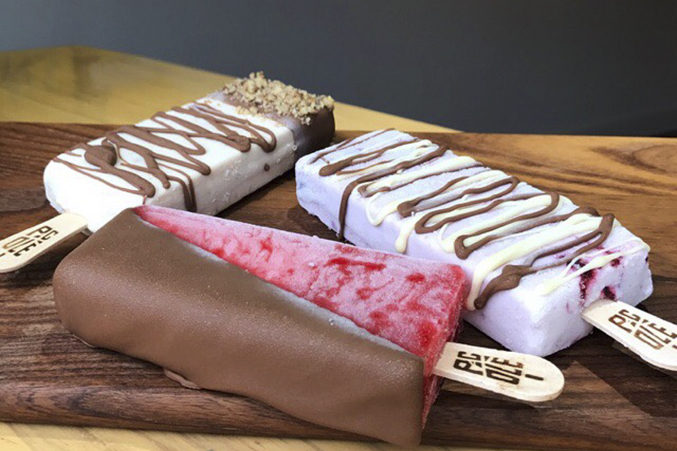 Paleta Shops
---
This paletería and frutería is a dessert wonderland, with chocolate-dipped bananas, sweet chile-spiced gomiloco (gummies) that are made in house, and of course a trove of paletas—if it's available, get the one chock-full of fruity pebbles.
This Bishop Arts and Deep Ellum Brazilian paleta spot offers three types of paletas (fruity, creamy, filled). You'll find fruity flavors like kiwi, guava, and vampy-purple acaí. Encrust the strawberry-cheesecake paleta with dark chocolate and coconut flakes. Or the incredibly creamy Nutella-filled banana with pistachios. When in doubt, ask for a fruity flavor to be dipped in tajin or chamoy for savory-spicy zing. Flavors change seasonally and, for the adults, there are alcohol-infused options: coconut rum, strawberry daiquiri, mango margarita, to name a few.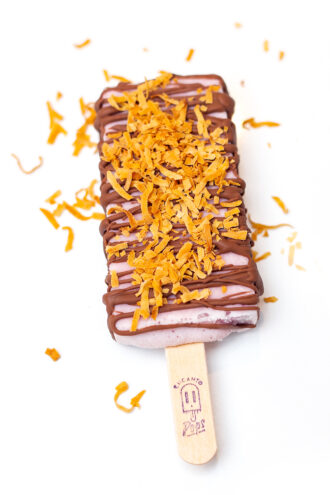 As is typical of Mexican paletas, many of the popsicles at the new paleteria a few doors down from Davis Street Espresso in Oak Cliff, hold big, beautiful chunks of fruit. The small, sibling-run shop is a paleta wonderland. The mango paleta is drizzled with house-made chile chamoy sauce in playful, free-form squiggles. The guava-soursop has the tiny bits of grit you find in the pink-fleshed fruit. The banana tastes like sweet roasted banana with a touch of yogurt.
Inside Paleteria San Marcos, you'll find colorful menus announcing the presence of snacks like bags of chicharrones and over-stuffed tortas. But the freezers are full of frozen treats that come in harder-to-find tropical flavors we crave, like mamey sapote and nance; the requisite mango, cantaloupe, tamarind, pineapple, or watermelon with chile; and a monster concoction of mango helado doused in a bright avalanche of chile lime sauce that could double as a fiery fudge sauce look-alike. We also love the small line of the ice pops called bolis in flavors like horchata and rompope (eggnog).
Watch out for push-cart and bicycle vendors rolling through the front door of this bustling helado shop. Grab a plastic basket and make your way through the frozen bins filled with cream- or fruit-and-water-based pops, such as rice and cinnamon, strawberry, and cucumber. (They're a steal at a dollar each.) But lest you require something with some oomph, find mangonada, fruit cups, ice cream by the scoop, and much more.
Okay, this one's outside of Dallas proper, but if you're in Plano it might be your go-to paleta shop. Ha' Paletería comes from Mario Cesar Ramirez, the same man who grew a mini taqueria empire out of La Paloma. In 2019, he opened Ha' Paletería that bears flavors both classic and lesser-known: avocado, mango with chamoy, Ferrero Roche, rice pudding, soursop, and guava, just to name a handful.
Get the SideDish Newsletter
Dallas' hottest dining news, recipes, and reviews served up fresh to your inbox each week.