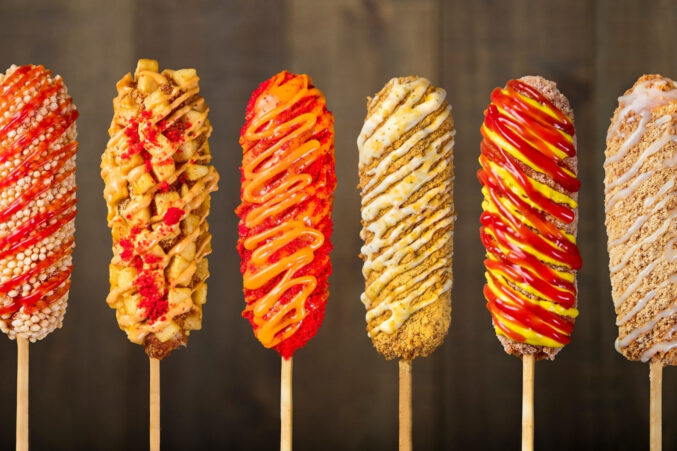 News Bites: Korean Corn Dogs in Grand Prairie and Mochi Doughnuts at Mitsuwa
SideDish's weekly digest of need-to-know dining happenings in Dallas.
Welcome to SideDish's weekly dispatch of need-to-know News Bites, from quiet closures to opening updates and everything in between, including coronavirus-related intel.
Let the Good Times (Donut) Roll
Mitsuwa Marketplace in Plano has a new doughnut shop inside its food court: Good Times Donut softly opened recently and has been churning out its Japanese-style mochi doughnuts in flavors like matcha, black sesame, and fruity pebbles ever since. It took over the counter that formerly housed Matcha Love. Good Times Donut will open—officially, grandly—on April 1 with more flavors on deck.
Korean Corn Dogs Come to Grand Prairie
Asia Times Square's new food court is comprised of Bambu, Beard Papa's, Meccha Matcha, Omakase To-Go, Sakari Ramen, and Aspara Thai and Cambodian, as I reported back in February. It's time for another addition. Two Hands Seoul Fresh Corn Dogs is now slinging its Korean style dogs on a stick. It opened on March 26, according to CultureMap Dallas. Some are shrouded in potato cubes, others are encased with crispy rice puffs; all are testaments to what you can put on a stick.
Ellenos Yogurt Pops Up at the Dallas Farmers Market
The Seattle company that grew from its Greek yogurt counter at Pike Place Market to grocery shelves nationwide has, for the first time in its history, parked its cart at a market in a different city. Ellenos Yogurt began scooping lemon curd, passion fruit, and plain ol' Greek yogurt for shoppers at the Dallas Farmers Market last weekend. It should stick around for the season. No word yet if it's plotting a Dallas expansion (after all, you can still get the goods at Central Market and Whole Foods).
Fiction Coffee Opens a New Location in Deep Ellum
The historic Continental Gin Building, which was recently home to artist studios, is now a co-working office space by Common Desk, and it has something better than a communal Keurig machine—okay, much much better. Fiction Coffee is now open among lots of seating, industrial-cool decor, and shelves styled with vintage books and knick-knacks. It has its usual menu of coffee drinks, with one made especially for location: the CGB (chilled ginger brew) which shares its initials with the former cotton manufacturing factory. Other than drinks of the caffeinated persuasion, Fiction Coffee also has, for the first time, a menu of cocktails.
Foxtrot Market's Local Contest Has a Winner
If you recall from an erstwhile News Bites post, Foxtrot Market launched its Up & Comers contest in which Dallas brands competed for a spot on Foxtrot's shelves and $8,000 to be used toward marketing the brand's products. Drum roll please… Momo Shack Dumplings is the victor. Now you can find momos (those plump Nepalese style dumplings) in veggie, chicken, and pork flavors at Foxtrot Market and online. The more Momo Shack spicy-garlic dumpling dipping sauce in the world, the better.