Sometimes you want a salmon bagel. The perfect rich and buttery fish, the perfect sultry smoke or cure, the perfect caper and cream cheese marriage. Such was I a few weeks ago.
I cheerfully quested for stacks with ripe tomato. I judged maltiness and chew and layering and heft. And I can say we're in a very good place. A flock of mostly newcomers assert there are lox of ways to do it. (Sorry, I couldn't resist.) These sandwiches hover around the $9 to $12 range. Here's a look at what I consider the new-school best.
A smoked salmon bagel reconnaissance mission at the modern art–tiled Commissary downtown will yield a chubby bagel wrapped in a parchment sheet and dropped into a paper sack with a proper thwack. It's a layered affair with tomato, arugula, house-made dill-caper schmear—sandwiched between bagel halves that are chewy, New York style—that's best as a morning ritual with a cortado.
Behold the minimalist work of art! This specimen wins in my book for picture-worthiness, if what you're eyeing is the pristine, clean lines of a Nordic aesthetic. It is, unabashedly, an open-faced tartine that looks like it should just catch the pale, first morning light and perhaps be set on a marble counter to catch that morning glow. Two slices of toasted local bread hold up the still life: beautiful folds of silky Norwegian salmon with pert pickled onion slivers, blushing pale to match the salmon hues, and a few capers sprinkled over a luxurious schmear of plain cream cheese. It's blissfully simple, but a satisfying gestalt. (The salmon is also particularly soft and silky.) I should say that I order it with a side of the crumbled mushroom-walnut faux "sausage," because it's delicious and because I can. And because it's Tribal, they'll coddle your salmon in a grain-free wrap with avocado, mixed greens, cucumber, tomato, and herbed tahini sauce, as an alternative option.
Jessica and Seth Brammer set out "to do things the simple way and the regular way," Seth will tell you. Sort of. The do-it-yourself approach applies to both their wares and how they incubated: They began as a cottage business based on online ordering of hand-shaped bagels made from all locally milled heirloom flour with an overnight ferment. (They now work out of a commercial kitchen.) Also, take the shmears in an assortment like fresh strawberry, or scallion and hard-cooked egg, or tangy, lush roasted tomato and caper. None of this is ordinary, though the model is straightforward—order bagels, order spreads, assemble yourself.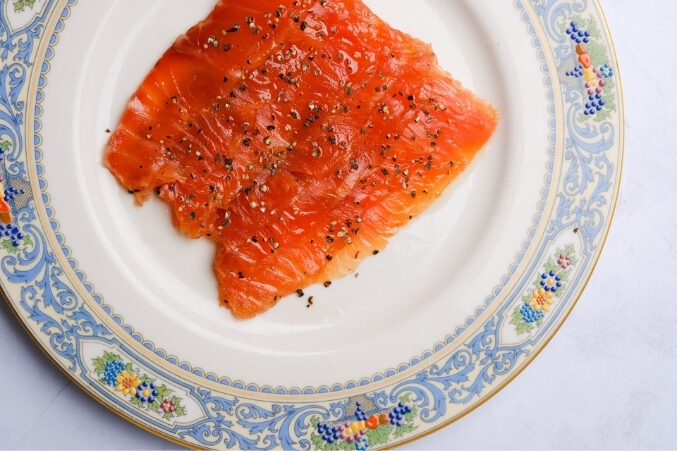 Two things await salmon lovers. There's honey-peppercorn smoked salmon and house-candied jalapeño cream cheese with nuggets of each—yep, smoky, sweet, with flavors as big as Texas. Or there's the cream cheese with finely chopped gravlax (unsmoked salt, sugar, dill-cured salmon) whipped in with capers, plus lemon and dill in fey, freckled flecks.
They bring in and cure whole salmon, so you can also buy the house Scottish salmon gravlax or honey-peppercorn smoked salmon plain. For the latter, Seth actually smokes the honey first; the whole salmon is cured with peppercorn as the only spice. Get it in four-ounce sous-vide packages and fold it onto bagels yourself. It blew his mind, Seth says, that the gravlax was the more popular. Choose for yourself. Or snag a sandwich kit with tomato, onion, and little cornichon gherkins to match with a pebbly everything bagel. Look for more regular residency pop-ups in the near future.
Sometimes you want something mammoth. Something like the sheer exuberance of the pastrami-cured salmon creation at Shug's. The new deli in University Park is co-helmed by an SMU alum, Justin Shugrue, in the shadow of whose alma mater the shop rests. He and his co-owners are responsible for the behemoth for which you have three options: classic lox, lemon- and beet-cured gravlax, and pastrami-brined.
Try this mix-and-match: I order mine on a flagel (a flattened bagel) for a vehicle crammed and overflowing with the fairly innocent scallion cream cheese and pastrami spice–cured salmon on a sunflower seed–studded disk whose toasted, crispy edges are key. They add crunch and dark color to a light exterior that already has a raft of texture and aroma.
Capers spill from a tower of shredded lettuce and ripe tomato. For sheer delight, this wins. There is something to be said for excess. This bagel will set you back $15, but it's an argument for hedonism and pure maximalist bliss.
It's no surprise that the gravlax at this Far North Dallas kosher breakfast-lunch deli is spot-on. Co-owner Stacey Clark hails from Brooklyn—as, it should be said, does the bagel dough—and business partner Jordona Kohn worked in restaurants in Israel and New York. "We get our bagel dough from Brooklyn, because there's no other way," Kohn says, insinuating that fact's utter obviousness. "We shape, boil, and bake it. We boil it properly," she underscores, for that nice chew and pull. The rounds come in sesame seed or everything or poppy seeds clustered so thick it's like midnight.
Regulars know the East Coaster—or "the classic Jewish," Kohn quips—is one of these bagels spread with schmear, lettuce, tomato, onions, capers, and the three-day house-cured gravlax. Yes, the Market A.M. sandwich is good, too, with its pesto, sweet onion marmalade, scrambled eggs, cheddar, sriracha mayo, and homestyle potatoes wedged between malty circles. I won't quibble. But only to munch between that iconic classic. You can read more about Kohn's remarkable challah and dips here.
At Fount Board and Table, the salmon, from the West Coast small-batch purveyor Cambridge House, is rope hung and smoked over a mixture of both fallen wood from the nearby Santa Ynez Valley and spent chardonnay barrels from local wineries. (If it sounds like an idyll, consider that sylphs might be responsible for the salmon stack's dusting of fairy dill pollen.) I get it smeared with labneh rather than cream cheese for the extra tang. Or if you want to jump ship entirely, so to speak, they serve a bagel topped with salmon roe. Lenore's provides the bagels and the very "extra" accoutrements are sourced from local luxury goods purveyor Regalis.
Get the SideDish Newsletter
Dallas' hottest dining news, recipes, and reviews served up fresh to your inbox each week.