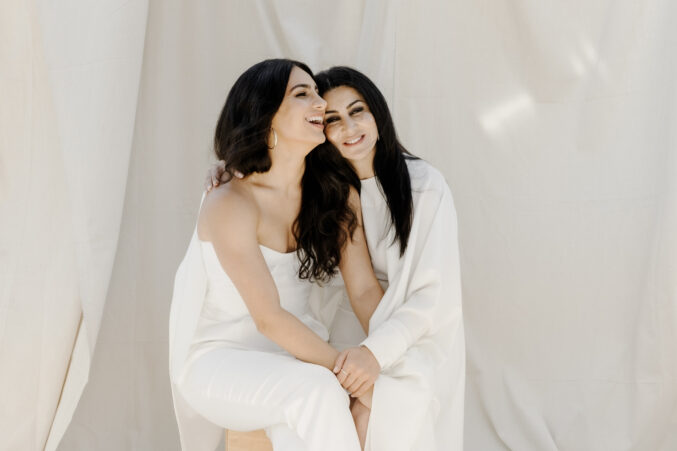 Dallas Restaurateurs Usher in Another COVID-Era Persian New Year With Hope
How Alex Kashanian of Giovanni's, as well as the family behind 8 Cloves, Laili, JuiceBabe, and Âme (slated to debut in the Bishop Arts District this spring), celebrate Nowruz.
Last year, I wrote, "It's spring," and mentioned that amid the then-brutally recent, abrupt shuttering of restaurant dining rooms in response to the pandemic that was sweeping the nation, the Persian New Year, Nowruz (also Norooz) fell on the spring equinox—March 20—as it does this year.
As a celebration of new beginnings, it feels very different now than it did last year. Vaccines are rolling out. Restaurants are inching back.
And perhaps most tangibly, restaurants and restaurateurs are able to celebrate. For some, the mark of a new year cannot be felt more vitally, preciously, poignantly.
Alex Kashanian and his wife will prepare the traditional haft-seen table, arrayed with seven different items that begin with the sound "s" or "seen" in Persian.
Last year, Kashanian, who has owned Giovanni's Mediterranean and Italian Cuisine since 2018, did not host the special Nowruz evening which this year will be held tomorrow, March 20, as a reservation-only event (to curb attendance and control spacing in deference and acknowledgment of COVID-19). This year, there will be feasting, music, and dancing, albeit more subdued.
The North Dallas restaurant has changed hands several times over its 33 years, but a series of Iranian owners turned it into a destination for Persian and Italian food, known for its kebabs and pillowy tandoori breads. It has been a spot for the Persian community to dance and observe birthdays and anniversaries.
And so Kashanian and his wife will deck the traditional haft-seen display, perhaps with tufts of sprouting grass ("sabzeh") or an egg to acknowledge new life.
"Everything starts from a seed or something," Kashanian says. "So we prepare the table. Their non-Iranian clientele "come and question," and his wife is adept at explaining the profound significance of the symbols. "We play music and we celebrate. That's how we celebrate Nowruz." Meanwhile, the feast will include celebratory dishes like sabzi polo, for which basmati rice is flurried with herbs (parsley, cilantro, dill) and anointed with saffron. And kuku sabzi, an iconic emerald-green frittata that marries the symbolism of eggs and herbs—life and fertility. And for dessert, Persian ice cream. The elaborate new year dish reshteh polo, a fragrant, saffron-laden pilaf confetti of rice and noodles decorated with dates and raisins won't be served at the restaurant (it's far too labor-intensive).
But the festivities and fragrances remind Kashanian of when he was a child in Iran and his aunt and uncle might give him a coin and the tale of Abu Nowruz, the mythical folkloric figure—like a Santa Claus for the new year, Kashanian says, laughing—abounded in his imagination.
"Last year was difficult because you couldn't be with people, with family," he says. "Last year, because of COVID, [on] March 16, we had to shut down the restaurant. Last year, we missed that. So this year it will be good."
Mother and daughter Afifa and Sabrina Nayeb are Afghani. Afifa hails from Kabul. Her restaurant Laili serves her modern, flavorful takes on Afghani food at the Dallas Farmers Market and she opened 8 Cloves nearby in the farmers market as a test kitchen outlet with flavors of India. The duo is also behind JuiceBabe, which likewise occupies a stall at the market with a Lower Greenville spot on the way. She and Sabrina are poised to open Âme in the Bishop Arts District this spring, any moment, bringing an upscale, modern Indian restaurant with new and traditional flavors that rests on French technique.
They remember last year. Many who observe the holiday in Dallas do. The holiday in which everyone airs their houses and dons new clothes and turns towards a hopeful future looked different. Afghan Unity DFW, helmed by Sabrina's uncle, usually organizes a picnic in a park with thousands of kebabs, music, and festivities. Halted mid month-long preparation, the event was canceled.
"Last year, we really didn't do anything," Sabrina says. "We all kept to ourselves. We were all consumed with the corona[virus] news."
The traditions lie dormant, yet close. Like the tradition of the seven fruits, haft mewa, a cocktail of dried raisins, apricots, plums, pistachios, walnuts, almonds, and hazelnuts that must be soaked and meticulously handled.
The opening of Âme coincides with this auspicious timing. "A new year, a new spring, a new restaurant."

Sabrina Nayeb
"I remember my grandmother gathering us all together, [and us] boiling the nuts, peeling the walnuts the almonds, putting them into containers," Sabrina says. It was only later that she captured the symbolism: "Oh, we're celebrating the new year, new beginnings." The anticipation, the swelling of a propitious, bright, rosy year encapsulated in the plumpness of the seven fruits.
The opening of Âme coincides with this auspicious timing. "A new year, a new spring, a new restaurant," says Sabrina. It's been a long-held dream, and for it to fall in this vernal time means even more.
Tomorrow night, for Nowruz, the family will gather in the deserted, half-finished restaurant. They will eat Afifa's haft mewa, even if, as Sabrina points out, the grandchildren will not have peeled the fruit together.
This new year dawns with solemnity and joy.