Giuliana Bernini seems like she was destined for coffee. In Costa Rica, her maternal great-great-grandparents owned coffee farms that covered mountainous swaths of the island. Her grandfather on her dad's side was born in Italy, another country that shares Costa Rica's fervent coffee culture, and emigrated to Costa Rica after World War II. He, too, farmed coffee. Bernini can't untangle herself from the Italian and Costa Rican roots that stretch far into her family's histories. "I was born and raised into a coffee family," says Bernini, so a little more than serendipitous that she found herself starting a coffee company with her brother and parents.
The Berni Bean Coffee Co.
quietly opened earlier this year in downtown at 400 North Saint Paul Street. Berni Bean is among a handful of
new cafe arrivals in the city
. It joins the ranks of newcomers
Xamán Cafe
in Oak Cliff and
Leche de Café
in Old East Dallas that likewise imbue the owners' cultural backgrounds, in those cases, Mexican and Caribbean, respectively. The fledgling downtown coffee shop may be new, yet its owners' history with coffee is anything but novice. "I've been drinking coffee since I was probably three," quips Bernini. "I would say it was more milk with coffee than coffee with milk, but it's just always been part of who I am." She grew up visiting her grandparents' coffee farm, which her dad now owns.
"I've been drinking coffee since I was probably three."

Giuliana Bernini
She left Costa Rica in 2015 to become a food scientist and nutritionist as a quality assurance manager at a New York–based alternative milk startup. But Bernini couldn't ignore coffee's strong pull. And the research she did showed Dallas was a great area of opportunity, particularly when office workers begin returning downtown. Berni Bean sources not only from the Bernini family's farm, but from other small farmers in Costa Rica who they have made fair trade deals with. "We're on a mission to support our Costa Rican community… During COVID Costa Rica had a really hard time," says Bernini. "[Costa Rica's] No. 1 source of income is tourism and it was hit so hard. Unemployment rates were incredibly high. [Forty] percent of the restaurants in the country shut down completely. I mean, there were riots." Bernini couldn't stand by without supporting her country in some way. So she and her family opened this little Costa Rican coffee shop "to promote reasons to show the beauty Costa Rica has to offer." Their rainforest-themed cafe is a nod to the fact that they donate "a percentage of every purchase people make with us to the rainforest," she says.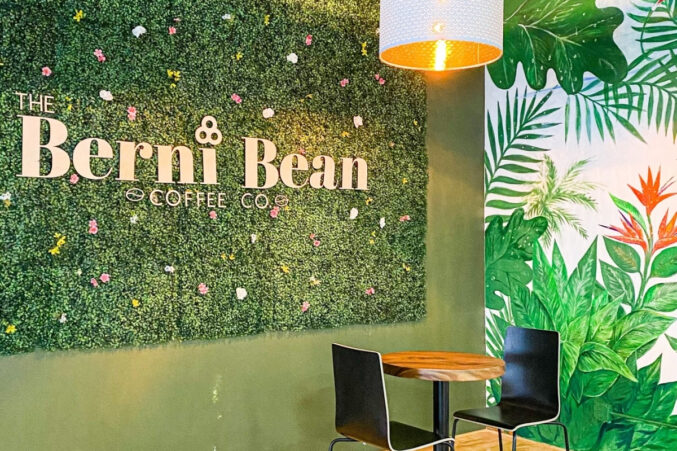 Bernini imports coffee from Costa Rica but works with Austin-based
Greater Goods Coffee Co.
to roast their beans. Don Flor, named for her great-great-grandfather Florentino Castro, is a nutty, chocolately dark roast. Pepiada is fruity and balanced with dark cherry and mandarin notes. Berni Bean's espresso blend has a distinctly Italian roast profile per Bernini's specifications. This summer, they plan to release a Catuai coffee, which is a particular plant variety that produces yellow coffee cherries (rather than the usual bright red ones), making for a sweet, caramel, and tropical cup of joe. Berni Bean has the usual coffee suspects: americano, cappuccino, pour-over via Chemex. Alongside cafe con leche made with steamed and sweetened condensed milk, there's also a lineup of fun lattes. One mixes espresso and milk with mango and coconut syrup. An Italian-inspired latte features nutty notes of amaretto and nocciola (hazelnut), plus pistachio crumbles on top. There's tea and nitro cold brew, too. Eventually, they'd like to do wholesale distribution. Bernini doesn't run Berni Bean like most Instagram-worthy, light-filled cafes where you can order avocado toast and cold brew—
though it is certainly that
. She employs her exacting scientist brain to captain a tight ship. One might usually pace themselves when opening an entirely new business, but not Bernini. The shop is open. Online sales are live. You can find Berni Bean on Amazon. She hopes that Berni Bean will soon populate the shelves of major grocers. She has already plotted a five-shop expansion into five major cities in five years. Locations aren't set yet, but places in consideration include somewhere in Colorado for sure, maybe Denver or Breckinridge. Also on the list are Portland or Seattle, Phoenix, L.A., and Austin. It's not by accident that all of these cities are big on coffee. All of this is ambitious. "I'm a dreamer," says Bernini, who also envisions Berni Bean as a gathering hub. There's what Bernini dubbed the Rain Stage, where people can host open mic nights. "We want to build a community together," she says, "Not only just bring the coffee, but we want people to be part of a movement."