Romance is on the menu—okay,  as well as lobster tail and French macarons, if you want. We've skipped the barbecue this year. Don't get me wrong, they're great if cleaning the meat off a rack of ribs is your love language. But we've rounded up some fancier ways to spend your Valentine's Day. Without further ado, here are some meaningful ways to celebrate love this year from the comfort of home.
Let the Pros Take Care of Dinner
Order. Pick up. Light some candles. Eat directly from takeout box (no judgment). Done.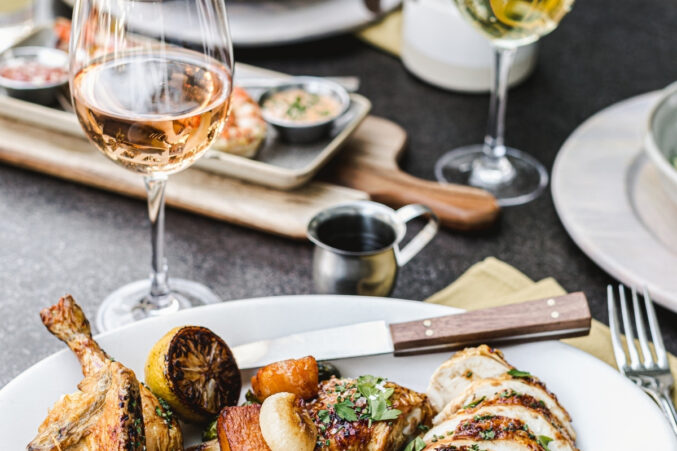 Find a prix fixe menu brimming with various options: lobster and butternut squash soup or brussels sprout caesar to start; braised short rib with bourbon caramel; sea bass with a white bean ragù; chocolate Basque cheesecake with cherry compote. See the full menu of options here. Add on a wine pairing ($30–$40) or a cocktail kit ($48, makes six drinks). $65 per person
You'll find entrees like ricotta gnocchi, Nantucket scallops, and braised short ribs are among this Oak Cliff restaurant's three-course Valentine's dinner. It's available on February 12 and 13 from 5 to 10 p.m. On Valentine's Day, expect a smaller set menu. Call 469-620-3644 to reserve. $75 per person
Al Biernat's
Premium Osetra caviar package, chateaubriand, Kona coffee–crusted filet mignon, Australian lobster tail—decadence is the theme of this Valentine's Day feast. For dessert, there's red velvet cheesecake and chocolate-covered strawberries—two perennial V-Day offerings—or Al's Famous Coconut Pie. Call your nearest Al Biernat's to place your order for hot meals at least 24 hours in advance. A la carte
Choose from three- or four-course menus comprised of lamb tenderloin and quail, seared cod with cauliflower puree, flourless chocolate cake, and more. $83 ($96 for four courses which includes complimentary bottle of bubbles), 15 percent of sales go to the North Texas Food Bank
In an ode to Bird Cafe, which is the Fort Worth beer haven's now-closed sibling restaurant, Valentine's Day means throwback dishes the cafe served once upon a time. That means ribeye with chimichurri sauce and Yukon gold potato hash, bone-in pork chop with sweet potato gratin, grits, and a good ol' iceberg wedge salad with bleu cheese. There's house-made chocolate mousse for dessert, or get the Valentine's Day beer and chocolate pairing: four chocolates mated with four craft brews. Check out all of the love "Bird" specials online. A la carte
A three-course meal includes options like lobster bisque, hamachi crudo, au poivre filet mignon, and molten lava cake or raspberry mille feuille for dessert. $75
Dinner for two has a choice of espresso and cocoa–rubbed wagyu sirloin, meta-crustacean crab-stuffed lobster tail, and more. For dessert, a heart-shaped crème brûlée and a chocolate truffle six-pack. Preorder by February 13. $126–$136, not including add-ons
Chef Stephan Pyles is again lending his fine-dining skills to the local pizza chainlet. The first course entails butternut squash soup with lobster dumplings, then on to a main entree of either coriander-cured beef tenderloin or oven-roasted salmon. Finish things off with butterscotch pudding with salted caramel. This menu is available now through February 20. $45–$55 per person
Romance Your Valentine With a Home-Cooked Meal
That "kiss the cook" apron is going to come in very handy.
Take home a Couples Cooking Kit that includes Jasper's famous prime ribeye with herby compound butter and red wine sauce, jumbo shrimp, rosemary-kissed fingerling potatoes, and cheesecake. Read the full menu online. Order here. $100, serves two
Haywire's Valentine's Day Couples Kit is ready to heat. So it's more home-reheated than home-cooked, which means less kitchen fuss. The kit includes a charcuterie and cheese board, two 8-ounce filets, loaded mashed potatoes, grilled asparagus, cornbread, a slice of four-layer red velvet cake and a custom candle—ooh, set the mood. Call 972-781-9473 or email [email protected] to order. $100 (Add bourbon or wine pairing for $50)
Celebrate San Valentino Italian style by grabbing dinner for two from the Pasta Counter. Bring home fresh pasta, black truffle butter, and 18-month aged parmigiano reggiano. Pick up Italian wine—make it prosecco—and chocolates, too. On February, it's caviar day at the marketplace, which means 30 percent off Italian sturgeon caviar and instantly upgrading dinner. A la carte
Dessert Is Served
Make dinner but outsource the dessert. (Or just eat dessert as dinner, there aren't any rules any more!)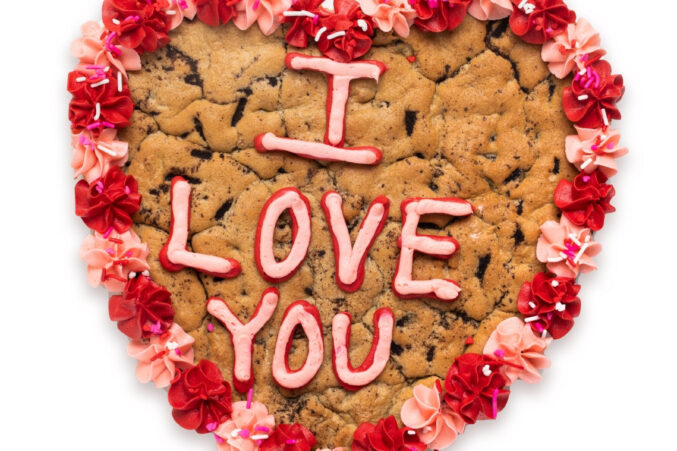 Clutch move: Getting a Valentine's Day cookie sampler from this bakeshop takes the pressure off making dessert. But if you want to make a grander cookie gesture, order a nine- or 14-inch cookie cake (chocolate chip, cookies and cream, or M&M). Peep the Cookie Society website for more February specials. Preorder now and pick up between February 12 and 14.
Yasmeen Tadia's Sweet Boutique is returning to Galleria Dallas for an encore after its popular holiday pop-up. The three-, 10-, and 21-course dessert omakase tastings are back, with the addition of a 24-course Valentine's (and Galentine's) Day option. Perhaps the literal shiniest new offering at the confectionary, though, is a $75 cotton candy treat made with real gold. Hey, go big or go home, right?
Chef Golda Sumpon left the IT world after two decades in the field to study culinary arts. She's been putting her pastry artistry to work crafting specialty sweets—like heart-shaped macarons, hint hint, wink wink—ever since.
Executive pastry chef Ariana Quant has curated a Valentine's Day Sweet Box filled with a collection of treats: dark chocolate nougat with almonds, candied orange, lemongrass, makrut lime; strawberry-rose pâté de fruit; yuzu caramels; chocolate truffle with five spice ganache; gianduja milk chocolate bar; and candied habanero popcorn with white chocolate. (This isn't dessert, unless you're a savory dessert person, but inquire about Uchi's curbside caviar box ($120) to crank up the luxury this holiday.) Preorder your Sweet Box by February 11 while supplies last, 214-855-5454. $70
Heart-shaped chocolate bars loaded with goodies like peanut butter, candied peanuts and strawberry, salted caramel and vanilla bean Carmallow Hearts, heart cookies, and XOXO candy bars.
Get the SideDish Newsletter
Dallas' hottest dining news, recipes, and reviews served up fresh to your inbox each week.