The Dallas Filipino Food Festival will return this year. Like so many events, though, things will look differently. You might remember the long lines that snaked throughout Four Corners Brewing Co. at last March's inaugural festival, right before the shutdown. It was a packed event—probably the last big gathering people—myself included—attended before the pandemic quieted cities all over the world.
This year, the Dallas Filipino Food Festival is going virtual, with takeout, pop-up collabs, and Zoom cooking classes from March 5–7. Tickets drop today at 3 p.m. (and throughout the weekend, so most definitely turn on your notifications for DFFF on Instagram).
While we won't feel the buzzy energy that often accompanies food festivals—trying bites of everything, talking to strangers about where the best drinks are, the rush of scoring a table to store your delicious loot—I see a major upside. You're guaranteed the food you preorder. Last year, you camped out in a line and prayed food didn't run out before you reached the front. You were grateful for the lumpia and ube rice krispy treats, and filled up on El Chingón IPA or honey-rye golden ale.
In this virtual format, organizer and Not Your Lola's pop-up chef Daniel Gerona says he's "looking forward to continuing the tradition."
"Not skipping a year [of the festival] amidst all the bad things," says Gerona, was important for continuously shining a light on Dallas' growing Filipino food scene. Not only is there an incredible Filipino community in North Texas, says Gerona, "the biggest thing for me was there were so many people—not only Filipino people—interested in Filipino food."
For Friday, March 5, Not Your Lola's will tag team with Marie's Kitchen on a fixed Filipino street food menu, the particulars of which are still being nailed down. The meal will serve two; pick up will be in North Dallas between 6 p.m. and 8 p.m. On Saturday, March 6, snag a brunch box of baked goods from Bahay, Marienda Monster, and The Pandesal Place. Find them at Union Coffee in Oak Lawn. Then Sunday, March 7, brings another brunch from Bahay. Pick up will be at the Weed Spot, from 11 a.m. to 2 p.m.
Gerona gives his fair warning: "A lot of people will be bummed because it'll sell out fast once orders are live."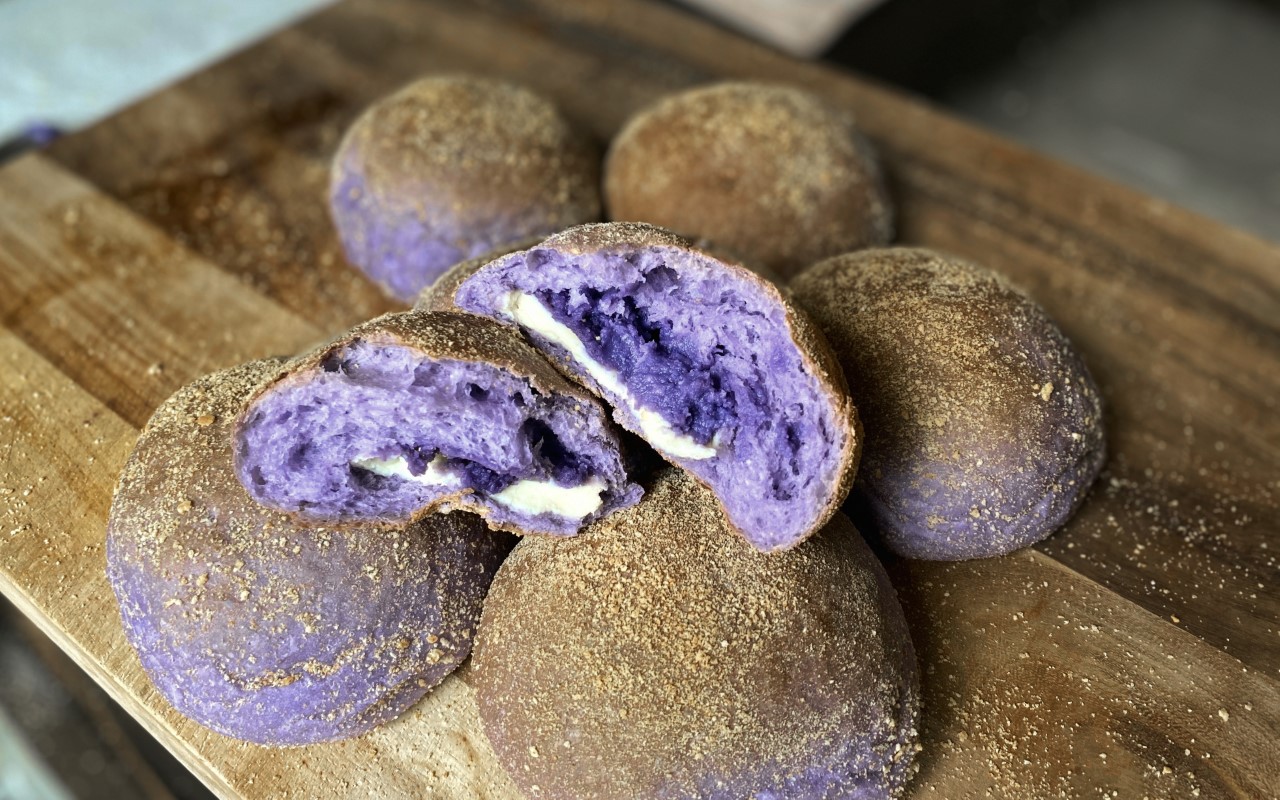 The weekend events culminate Sunday evening with a cooking class led virtually by Seattle chef Melissa Miranda, who graces the front cover of the current issue of Seattle Met magazine as well as the pages of this month's Bon Appetit. She's also a regular on BA's YouTube cooking series. Long before she was the well-known culinary superstar she is today, Miranda was on the pop-up grind just like Dallas' fledging bunch of Filipino chefs.
I'd followed Miranda's journey since those early days, so I rung her up. (This Seattleite couldn't resist this full circle moment. Last I saw her, I was eating at her Beacon Hill restaurant Musang days before it debuted, years in the making.)
"It's so crazy because I have family in Texas," Miranda tells me as she's simultaneously greeting people picking up takeout orders. The Seattle-Texas connection, apparently, is strong. She had also cooked alongside Dallas chefs like Joel Orsini at Chefsfeed Indie Week in Seattle.
For her Sunday cooking class, Miranda's sharing her humbà recipe, a braised pork belly dish that's currently on the Musang menu. "We decided on that dish because it's not very well known, and it's just a different flavor profile," she says, name-checking fermented black beans, soy, and vinegar, as some of the dishes' prominent flavors. The "super Cebuano" dish hails from the Visayas region in the Philippines, says Miranda. "I remember the first time I had it, I was with my friends in New York from Cebu," a province in the central Visayas region. As with most food, memory is often inextricably tied.
Miranda and Gerona wanted to make sure it's accessible for those cooking along. What's in season, or what kind of ingredients are available, are among the considerations when planning a cross-country class. Luckily, anyone from anywhere can attend. But there's still an attendance limit, so don't wait on securing your spot. Watch the Dallas Filipino Food Festival Instagram for updates and links when they go live.
Gerona says "the plan was always to invite celeb chefs to do a dinner," though he didn't initially envision a virtual situation. Next year, he's determined to go all-out with a huge in-person (!) dinner. I can't wait until that day.
Get the SideDish Newsletter
Dallas' hottest dining news, recipes, and reviews served up fresh to your inbox each week.