Sous chef at Petra and the Beast, Jessica Alonzo is the fermentation queen, and she's going out on her own with
Native Ferments
, which will allow her to venture solo into a whole new realm of virtual workshops and purchasable jarred goods. From her, you can learn how to make striated beet pickles or half sours you can throw into your sandwiches. Become versed in the craft of kimchi making that will up your dinner game. If that's all a bit too hands on, Native Ferments will also showcase jars of Alonzo's own pickles.
Her work as sous chef alongside Petra and the Beast chef-owner Misti Norris has—in following a no-waste and scrap-use mentality—had her delve into bread scrap aminos and egg white aminos, beet caramels, and black carrots she inoculated with koji spores and carbonized for two months until they smelled and tasted like a sour raisin. Anything in the service of umami.
Being a massive tinkerer, she breaks it all apart, ferments, and brings it back together. "I know when I create dishes, I want it to all come full circle and make sense," she says. So that might mean that in a life-cycle-of-the-carrot dish, "the tops, we dehydrated. Any scraps that I wasn't able to use [I put into] a vinegar. I candied the tops. I also salt-fermented the tops in a sunflower paste and then [made] a sunflower crumble. And I used a burnt-oat amazake. The garnish was sage flowers. But I'd also butter-poached the carrots in a bunch of the sage leaves from the garden. So it definitely has translated into me as a chef." She wants you to do the same. Or at least be able to, should you desire.
The curricular arc, with workshops and topics for all interests and levels, will cover basics (best salt for pickling and what vessels are best suited to various ferments). She'll go over everything from pickles all the way into koji—inoculating grains and applying it to various uses—and whole utilization to foster low-waste kitchens. Workshops might cover how to make an apple-scrap vinegar. How to preserve citrus and use it.
Recorded workshops will be followed by a live Q&A for queries—"How do I know if this vinegar is ready?" or "How can I use the crate's worth of delightful preserved lemons I just made?"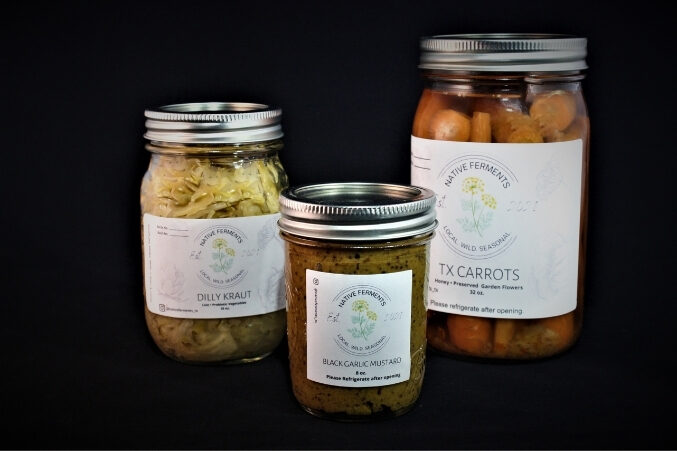 Alonzo's own jars will hold live probiotic vegetables or a favorite fennel and sunchoke kimchi, her homage to fermentation paragon The Cultured Pickle Shop in Berkeley where she staged. She has krauts, two types of mustard, jams, brined vegetables—a cache of seasonals. "Just pretty much whatever we can get from our farmers," she says.
She'll support farmers, who are open to sectioning off part of their farms for her. They'll have bios and photos on the website, and she'll be able to direct the curing-curious to them. "I just want people to appreciate farmers and their hard work. And preservation and eating seasonally—and be really excited about it," she says. She wanted to do something that would help farmers and spread knowledge.
She is working with
Jeff Bednar from Profounds Foods
to stock her goods and plans to look into the Dallas Farmers Market.
Fermentation has been in vogue. Chefs have long explored it to bring out umami flavors. What's most exciting for those of us who love its weird wonderfulness is that Alonzo, who has risen to the level of presenter in national festivals, workshops, and colloquia (including a
Women and Koji Making
conference last summer), makes it interestingly accessible to the average person.
Alonzo started at FT33, not having done any fermentation before, and worked the garde manger station, where she was responsible for the charcuterie board and different pickles. At that station, she applied to Texas produce the techniques she was learning.
"I became really fascinated with all of that. And building flavors that I'd never tasted before," she says. "He gave me a lot of freedom to do a lot of research," she says of Matt McCallister, with whom she later worked at Homewood.
She loved the way it all played into her creative, exploratory side. She loved that it meant always questing. It opened a Pandora's box and a drive for the flavors one can only derive from these methods.
She did a stage at the aforementioned Cultured Pickle Shop in Berkeley and a workshop in Hudson, New York. It's in Berkeley that she learned how to build a sake lees bed—a Japanese method of fermentation which uses sake lees, a byproduct of sake brewing, to bring out umami flavors. Everything then went through the lens of her own experimenting.
The landscape of her interests ranges from international preservation techniques (from Russian to Japanese) to international pickles, like Indian achaar—a spicy, pungent sundried condiment. She likes to apply them to Texas ingredients.
Among her projects has been the one that summoned and adapted an ancient Roman technique with an improvised dried green garlic root "basket" nestled inside a crock in which she fermented turnips, which gathered a hay-like aroma.
A nursing major initially, she enrolled in junior-level microbiology as a freshman at UT Arlington. Then she pursued a fine arts major with a concentration in photography. "But I think I found my happy place." Now, with cooking, she harnesses the scientific and the creative.
The Funky Details
Order through the
Native Ferments website
for delivery or pick-up at Petra and the Beast. Follow on
Instagram
. Or order soon at
Profound Foods
.
Also get excited: Follow Alonzo and Norris' sessions at
Kojicon 2021
, which will be virtual February 22–March 7.
Get the SideDish Newsletter
Dallas' hottest dining news, recipes, and reviews served up fresh to your inbox each week.