We've witnessed it all in the restaurant world in the last year: the suspended animation, the held breaths, the deliberate hibernations. Chefs have had to reinvent themselves, and then reinvent themselves again. But restaurants have been nimble.
East Dallas'
Petra and the Beast
and
Khao Noodle Shop
and their two James Beard–nominated chefs are developing new concepts at a similar time with more casual, approachable fare that works for delivery and takeout.
Misti Norris and Donny Sirisavath—who
shuttered Khao earlier this month
to recalibrate—have both weathered and adapted, and now they're shifting once again with passion projects which were actually a long time coming.
Petra and the Beast Debuts Rainbowcat
"It's all going to be noodles and [snacks], things that are really comforting and really good," says Misti Norris.
Call the experiment, well, experimental. Call her multi-faceted. (Everything that comes out of the kitchen and Norris' chef mind is.) These qualities certainly apply to her new concept, which will operate out of Petra and the Beast in lieu of its curbside à la carte menu, which was discontinued recently as the tasting menu evenings have moved indoors with extremely limited capacity.
Rainbowcat (styled by Norris with all caps) will be a labor of love. Given that Petra could not operate with its usual model, Norris decided to inaugurate a new venture.
It's influenced by many cuisines, but places an emphasis on comfort.
The new items will be offered for delivery and curbside pickup.
Norris doesn't want you to think that this means they'll be less thought-out, or sloppy. "Everything is still made in house, still the same philosophy, just more simplified," she says. "So the idea is that everything is really well executed, but more straightforward."
"But we're still gonna have fun with it, of course," she says. It's "just stuff we would want to see if we were ordering" for a late-night meal or a comforting snack.
The menu will focus on five or six noodle dishes and five or so bites.
It will include wide egg noodles tangled with curried eggplant. Hungarian dumplings with black-pepper ricotta and a soft egg. A chicken noodle soup that is reminiscent of the soup Norris' mother used to make for her. (You can even take home a liter of broth to make anything into a soup.)
Hand-pulled noodles will take center stage and have pride of place, "which I'm pretty excited about," Norris says. She's been practicing the noodles, which are kneaded for a long time, then rested before being pulled. "I'm super stoked about it." But the team is excited about leaning into various pasta-making methods in general.
For snacks, kasu-marinated chicken thighs will dally with dried pepper. (For the uninitiated, kasu is a paste-like ingredient that comes from lees leftover from sake production.) You can sit on your couch and order in the smoked boudin links that already have a cult-status following. The semi-iconic crispy pig tails will also be available for the taking, as will a farm carrot dish that uses all parts of the vegetable in powders and glazes. A white bean dip with a rumble of seeds and a house-fashioned lap cheong vinaigrette accented with the smoked Chinese-style sausage comes with chicharrones. Or how about dipping rice flour-battered pork rillettes into a soured vegetable and mustard emulsion. Sound complicated? They're not, really, she insists.
"It's something I've wanted to do for a long time," she says. "And this year has sort of forced it. So we're gonna give it a try." This notion she had imagined as a casual concept that would come after Petra.
And, yes, "I would love for it to become a brick and mortar"—eventually, Norris says.
It's meant to "not replace, but for the time being, fill the gap since Petra can't be its 100 percent right now and what it was built to be." Which is to say, a place for gathering.
The comforting delivery menu will include optional additions of housemade seasonal pickles and a family-style package, with a protein, noodles, pickles, and "all that good stuff."
As for the name, says Norris, "We were like, 'Rainbows and cats are awesome.'" It's the team's unicorn project—their wild rainbow cat. "The whole idea behind this concept is that there's no reason behind it. It's just stuff that we really like and that we find really delicious and like to make."
Rainbowcat will launch in approximately two weeks. The Petra tasting menu, charcuterie, and Take Home the Beast dinners will continue.
Khao Noodle Shop Becomes Khao Gang
Donny Sirisavath and the Khao Noodle team have turned Khao Noodle Shop into Khao Gang, a delivery and takeout-only operation that shifts from the noodle-centric original to shine a light on rice and soups. It will softly open next Wednesday.
"It's about the street food. It always has been," Sirisavath says. Now with another angle and in a differently defined way.
For Khao, he wanted to focus on noodles. Here he'll highlight rice. "Khao" means rice. "Gang" means stew, broth, soup, or curry. Sirisavath grew up eating gangs in addition to eggs or some kind of protein and rice. (This is why he was experimenting with a chilled Laotian honeysuckle soup in the summer—testing all things brothy.)
He's been planning the menu since November, but the idea was already in the works long before that. When he was in Flushing, Queens last year to cook for an event celebrating his 2019
Bon Appetit
win as one of the year's best new restaurants, he was already thinking ahead, knowing "we wanted to open a rice shop," Sirisavath says. "We were going to do it for 2022." Well, there's no time like the present when the future's not promised.
"We have a lot of curries that no one knows about. We have a lot of soups that no one knows about," he says of Laotian cuisine. Just like they have jeows (those intoxicating condiments) that too few knew about until they made them, marvelously.
There'll be nothing too off-the-beaten-path. People want comfort. Comfort and booze. They'll have some of that, too.
Items will include heftier entrées plus snacks: a tally of around five types of gangs, five bites, and a dessert.
He's thought outside the box again. And you see his signature purple color, his deft play with herbs, and his love affair with the smokiness of the grill (
tied to his childhood
) laced throughout.
Among the new dishes to look forward to, then: a yellow curry that's like a Thai curry, but more herbaceous, with makrut lime and galangal. Sweet and rich, it presents like Japanese curry with a fried cutlet on top and a mound of purple-tinted rice—like a mash-up of tonkatsu and battleship curry, epitomes of Japanese comfort food, with his own unique twists.
The curry is sultry gold with Yukon potatoes and white eggplant and carrots, drizzled with housemade chile oil. On top, tomatoes roasted in coconut oil bring the coconut theme full circle and add a little tang. Served atop a blend of purple and jasmine rice and topped with super-crispy, panko-coated and deep fried Alaskan pollock or chicken thigh. This will likely be a star.
So will the take on a spring roll, with vermicelli noodles on the outside, soaked in purple rice water. Granny Smith apple, carrot, cucumber, mint, perilla leaf, and lettuce delicately hold a chicken patty filling. They come with a dipping sauce of caramelized fish sauce, palm sugar, peanut, garlic, and shallots (for classic salty-sweet). The purple-tinted vermicelli threads form a soft nest that stays supple and texturally quite wonderful. (The idea came from a completely thinking-outside-the-box
aha!
moment.) They're springy, with fresh, tart, bright flavor. These will travel well and hit points people crave: a little creative, mostly deliciousness and comfort.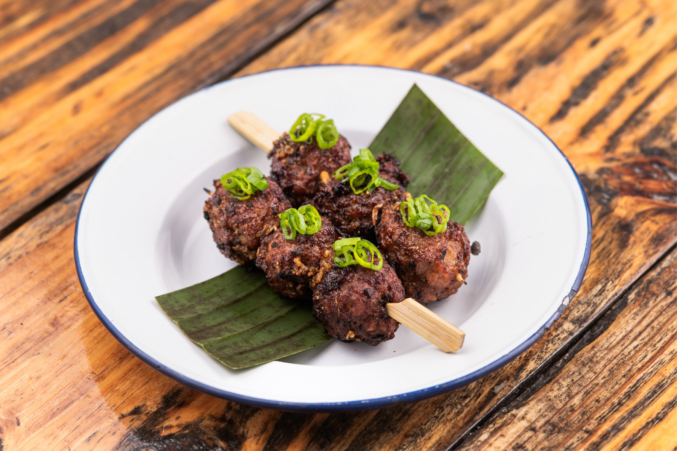 The richness of chicken thighs goes into grilled meatballs that are savory, funky, and a little chunky, with a grind of lemongrass, garlic, onion, and oyster sauce. Umami-rich, each bite is lacquered in an almost sticky-sweet soy-based marinade. They reminded him of the pounded skewers he ate on a trip to Bali last January.
And on the menu that will cut prep time and maximize inventory by not featuring quite so many proteins (before, they had beef, squid, shrimp, chicken, pork); chicken will be a marquee item, whether in soup or grilled bite.
But you'll also find a pork meatball soup. The name "jued" means bland—it's just simple and clear, with winter melon and rice that becomes creamy in a broth accented with dried shrimp and kissed with pork. In terms of comforting simplicity, it's the closest thing to rice porridge, he'd wager.
Khao Gang's concept brings together things Sirisavath has always been about. It was born of the idea of what street food can be. First the noodles; now the rice and gangs he grew up eating.
"This was always the idea," Sirisavath says. This small empire, but "not saturating the market with our stuff."
To get delivery going, he'll bring it outside the Khao "family" and work with third-party services like Favor, Postmates, and Uber Eats.
"If I can get five more people to order filling food," he says, well, that's a win.
Get the SideDish Newsletter
Dallas' hottest dining news, recipes, and reviews served up fresh to your inbox each week.