The declaration came several weeks ago that
Lucia would shutter in the spot where it had been for the past 10 years
and move to the former Macellaio locale a block away. The takeout model would tide it over in anticipation of a spring reopening. The relocation meant Macellaio would permanently end its run.
It's not a move they wanted to make but rather had to make. Like many others, David and Jennifer Uygur found things had changed drastically in the nine months since March's dining room closures, and it didn't make sense for them to renew their lease in December. (The Uygurs
applied for and received a Payment Protection Program loan
that helped them cover rent for a few months in the spring and pay employees who helped them make the shift to takeout.)
So it's not trivial that the emailed announcement sent earlier this week of the latest pickup-only menu of semolina gnocchi with braised short ribs and mushrooms and a comforting apple cake directs would-be guests to the new address: 287 N. Bishop Avenue. Which, of course, was previously home to sister restaurant Macellaio. (For now the to-go model is functioning like a pop-up in the adjacent
former Salaryman space
.) You can order dinner from Lucia
here
, or support with a nonredeemable gift card of $25, $50, or $100.
As thrilling as Lucia's next chapter is—and that it's continuing to survive, period—there is much to say about the original digs they turned into a quaint enclave.
Many of us remember the first meal we ate at Lucia.
Or perhaps it's better to say one of the many in the blur of the past 10 years, maybe at the four-seat bar or tucked into one of the 14 tables. A blur, we should note, of pleasure.
When they opened at 408 W. Eighth Street in suite 101 during the spring of 2010, David and Jennifer Uygur had never owned a restaurant, although David had worked in beloved ones in Dallas. And, indeed, Jennifer had never presided over the front of house or been a beverage director before, though she had managed a wine department.
Over the next decade, they would come to epitomize romantic, beautifully executed, Old World Italian food, welcoming a devoted fan base of regulars who reveled in the coziness of this small-scale bijou. In a tiny, quaint space that became a beloved, cherished spot, they also embodied effortless hospitality.
When they first saw the venue, it was a white box with a beautiful pressed tin ceiling "in a nice, older building with a nice big window," says David, in a Bishop Arts district that was just emerging and on the cusp of becoming vibrant.
Dude Sweet Chocolate had opened the year before, but between neighbors Hunky's, Eno's, Dirt flower shop and Hattie's, the Bishop Arts district was barely a block long.
The rest consisted of sleepy residential blocks.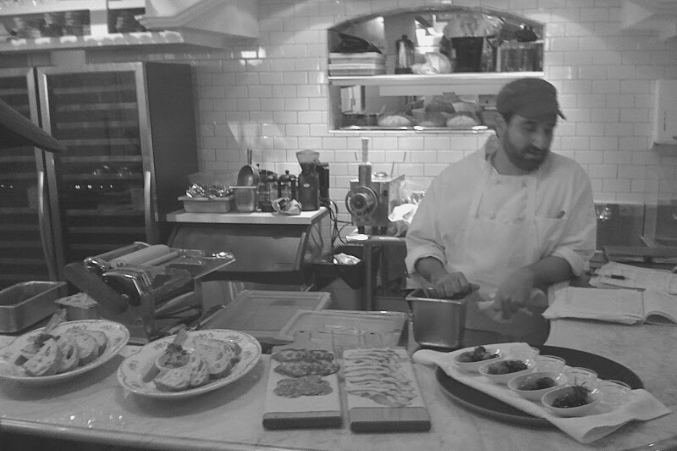 Over the years, the Uygurs made it into a space that gave the impression that you were entering their home. It was stuffed with cookbooks, prints, and posters, with intimate touches and the charm of hand-written tickets and a patio their landlord, David Spence of Good Space, allowed them to create on the sidewalk, using the patio furniture he loaned them for the first eight years. That cherished plein air setting began with two date-night size tables, initially, and expanded to three tables that could seat about eight. Jennifer hoped the sight would encourage guests to wander down a street and fall in love.
The space, of course, was the charm. It was an intimate dining room with 14 tables that reminded the Uygurs of some of the places they loved, wandering around back streets while traveling in Europe, only to find "comfy and cozy" trattorias that are "teeny tiny and nobody minds being squished," Jennifer says. The service was polished and relaxed, and the food was really good.
The goal in the beginning was to make it a little bit of a neighborhood-y restaurant, David says, but because of the size and the atmosphere, it became a romantic, slightly more upscale venue. Something that felt special. "I think the space is fun because it felt like you were somewhere else; it didn't feel restaurant-y," Jennifer says.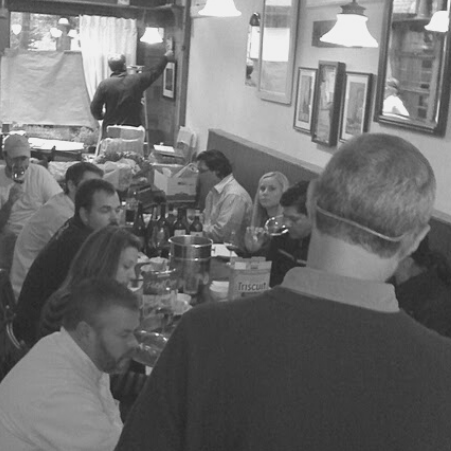 They had to figure out where they were going to ferment the bread; in what space they would make pasta; where they would cure salumi. Into that tiny space, they had to squeeze all the old crafts David mastered.
They have memories: The times they had to seek shelter from a rogue Texas thunderstorm and whisk guests from the patio—those tables on a sidewalk—into Katherine Clapner's Dude Sweet shop because there was literally nowhere else to put them.
The time someone from one of the residential apartments upstairs descended in a frazzled flurry, desperately seeking a printer or a scanner, reminding them they were in a mixed-use building—with its charms.
The many, many times David butchered whole pigs that were wheeled in through the front door, sometimes as often as once a month.
They just wanted to make a place where every piece of pasta was touched by a hand.
Many people, including fellow chefs, wondered what the trick was.
"I had a few moments—more than a few moments—when I would walk into the Lucia dining room in the past few months and get a little teary."

Jennifer Uygur
They remember "just how many people would be shocked when they walked in the door," says Jennifer. "And they would say, 'Is this it?'" clearly stunned. People would at times be irritated by the throw-back phone-in reservation system and how long it would take sometimes to get in. "We're not being coy," Jennifer would explain. There were just only so many seats. Often, she would see first-timers register shock and then amusement. And then they would sit down and enjoy their dinner.
At the new space, in the former Macellaio, you can expect some of the same Lucia. It's still a size that allows Jennifer to greet and chat with guests.
"I had a few moments—more than a few moments—when I would walk into the Lucia dining room in the past few months and get a little teary," Jennifer says. "But I think David and I are looking at the possibilities of things we would never have been able to do in our tiny little space at Lucia, as much as we love it." They'll have more room for curing salumi and expanding the bread program. David's walk-in curing locker at Macellaio is full of hanging salumi, rosy or ocher under a delicate and velvety snow-white bloom. And given the pandemic, they're talking about how to build a more permanent to-go operation.
"We still have our prints and our books, and those will come over and tuck into the space over here," Jennifer says. They'll tweak the décor, so it's a new take. They'll be hiring to augment their skeleton crew.
And for now, they're cooking the food we fell in love with 10 years ago.
Get the SideDish Newsletter
Dallas' hottest dining news, recipes, and reviews served up fresh to your inbox each week.