Acenette Gonzalez, who goes by "Ace," loves the smell of chocolate churning in a confectionery room. She has been in many. The aromas match the beauty of the objects, little bonbons, that she now sells under the name
Maravilla Cacao
.
Of Mexican descent, Gonzalez infuses her bite-size confections with the flavors of Latin America.
Gonzalez, who holds a degree from the Culinary Institute of America, began her chocolate work at The Joule, where she ran a chocolate program. She was also on the opening team at Uchi. "I learned so many flavors there," she says. Experimental, the team was "pushing it forward" in Texas, doing tiny pearls and other dessert tricks. She opened Top Knot with executive chef Angela Hernandez. "Angela was amazing with flavors," she says, nodding to another female chef who influenced her; and the staff played around with flavors like jackfruit, ginger, and yuzu. Gonzalez completed a stint at FT33 with Matt McCallister. Then with Kate Weiser she "fell in love with actually doing it"—the business of polishing molds and filling truffles with velvety, silky caramels and ganaches.
She'd tinkered with a variety of things while working at The Joule and embraced the challenges presented weekly and monthly for a perfume launch or a fashion show. If a perfume presented leather or tobacco, she'd go smoky, maybe whisky or bourbon in the luxurious filling. For scents with floral hints, she'd incorporate floriated lightness: "There's a lot of [raw] chocolates that naturally just taste floral."
But she dreamed of being an independent owner of a chocolate business, wanting to do the same thing, she says, but with her culture.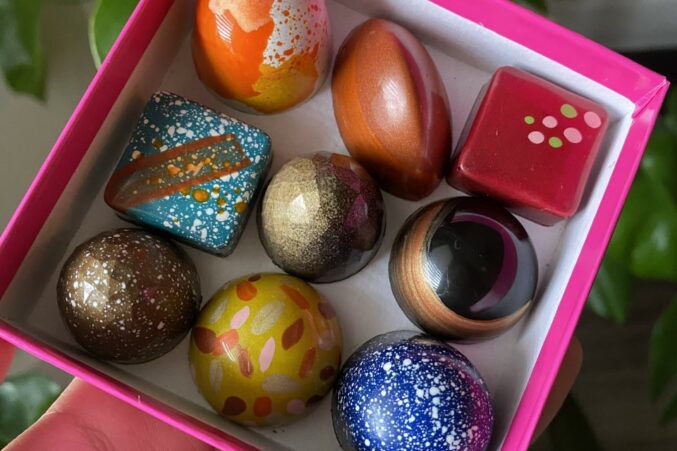 For Maravilla Cacao, she followed the lines of memory and certain borrowings, with Mexican flavors like those of cajeta and bread—evoking the snack of bolillos spread with cajeta that her mother would prepare that set the world right. Or her abuela's hot chocolate that now takes the form of a Mexican hot chocolate bonbon whose rich, velvety ganache is spiced with nutmeg, cinnamon, and ancho and pasilla chiles.
One dainty delight plays with yuzu and tequila. Another, tamale de fresa, conjures the holiday treat with a strawberry pâte de fruit and freeze-dried super-sweet corn powder that she makes into a ganache for delicate masa flavor and sweetness from white chocolate. It's superb.
She riffs on café de olla or arroz con leche—the wintry dessert for "whenever you do a party or a posada"—with a small confectionery jewel that marries cinnamon caramel, vanilla bean ganache, and the crackle of a crispy rice base. In her holiday collection, a bonbon flavored with coconut cream, coconut rum, and seasonal spices nods to the eggnog-like drink coquito, paying homage to a best friend who is Puerto Rican.
Her culinary institute classes inculcated a love of all things farm-to-table and seasonal. The question "What's going on right now in Texas?" animates her just as much as any technique. So, "right now, it's figs and persimmons," Gonzalez said to me last month. Hence the persimmon and dulce de leche bonbon and the purple-gold ombré fig and ginger—the warmth of the persimmon with the dulce de leche, delicious.
One of my favorites is the pumpkin and pepita. It exemplifies how she develops flavors which consists of pairing the familiar and the intriguingly novel: "one thing out there, one thing subtle," like mezcal and orange. To entice customers with what they know is her formula.
A one-person team, she'd love to sell in stores and develop custom chocolates for hotels and restaurants. She wants to expand into solid chocolate bars—"There are amazing molds out there! It gets you excited!"—like a horchata bar with a crispy rice base; a white chocolate bar; as well as vegan options, which people have requested.
"I really like marigolds. They go by 'maravillas,' too," she says of how she chose her business's name. "I like the word 'marvelous.'" (Maravilla means "marvel" in Spanish.) A bonbon is a marvel—hand-painted and presented to you.
She'll make these sweet mouthfuls, small splendors, Proustian madeleines of sorts that conjure memory. No matter what, says Gonzalez, "I want to include my heritage, my nature."
Get the SideDish Newsletter
Dallas' hottest dining news, recipes, and reviews served up fresh to your inbox each week.