With so much in flux this holiday season, there is no wrong way to make a new tradition or build upon old ones. Whatever you plan on eating, though, I hope it involves something delicious from small restaurants that are still eking it out through the end of this year. Let's be glad that 2020 is almost on its way out and eat a feast to celebrate its closure. To that end, find below some places to find a good meal for the holidays—be it for just two or the whole family.
Hanukkah
The Jewish community may be celebrating a little bit differently this year—virtual Zoom menorah lightings, mini latke-making parties of two. But if you're still looking for ways to make this year feel special, we talked to the pros about what they're doing this year (and, of course, where you can get chocolate babkas or silver glitter–kissed macarons).
Before Christmas
Bingham House
On Sunday, December 13, Bingham House will host breakfast with Santa from 9 until 11 a.m.; eat, pen a letter to the big man in red, sit in on storytime, and more. On December 17, get festive with a five-course, holiday-themed meals with wine pairings ($75 per person). Reservations here.
Sixty Vines
Now through the end of December, head to this vin stop for the Wine Country Drive-Thru: for $50 per person, Sixty Vines will give you a bottle of wine, charcuterie board, and dessert. This is the new virtual holiday party (do note, this requires a minimum of 20 drive-thru partiers per reservation). Call 214-814-8463 (or 469-620-8463 for Plano) to book.
Takeout & To-Go (and Some Dine-In)
Asian Mint
Go for a Thai holiday spread (takeout or dine-in) between December 15 and January 17. Asian Mint's holiday menu include khao soi, a rich coconut curry noodle dish with chicken, tamarind-glazed shrimp, curry crab fried rice, beef noodle soup, and more. Don't sleep on the matcha parfait.
Commons Club
Order slow-roasted pit ham, butternut squash bisque, candied yams, gingerbread cookies, and more (full menu here). Available Monday through Friday, except December 25 and 31. Email Commons Club at least 48 hours in advance.
Meddlesome Moth
Chef Suki Otsuki has crafted Christmas dinner to-go which includes choice of vegetarian lentil loaf or 44 Farms prime rib sous vide with stout gravy, winter salad, roasted root vegetable medley, duck fat mashed potatoes, green bean almandine, and cornbread casserole ($95-$125, feeds four); bourbon pecan pie is $25. Order by December 21 for December 23 pickup. Meddlesome Moth will be open on Christmas Eve and Day.
Up On Knox
The French bistro has secured Michelin-starred Bruno Davaillon for a holiday residency. That means the former Bullion executive chef will put his refined French flair on both Christmas and New Year's menus ($70 per person) this year. Call 469-250-4007 for reservations; it will be closed Christmas Day.
Georgie Butcher Shop
The meat market at Georgie by Curtis Stone will have to-go Christmas menu so you can leave the peppercorn-crusted Akaushi prime rib to the pros. See the full takeout menu here. Orders must be placed by Monday, December 21 by 6 p.m.; call 469-466-8373. Speaking on Georgie, the restaurant proper will have Christmas Lunch from 11 until 3, with a three-course prix fixe menu ($90 per adult, $50 for children under 12).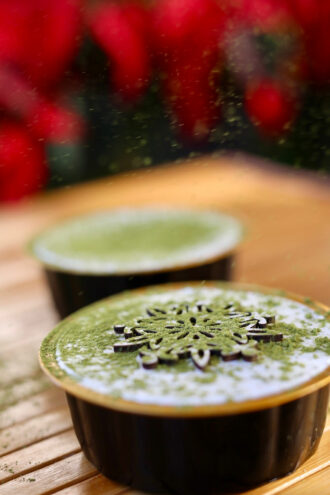 Fearing's Restaurant
On Christmas Eve from 4 p.m. to 10 p.m., dig into a three-course prix fixe menu consisting cognac lobster bisque, sea scallops on house made fettuccine, au pointe filet mignon, red currant glazed Lockhart quail, candy cane cheesecake with Oreo crust, and more. The cost is $150 for meat-eating adults, $85 for vegetarians, and $35 for children. Reservations are required and can be made on Open Table or by calling 214-922-4848. 
Le Bilboquet
Chef Momo Sow's Christmas menu will feature escargot, lobster risotto, and roasted chicken with black truffle ($95 per person). Call 469-730-2937 to book.
Truluck's
Feast on herb crusted beef tenderloin with yuzu truffle aioli, horseradish cream sauce, mashed potatoes, asparagus, parmesan yeast rolls and peppermint chocolate cake. Contact your nearest Truluck's to order.
DIVE Coastal Cuisine
Staying true to its health-conscious ethos, this Snider Plaza restaurant has a holiday feat that won't make you want to sink down into the living room couch for a nap. Delve into grass-fed tenderloin with shitake mushroom demi-glace, butternut squash curry with caramelized onions, rustic apple sausage, brussels sprout salad with spiced pecan–crusted goat cheese, and more. Or get a DIVE charcuterie board for major midday snacking ($75 for a small, $125 for a large). Preorder via email or phone by December 12
TJ's Seafood Market
I think 2020 calls for a new tradition of "decadent caviar holiday platters" (if it's not a part of your seasonal repertoire already). The local seafood market's menu is expansive, with beef tenderloin and classic mashed potatoes, if that's more your speed. Preorder by December 22.
The Ritz Carlton
For those wishing to stay home for the holidays, peep this take-home meal—Texas honey and brown sugar baked ham, truffle mashed potatoes, macaroni and cheese, bourbon maple glazed carrots, warm sticky toffee pudding—that feeds up to 10 people for $450. Order by noon on December 16; pick up December 23. To order contact Donna Bosworth at 214-922-4798 or [email protected]. 
Barbecue
Ten50 BBQ
This Richardson 'cue spot has the whole dang meal ready—with 72-hour notice—with a Holiday Pitmaster Package ($30 per person, 15 person minimum) that included glazed ham, smoke turkey breast, and traditional sides. Or go the a la carte route, which can save you in the dessert department with chocolate pie, key lime pie, fruit cobbler, and banana pudding. Email or call to order.
Seely's Mill
From the Beeman Hotel's new barbecue wing, get Christmas to-go: smoked ham, whole, pecan-smoked turkey, potato gratin, cast iron cornbread and more ($195). A portion of all proceeds will be donated to the North Texas Food Bank to help neighbors in need this holiday season. Inquire at 469-587-3739 for pickup details and/or order by email.
One 90 Smoked Meats
Don't lift a finger on Christmas, unless it's to unwrap something nice, like a whole smoked brisket that'll feed you for days. For something small, there's smoked chicken or prime rib.
Preorder online
or by phone, 214-346-3287.
Big Al's Smokehouse
Take home meals that can feed anywhere from four (the holiday dinner is $99) to 10 people (the family feast is $125). It include whole smoked turkey, cornbread dressing, smashed potatoes, rolls, and more. Or just order the main event: smoked turkey ($52), fried Cajun turkey ($65), spiral ham ($64). Placed your order by December 21 and pick up by 2 p.m. on Christmas Eve.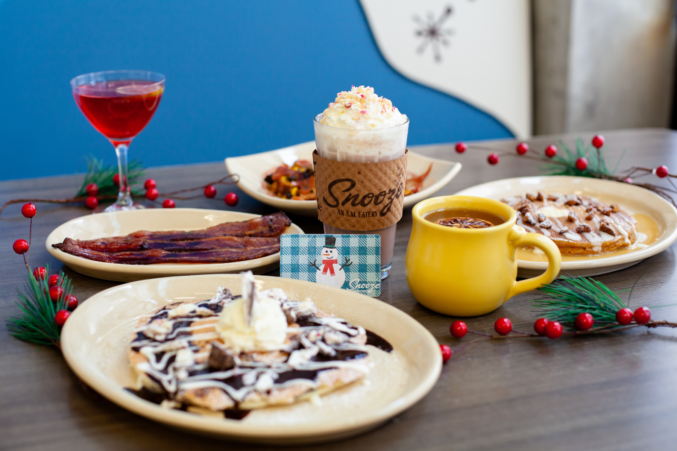 Breakfast & Brunch
Snooze
Order a Holiday Brunch Kit so you don't have to lift a whisk. Each kit includes holiday hot cocoa recipes (spiked and classic), greeting cards, choice of holiday harvest egg casserole ($55), cranberry French toast bake ($50) or Holiday Pancake Party Kit ($40) along with a curated jazz playlist to listen to while you enjoy your holiday brunch. Kits come with a spinach, arugula, and kale salad, fruit salad and a side of Snooze tender belly bacon. Available December 14–January 2; pick up next day.
sponsored
Holiday Brunch at Nine at The National
From 11 a.m. until 2 p.m. on December 19 and 20, and 26 and 27, enjoy a prix fixe holiday menu curated by Executive Chef Jeremie Robison, craft cocktails and an exclusive holiday a la carte menu to celebrate the season. Compli­mentary valet parking available. Reservations required. 205 N Akard Street, 9th Floor

Commons Club
Find a new winter menu crafted by Homewood chef Matt McCallister. Then on December 20, head to the Virgin Hotel for a Sleigh Queen Holiday Drag Brunch with an array of holiday performances. Meanwhile at The Pool Club, a woodland winter pop-up on the fourth floor will have holiday flicks, s'mores roasting, and festive cocktails.
Holiday Tea Time
We covered tea time in a whole post, go read it. Additionally Commons Club at the Virgin Hotel will have Holiday Upside Down Tea on December 12, 19, and 26. Every Saturday in December, enjoy a delightful holiday-themed tea-time with your own pot of boozy tea and a festive spread of sweet and savory bites. On December 20, head to Bingham House for a Tea Party.
Get the SideDish Newsletter
Dallas' hottest dining news, recipes, and reviews served up fresh to your inbox each week.