It's here at last: the end of 2020. Cue the fireworks, pop the champagne, and say good riddance. Just do so from home, with only those you live with. Past New Year's Eves have entailed bumping elbows at the bar or lounging at a house party with a Champagne flute in hand, but this year's festivities will need to be a little more thoughtful. Though not comprehensive, we've compiled a list of things to do and eat, even if you're welcoming 2021 from underneath your duvet.
Dallas Bach Society Presents Vivaldi's Four Seasons
If your music tastes lean Baroque, the Dallas Bach Society presents a New Year's Eve performance of Vivaldi's Four Seasons. Four local violinists–Clare Cason, Ha Dang, Stephanie Noori, and Jacob Cortez–will take on the series of violin concertos in what is sure to be a joyful evening of reflection on the four seasons of 2020. The concert will take place in the Zion Lutheran Church at 7:30 p.m., but a live-stream option is also available. Tickets start at $25 for access to the live stream and $60 for general admission. 
New Year's Eve with The Rich Girls
The Rustic presents an infectious 80's New Year's Eve with a local six-piece band, The Rich Girls. They're dedicated to classic 1980's jams—think Hall & Oates and Prince—and guarantee an evening of carefree rocking. The event is free with an RSVP, but seating will be on a first-come, first-serve basis, and capacity will be capped to promote social distancing. Be sure to bring cash for The Rustic's pop-up bars and beer tubs and come hungry for the full menu, which will be served all day. The concert is outdoors, so keep away from others.
New Year's Eve with the Dallas Symphony
Bid farewell to 2020 with an elegant evening of waltzes from the Strauss dynasty at the Meyerson. The Dallas Symphony's New Year's Eve program is a tribute to a Viennese New Year tradition that began in the early 1900s. Though the Meyerson isn't the Golden Hall Musikverein, where the concert is performed annually, it's still an enchanting setting for the start of 2021. The hour-long show starts at 7:30 p.m. and tickets run from $50 to $140. (Due to social distancing protocols, seats are only available online in groups of two and masks are required.) For a special post-show dinner, hit the nearby Tei-An to indulge in the Japanese New Year soba tradition. Tei-An's Premium NYE Omakase starts at 9 p.m. and includes Champagne and six courses. Or just get the food to go. 
New Year's Eve with Bryce Bangs
Local artist Bryce Bangs is bringing his bluesy rock to the Granada for a toe-tapping New Year's Eve celebration. The release of his self-titled sophomore album previously sold out the Granada, and his New Year's Eve show promises all the same grit and soul. Doors open at 9 and tickets run from $24 to $53. The Granada's seating chart has changed to enforce social distancing and tickets are sold by the table.
Prohibition: A New Year's Eve Celebration with the Fort Worth Symphony
Relive the roaring 20s with the Fort Worth Symphony Orchestra's Prohibition: A New Year's Eve Celebration at the Will Rogers Memorial Auditorium. The concert will transport the audience to a time of gangsters and intrigue with classic songs like Edith Piaf's La Vie En Rose and Gus Kahn's Dream a Little Dream of Me. Tickets are $44 to $99, and the performance runs from 7:30 to 9:00 with no intermission.
Fireworks Over Reunion Tower
This year, you can catch the Over the Top fireworks at Reunion Tower from your couch, a downtown-facing balcony, or a room at the adjoining Hyatt Regency. Wherever your New Year finds you, tune in to the show on NBC 5, Youtube, or Facebook and hit the music soundtrack on Jack FM. Grab your favorite takeout, pop the Champagne, and watch 2020 burn in fiery glory (pajamas optional).
Food & Drink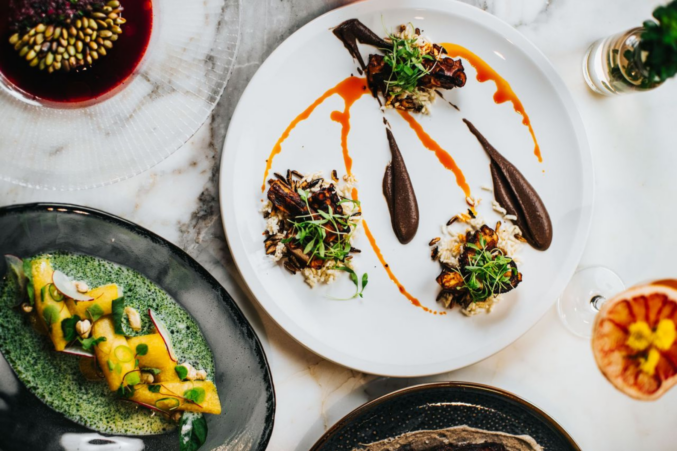 Tulum's Mexican NYE Special
For $75, which includes a mini to-go bottle of sparkling wine, dig into homemade sope with grilled octopus with black beans and chorizo sauce, chayote squash soup with fried yuca root, seared halibut or short rib birria. For dessert, Chiapas chocolate mousse cake with raspberry and cocoa fried rice.
Sixty Vines New Year's Eve To-Go Kits
Sit back and relax, Sixty Vines will take it from here. The wine-fueled restaurant has to-go kits with salami, cheese, filets with grilled shrimp, and one side. It wouldn't be Sixty Vines without wine. Get a 375-mL bottle of rosé and brut, plus sunglass, confetti, sparklers, and a curated Spotify playlist to round out the party vibes. Add on a la carte tap wines for 50% off or a champagne flute tumbler for $15, which they can bring in for a complimentary glass of Vine Huggers Sparking Wine all year! Each kit is $150 and serves two people.
Gorji Restaurant Multicourse Takeout Menu
Modern Mediterranean cuisine by way of a three- or four-course dinner ($83–$96) is sure to help welcome in 2021. Choose from dishes such as pan-seared scallops, venison tenderloin with cognac sauce, wild-caught salmon, bone-in pork chop and langoustine tails with garlic-gorgonzola smashed potatoes, and more. Don't forget dessert: housemade kefir cheese with medjool dates and pomegranate reduction, or go for a classic chocolate cake. Throw in a bottle of rosé brut for toasting at midnight. (15 percent of all wine proceeds are donated to the North Texas Food Bank.) Call 972-503-7080 to order.
Perry's Steakhouse New Year's Eve Prix Fixe Feast
Pick up a three-course meal—a holiday feast for four with a selection of prime rib, NY strip, rack of lamb, pork lasagna, pork chop, sides, dessert, the whole works—at $60 to $80 per person. Not included in the prix fixe menu but totally lush and NYE-worthy is lobster tail and bacon-wrapped scallops. Order online.
Second Floor at The Exchange NYE Packages
Get a peek of the newly opened Second Floor at The Exchange in the AT&T Discovery District with their New Year's to-go package. The kit contains all the necessities for a successful New Year at home: Veuve Clicqout Champagne, Golden Osetra Sturgeon Caviar and crème fraiche, a 16-ounce, 42-day dry aged NY strip with bordelaise, chocolate truffles, and a $50 gift card for the Second Floor. Preorder is required for pick up on New Year's Eve or New Year's Day, and the cost of a package is $495. If you feel comfortable dining in, there's also a seven-course tasting menu by Brian Zenner of Ounce and Peja Krstic of Ichi Ni San taking place on New Year's Eve by reservation only for $95 a head.
Asian Mint's Holiday Menu
Hit Asian Mint's holiday menu before it's gone and start 2021 off right with Thai beef noodle soup and curry crab rice. Tamarind shrimp sounds like the perfect side for the Reunion Tower fireworks broadcast. All locations are closed New Year's day but open until 9 p.m. on New Year's Eve.
Get the FrontRow Newsletter
Get a front row seat to the best shows, arts, and things to do across North Texas. Never miss a beat.