wYou could say we always need more charcuterie. And in the realm of cured meats, novel takes are welcome. Two newcomers, La Tablera and ChảCutie hunkered down this year and started making boards for to-go, to pick up, and to deliver. They're crafting charcuterie boxes where sweetness may take the form of persimmons or jujubes; savoriness finds expression in star anise–flavored pâté.
The boxes harbor more than morsels; they're windows into a culture. Bring them home, and they're reminders of potent forms of gathering and socializing, even if we're enjoying them by ourselves, in our bubbles. Charcuterie boards are based around the idea of something you bring home and treat yourself with, but for both La Tablera and ChảCutie , it's also a way to share culture simultaneously.

Chả Cutie
With a home base at Garland Vietnamese bakery and sandwich shop,
Quoc Bao Bakery
, Violet Huynh and Gavin Seto teamed up earlier this year to launch
Chả Cutie
, their of-the-moment, online business riffing on the intersection of Vietnamese cold-cuts and French-style charcuterie boards. (Huynh's mother owns Quoc Bao, hence the charcuterie command post there.)
Chả Cutie, with its portmanteau of "chả" ("chả lua" refers to a banana-leaf steamed, sliced pork sausage or ham that's ubiquitous) and "cutie" (a cute diminutive for the cured meat boards), nudges us away from taking the West as a starting point. The idea, Huynh says, was to provide the flavors she grew up with in an approachable way—charcuterie seen through the lens of Asian ingredients and flavors.
And so a box might deliver dried mango tucked alongside a blended cheese ball that's been rolled in black sesame seeds, niched into a playground gleefully crowded with honey-sesame sticks and jujubes. Instead of Italian or French charcuterie staples, it might brim with a swirl of truffled pâté, fresh baguette and spreads, and slices of the homemade chả—soft, supple, like mortadella or bologna—with a splash of color from fuchsia-rimmed, black-and-white speckled dragon fruit.
The couple has long wanted to start a business together and the pandemic played incubator and catalyst. (The duo, Huynh a student at SMU and Seto a graduate of UNT, has combined backgrounds in economics, finance, and business administration.) They'd considered the notion of a cheesecake shop or even a salted-egg dessert shop. "When it came down to it," though, Huynh says, they felt those limited them to one thing, despite experimentation within that lane. As soon as they alighted on the idea of charcuterie, "we felt our creativity flow out," Huynh says. "Our hearts," she continues, leapt at the thought of "something we can do both savory and sweet."
For sweetness, you'll find homemade jams—persimmon for now, and perhaps later mango, Asian pear, or dragon fruit when in season. A rich, fudge-y Vietnamese coffee spread made with sweetened condensed milk and cream, reduced and spiked with spices, is rife with deep flavor. "We want people to eat it with bread and say, 'This tastes like Vietnamese coffee!'," says Huynh. Also, Vietnamese coffee gets reprised in chocolate truffles: "We feel like we have it down in terms of Vietnamese coffee," Huynh says, evoking the drink her mother sips every morning.
Growing up surrounded by bánh mì, the idea of cold cuts was not new to Huynh, nor was the aroma of the bakery. The idea of transforming them into create-your-own boxes followed.
"We want people to eat [the coffee spread] with bread and say, 'This tastes like Vietnamese coffee!'"

Violet Huynh
For the initial foray, they're debuting two iterations. A bánh mì flight enfolds a selection of pâtés: a truffled version, or a pâté bearing Vietnamese-hinting spices like star anise. The traditional butter spread—thick, eggy, like a cross between mayonnaise and whipped butter—will complement the others. (The butter and baguette recipes are Huynh's mother's; everything else they've come up with on their own.) The concept is a snacking box in which you spread your own tasting-flight of bánh mì on fresh, shattering, crisp baguette.
Like a smorgasbord of different snacks, another box will be Vietnamese-Euro-American in inspiration. Their Vietnamese-inspired cheese ball uses goat cheese as a base and twines in chiles, garlic, ginger—flavors Huynh grew up with—with a soupçon of truffle oil. Also, it will hold delicious extra nibbling material like shrimp chips, spiced cashews, honey-sesame crackers, and fruit, like jujubes or the squat Fuyu persimmons that go into jams and spreads. (Huynh had a persimmon tree in her backyard growing up.)
As a child, she says, "I had a distaste for my culture. I felt very embarrassed," she says, about her family's financial status and cachet. "I thought people would judge me." Later, "my family didn't have a lot of money," Huynh says, but her mother encouraged her to travel, which she did, visiting France and other European countries, where she experienced various forms of charcuterie.
Now, it's come full circle. Her business is embedded in her culture she embraces wholeheartedly. She works alongside her mother who, initially aghast at a price point she didn't recognize, was eager to support her daughter as she courted a new demographic of pop-ups with a different clientele. The pop-up's making and baking take place at
Quoc Bao
, which functions as headquarters for what they hope will be weekly or biweekly boards.
The goal is to launch their first pop-up mid- to late-December. (They're working on how-to videos and the website.) But the box? "We've pretty much nailed it," Seto says.
The next step will be fashioning a box that would reflect Seto's Chinese heritage as well. (Think scallion pancake chips in lieu of baguette or crackers.)
"This business in an extension of who me and Gavin are," Huynh says. It's "me and his baby, pretty much."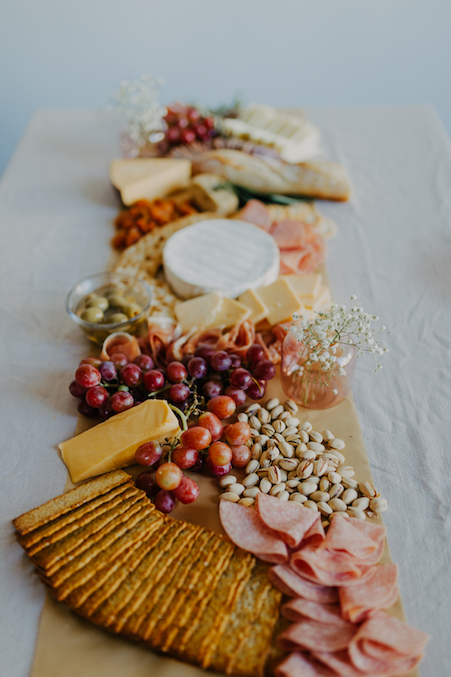 The boards
feature sausage slices whorled around dried apricots or olives that describe a sinuous curve around rosettes of prosciutto. They set Brie, whole or sliced, amid drifts of pistachios and jewel-like dribbles of raspberries or ruby-colored pomegranate seeds, maybe filled out with the spiky crenellations of halved grapefruits. Aisley Lopez is responsible for these swirling geometries, stunning in their presentation, that give you her heart packed neatly into a box.
Lopez launched on November 2 on the eve of Election Day. La Tablera is her online business with to-go boxes, from small to ample, including a brunch board with smoked salmon and cream cheese. She is not shy about announcing herself as a Latina-owned charcutería (even the white box, tied with a vegan leather strip she thinks of as "Spanish-style" in its aesthetic).
"Where do you start?" is the question she asks herself when preparing, for example, a 12-foot grazing table for a wedding. And then you go from there.
Lopez, whose parents are naturalized citizens who hail from Sinaloa, Mexico (she herself was born in Graham, Texas) says, "It's important to remember where you came from. If it wasn't for them, I wouldn't have the opportunity to grow up here more privileged, to follow my dreams." Her dreams are to make and peddle what brings joy, while working to empower women, immigrants, and minorities.
Her memories revolve around rich communal food occasions: "Everywhere we go, a whole bunch of family getting together, eating food, making food."
For her, a charcuterie board powerfully represents that social element, even if they're now consumed solo or in small groups within bubbles of friends or family meeting outdoors on porches or in backyards under lights. "Everybody loves them. It's almost like a form of self-care, for some," she says. It's an experience. "Maybe you have a glass of wine. Maybe you've had a long day and you're taking a bath and you have your charcuterie board. Maybe you have a date night with your partner." It's a form of self-nurturing in these times when we crave togetherness and a feeling of specialness. "You don't have to a special occasion," she says. "You can make special occasions with your board. You don't have to wait."
Lopez respects the power of food and its ability to unite. "Being part of the Mexican culture, that's what I realized I loved most about gatherings: How food brings people together." She realized that's what she craved. But she also wants to give back.
A full-time student, Lopez is studying Spanish, hoping to apply her degree to speech language therapy, especially with immigrant children. She believes in the cause. "I took ESL classes," she says. "I remember being really frustrated at not being able to communicate. I want to help people, just like I was helped."
In the future, ideally, she imagines giving price breaks to charities and small businesses, knowing that her wares can attract crowds for an opening or event.
"Being a minority woman," she aims to highlight and support other women who face similar obstacles. See her Future Female Fridays Instagram takeovers, for example, where they can leverage skills towards a stronger, more sustaining community. "Women are better together!" says Lopez.
In the end: "Be true to yourself," she says. And trust you'll end up "right where you need to be."
Get the SideDish Newsletter
Dallas' hottest dining news, recipes, and reviews served up fresh to your inbox each week.