Local brewers lately have been making entire breweries smell bewitchingly of orange peel and baking spices so we can quaff beers that make us think of wreath-making and snow drifts. Give us some figgy pudding, and all that: hear, hear! And some snickerdoodle ale and oatmeal nitro stout, too.
Barleywine, porters, stouts, strong ales, and similar styles are the stuff of long winter nights. Fond of a hot toddy? Try a strong ale, deep with spice. Or a toasty English ale, cinnamon-hinting and speaking of winter. An espresso-steeped stout, a sangria-inspired cider. Light the fire and crank up the ABV.
Welcome the newly released, barrel-aged behemoths coming out of hibernation, gilded with specialty hops and burly with dark roasted malts. Winter brews—deep gold to dark amber and mahogany, with notes of caramel, molasses, nuts, and toffee—help us confront chilly weather. Many don't come across as big beers, though they're potent. (You've been forewarned. Proceed with care.)
Here are 10 breweries—and a cidery—crafting our favorites for December. So you can happily double-fist it, or stock up. After all, going out in the cold takes character.
Peticolas Brewing Co.
(Design District)
For Wintervention, a spiced winter ale, Peticolas takes its dark strong ale and embellishes it with nutmeg, allspice, cinnamon, ginger—the flavors you'd expect in pumpkin pie or gingersnap cookies. Brewery founder Michael Peticolas uses primarily English crisp pale malt for the rich mouthfeel. At 10 percent ABV, "it has all the flavors of the holiday," and spices take the aromatic role that hops might. "[But it's] not all spice like some other spice beers," Peticolas says. "It's the proportion."
From the brewery that gave us Grin and Tonic, a gin and tonic cocktail beer that used juniper and Oak Cliff tonic, comes The Usual, a cocktail beer this time based on the Old Fashioned. The creation of head brewer Chris Martinez, The Usual utilizes barleywine as a base with bourbon-soaked American oak chips in a three-month aging process that allows flavors—of orange peel, fresh cherries, and bitters—to mesh. "When I give it to people, they're like, 'It smells like an Old Fashioned.' And it continues right through to the flavors," says Peticolas. "The ingredients work in harmony and bridge the gap between cocktail and beer." Note: For those who fancy cocktail beers, Peticolas will debut others in the future.
If you want something genuinely warming, try the Ghost of Alfred Brown, a brown ale infused with ghost peppers in cask. Peticolas is not one for chile beers, but "I took my first sip, and 'Whoa!'" He says he had to concede, "This beer is actually better than the base beer—super unique and not hitting you over the head with flavor." A rumble of heat trickles down your throat in a growing sensation, so the last sip is quite different from the first. "One of the most impactful beers in terms of unique experience as you drink it," Peticolas says. The incredulous convert capitulates.
Available to-go in cans.
Manhattan Project Beer Co.
(West Dallas)
They've traditionally been heavy on the IPA side, but for the holidays they've got Christmas Coalition, a holiday-spiced Belgian dark strong ale; at 10.5 percent ABV, it's very reminiscent of whiskey. It uses raw ingredients—different roasts on malts—and also cinnamon, molasses, and ginger to create "a mix between a gingersnap cookie and molasses," says co-founder Misty Sanford.
Not surprisingly for a brewery-cum–coffee shop and restaurant, there's coffee in the lineup. The Black Matter coffee stout, wildly popular this time of year, infuses a stout with coffee beans. In taproom, it's served on nitro for a creamy mouthfeel. A dark, pretty black, it's almost a look-alike for coffee.
An oatmeal imperial stout boasting a velvety-silky mouthfeel will be coming out of bourbon barrels, where it's been biding its time, later this month. "It's shocking how well that ABV is hidden," says Sanford.
But wait, there's also Trinitite, a sparkling IPA they're releasing for New Year's Eve. It's a personal favorite for the team. "The extra dry sparkling aspect of Trinitite makes it a perfect celebratory beer, just like a good Champagne," says Sanford. They weren't going to let us get away without an IPA.
Available in taproom.
Oak Highlands Brewery
(Oak Highlands/East Dallas)
A collaboration with White Rock Coffee brings you a porter larded with coffee flavor from a medium Costa Rican roast. Head brewer Ryan Pickering lets the beer steep for three days—"almost think of it like cold brew"—on three pounds of grounds for coffee melded with the porter flavor. The dry brew finishes creamy with coffee aroma, but precious little bitterness.
The vanilla porter plays on the idea of porter's dessert-forward, roasted, caramelly notes. Suffused with vanilla beans, it channels the holiday's baking feats.
Available in taproom or to-go as crowlers.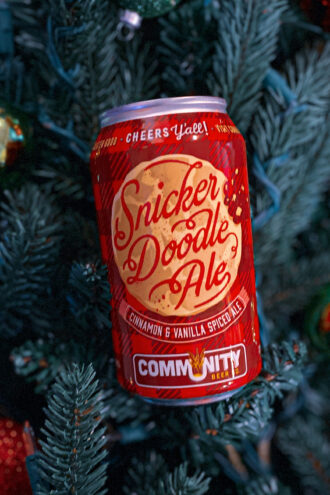 Community Beer Co.
(Design District)
Community's Snickerdoodle Ale, an homage to the holiday cookie, has developed a cult following over the years. A simple, toasty English-style ale suffused with spice and aged on organic vanilla beans, it takes the snickerdoodle as its soulmate, with its dreams of cinnamon and sugar.
A Long Winter Haze, part of Community's small-batch series, is for when you want a distinctive, bold flavor profile. Something cloudy and loaded with crisp, piquant richly hopped brightness. "This hazy IPA is jam packed with tropical juicy flavors and aromas thanks to bountiful amounts of Lotus, Citra, and Simcoe hops. Think a glass of fresh squeezed orange juice blended with creamsicles and a pineapple twist."
Available in taproom, retail, and at select bars and restaurants.
Deep Ellum Brewing Co.
(Deep Ellum)
Deep Winter is a golden porter with coffee on the nose, but a light, honey-gold color and soft, creamy mouthfeel. The balanced bitterness on the finish speaks more to the cacao nibs than the coffee with which its infused.
Available in taproom and retail.
Steam Theory Brewing Co.
(Trinity Groves)
Steam Theory has a few burly beers on tap (think 10 or more percent ABV), among them an imperial stout called the Russian Front, using a specialty English malt and boasting malty and nutty notes, with dark fruit, coffee, and chocolate undertones.
A wheat-heavy Scotch ale—"We call it the opposite of gluten-free: Glutinous Maximus. It's just a big, malty beer," says brewmaster Kirk Roberts—gets a three-hour rather than a 90-minute boil for intense flavors. "It's almost chewy. It's almost like drinking fermented caramel," says Roberts, "[with] these amazing caramel notes, and just a hint of smokiness."
Assistant brewer Bryan Thomas developed a small-batch winter warmer called Warm Your Cockles. The Christmas-season strong beer brewed with molasses and aged on oak hints of dark fruit, with a bit of molasses and licorice. It will, they suspect, disappear before Christmas, as it's only one barrel-worth.
Note: For barrel-aged beer lovers, be on the look-out for barrel-housed versions of the imperial stout and Scotch ale will be available early January, along with a Baltic porter (a smooth, dark, cold-lagered brew).
And speaking of barrel-aging, Steam Theory just got rolling on collaborations with Texas distilleries—Balcones, TX Distilling, Andalusia, Real Ale, among others—as part of a bigger project in which they've asked 20 different makers to pair with them, hoping to present the original spirit, the original beer, and the barrel-aged brew side by side as tastings. It's an ongoing project over the next two years.
These styles available in taproom only.
Four Bullets Brewery
(Richardson)
In keeping with its casino-themed names, Four Bullets gives us High Roller: a barleywine, "this delicious, sometimes forgotten English style of beer," notes co-owner Jeff Douglas, that's known for being complex and intense. (It's fitting for the "English ale with a Texas twist" motto.) With notes of sherry, dried fruit, Christmas pudding, smoky coffee, and caramel, barleywine is also known by the monikers old ale and British strong ale."It's a very hard beer to make, because there's so many different flavors and smells," notes Douglas. "[There's] no fruit in the beer. But it's like we've added fruit. It's the high-end malts and grains."
A bourbon barrel-aged version of the barleywine that has aged for 10 months will likely go fast, as there's only one barrel—about three kegs. Watch for it.
An English porter aged in a port barrel will also be released soon. Look out for it, too.
Available in taproom.
Unlawful Assembly Brewing Co.
(Legacy Hall, Plano)
You don't have to love oatmeal to appreciate a brew that takes the combination of oats and nitro as its particular destiny to create a super-enhanced creamy mouthfeel. Black Sheep Nitro Oatmeal Stout (that wonderful, wooly mouthful), for those who like nitro and the dreamy texture a nitro oatmeal stout gives, is a brew that will send you into reveries.
Available in taproom.
Farther Out
Revolver Brewing
(Granbury)
Over Yonder, a black lager—dark with scintillating highlights—is made with specialty German malts and hops. It's the brewery's take on a traditional Schwarzbier, robust with subtle hop spice.
Available in taproom and retail.
Hop and Sting Brewing Co.
(Grapevine)
Dixon's Dunkelweizen, brewed with wheat and dark malts, has a soft maltiness and notes of caramel, chocolate, banana, and clove. ("Dixon is one of our brewery [rescue] dogs, so we have been partnering with Dallas Pets Alive, Second Chance SPCA, and other animal adoption groups to raise money and awareness," says co-owner Jon Powell.) Frigid Underworld Espresso Stout is a medium-bodied brew cold-steeped with whole espresso beans from nearby roaster Buon Giorno. A limited barrel-aged version (sans espresso) uses local distillery Tahwakaro's bourbon barrels. Christmas Cookie, an ale with cinnamon, vanilla, and caramel, sells fast. This is its first year in cans. Note: Three of Hop and Sting's winter beers belong to their North Texas Strong series whose sales benefit local DFW charities.
Available in taproom.
In the spirit of supporting small, local business, drink responsibly. By which we mean sample them all. As the weather wends chillier, let's keep things jolly, local, and bright.
Get the SideDish Newsletter
Dallas' hottest dining news, recipes, and reviews served up fresh to your inbox each week.