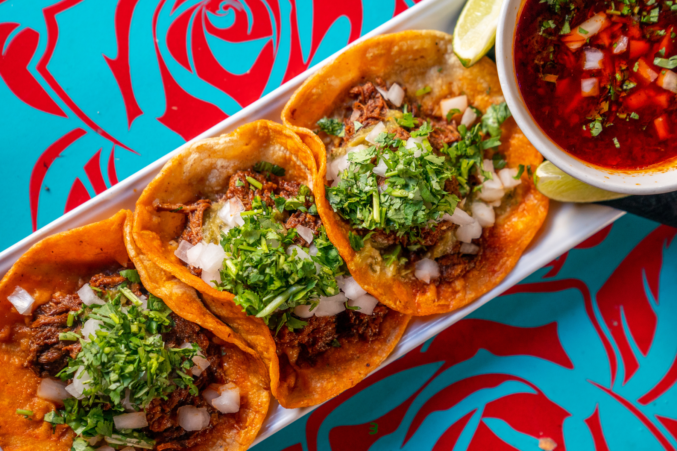 News Bites: Nashville Hot Chicken Is Not Done With Us and More Birria Tacos in Texas
SideDish's weekly digest of need-to-know dining happenings in Dallas.
Welcome to SideDish's weekly dispatch of need-to-know News Bites, from quiet closures to opening updates and everything in between, including coronavirus-related intel.
Fort Worth Gets a Badass New Restaurant (It's in the Name)

San Diego-based GBOD Hospitality Group plans to bring El Chingón to Fort Worth, where the restaurant group's president and CEO Raymound Davoudi now lives, reports the Dallas Morning News. The 6,000-square-foot restaurant-slash-"nightlife hotspot" at 2800 Bledsoe Street will open on December 18, according to a release. Favorite dishes from the Mexican restaurant include molcajete bowl filled with grilled meats, sizzling carnitas, elote, and grilled queso fresco, and the relentlessly trendy birria tacos.
Nashville Hot Chicken Can't Quit North Texas, Apparently

It wouldn't be 2020 without yet another Nashville hot chicken opening—two, actually. Hot Chicks Nashville Chicken opened in Plano this week. Dallas CultureMap had the early word in November about this chicken joint's pending arrival. Then on Monday, Hot Chicks debuted with "Hot AF" fried chicken alongside boozy slushies. Then, another fast-casual spot joins the Nashville hot chicken ranks—I didn't think our digestive systems could take it, but here we are! Dave's Hot Chicken comes from L.A. and the brand is slated to open 10 locations throughout DFW. The first will arrive at 14750 Preston Road, which appears to have formerly housed a Boston Market.
Parking Lot Pop-Up Market at Encina

If you're still in search of holiday gifts or anything to help make your spirits bright this season, head to Oak Cliff on Saturday, December 19. Encina, which recently opened in the old Bolsa space, will host an impressive lineup of pop-up vendors in its parking lot. You'll find baked goods by pastry chef Diana Zamora of Sweet D., Dulce De Monze, tamales from CASA MASA, handmade bread and biscuits, CBD treats, plus a whole lot more. Encina will be serving cocktails and snacks for shoppers. Peep the deets on Facebook.
The Texas Tribune Covers Food Insecurity

Nine months into the pandemic and food insecurity has only worsened. We've seen the pictures of cars lined up for hours, waiting to pick up the fresh food and pantry items local food banks can provide. Those food banks, though, are feeling the pinch more than ever. The Texas Tribune reports that food banks may be "less equipped to help hungry households in the new year." It also reports that more than 2.5 million households in Texas didn't always have enough food to eat in November, according to the U.S. Census Bureau. About two-thirds of those households were either Hispanic or Black.
Restaurant Groups Lobby Congress for Restaurant Relief

The Texas Restaurant Association has, since March, been lobbying Congress on behalf of restaurants—big, small, chains, and everything in between—to get cash in the hands of owners struggling through a pandemic. In a recent email, the organization feels Congress is closer than ever, finally, to a deal that includes another round of Paycheck Protection Program funds with improvements on making the money more usable.
(The early rounds of PPP that the government rolled out were less helpful for small businesses. If they did get a PPP loan, they couldn't use it for bills; it was designed to pay staff if they wanted their loan to be forgiven. That didn't help them offset overhead costs.) Read about the TRA's 13-point Blueprint for Restaurant Survival plan to aid the food service and hospitality industry in dire need of help.
Meanwhile, the entire mission of Independent Restaurant Coalition, an organization formed this year by restaurant and bar owners, has been urging Congress to pass direct relief (not just loans) to independent food and drink establishments. It has been a long-time proponent of the RESTAURANTS Act, which the TRA now includes in the plan cited above. As congressional leaders near a deal on a $900 billion relief bill, it's all hands on deck.
You can sign the IRC's letter to Congress here, and urge congress to pass restaurant relief through IRC's online form. You can also send an email to Congress through the National Restaurant Association's portal.