Usually this time of year Robin Plotkin, a nutritional counselor and owner of the business Board Mama, would have gathered for a boisterous day of latke-making. The whole day would entail filling a kitchen with laughter, courtesy of 20 or more cousins from her husband's vast family, and the smell of golden-fried potato and onion fritters. This would be followed by feasting and merry-making that spread into the night.
Not this year. There will be none of that this Hanukkah (though she and her son, who is 11, will still make the traditional latkes, sing the traditional songs). The Jewish holiday based around gatherings that would involve candle-lighting and food sharing, which this year falls December 10 through 18, will be different. Gatherings will be smaller. Some, used to holding jovial parties, will focus on the first and last nights. Reunions on each of the eight soirees, which lend themselves to socializing, will shrink to one-household affairs.
As in previous years, Plotkin will again offer her Hanukkah boards for
Board Mama
, scattering chocolate pretzels with blue and white sprinkles in compositions with gilded, foil-covered chocolate eggs; spiral-frosted cupcakes with gleaming blue and white flecks; blue stars, silver stars, stars of all kinds, actually—gilded, shimmery, shining in foil. She'll add dark caramels, blue and white rock sugar candy, a large chocolate menorah or dreidel, gold coins to make for glittering feasts that dazzle, effulgent in blue, silver, white.
Plotkin is excited about the macarons by Thuy-Linh Carroll of
Buster's Bakeshop
; Carroll is filling in for Tida Pichakron of Haute Sweets Patisserie,
who recently had her shop damaged by a car
. Now Plotkin's boards will feature the stunning, deep-blue confections, with menorahs delicately, carefully stenciled and airbrushed with utmost care. And the coup de grace, a dusting of gold sprinkles, held on with white chocolate, for candle flames. This, too, is a silver lining that points to community, Carroll remarks.
Last year, people wanted copious boards, and parties were big, Plotkin says. In 2020, orders are much more modest, accommodating three to four people or perhaps groups of six to eight.
But in all ways, people are celebrating differently this year.
Empire Baking Company
will make it easier for people to do things safely, offering different items on various days: star-shaped shortbread with blue-sugar topping; matzo bark; the chocolate babka—a decadent, chocolate-laced, butter-rich brioche dough, twisted into a delicate spiral—is only available in December.
Empire Baking's wholesale account manager Emily Hartsell says she's seeing a trend towards the giftable. "I think people are really still dropping things on porches. And giving things to people who they want to thank. The bark and the cookies are very thoughtful, but small. One person could consume them."
Like Thanksgiving, she is seeing more orders, but smaller orders. Not three challahs and three babkas, but one and one. And perhaps another household in the family is also ordering one and one. "I think people still have this really strong desire to celebrate. And in fact are looking for excuses to celebrate. They don't want to sacrifice the specialness of the occasion," reaching, especially now, for foods that mark the holiday so intimately. "It would just add to the bummer of 2020 to somehow just give into it," says Hartsell.
Empire is not certified kosher, which leaves them out of a certain market. But the second night of Hanukkah falls on Friday this year, and they expect the usual Friday challah to sell.
"It would just add to the bummer of 2020 to somehow just give into it."

Emily Hartsell, Empire Baking Company
"I think people were so genuinely – I wanna use the word 'grateful,'"she says of the new pick-up location. "Everyone was just so happy to celebrate. 'Thank you for keeping us safe,'" they said, "'and for making this easy.'"
Bisous Bisous Patisserie
has amplified what's available for gift-giving, knowing people will want to drop small parcels on doorsteps. They don't have a large Jewish clientele, but wanted to have options.
Similarly with Thanksgiving and with Christmas coming, people are not wanting large gatherings. They're seeing smaller cakes, yes, but more, not fewer. So four- and six-inch rather than eight- and 10-inch cakes.
They have gluten-free chocolate-coconut French macarons—blue with gold luster—for gifts. Also: candies in cellophane packages, almond toffee, peppermint bark, peanut brittle, fleur de sel caramel corn, even coffee syrups, chocolate sauce, caramel sauce, and vanilla syrup to kick up the retail options.
"There's still always a need for celebration," especially during the holidays, says owner Andrea Meyer. They've seen it all year: birthdays, anniversaries, graduations. "People want to still mark those occasions; they just have to do it in a smaller way."
It's a year of intimacy, but also gift-giving. These things that can go into our homes, but also be given, sent as emissaries, even though we are not eating together as much this year. This might be the year of the matzo bark, the year of macarons on the doorstep.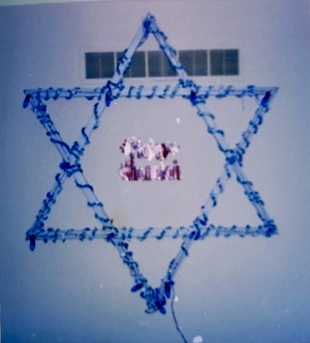 Gatherings themselves are different this year. People are Zooming menorah lighting. Wary of COVID-19, the
Jewish Community Center
is holding a drive-in on Sunday. After a week of free menorah pickups in their mobile van, they're holding a masked drive-in with songs and a lighting of the tallest menorah in North Texas.
Greg Katz, who owns
Beverley's
, a Jewish-French-New York modern brasserie, is seeing matzo ball soup and caviar latkes fly off the shelves. Katz comments that when diners go out now, it's more special, rarified. So they're selling more Champagne and good wine, and more caviar-topped latkes. (The matzo ball soup has been a big seller throughout COVID-19, too, as has the French onion soup, which have flown out as to-go orders—their simple comfort welcome.)
Katz's popular smoked whitefish dip and schnitzel could translate into your Hanukkah experience, he says—though he's offering no official catering. At some point, he would like to. They merely don't have the bandwidth to do family-style Hanukkah meals. So for the time being, it's, "Come pick up a whole challah, here's some salad, here's a brisket. I did see a lot of caviar latkes and I did see a lot of matzo ball soup last year," he says. "I think we'll sell caviar latkas and matzo ball soup and schnitzel, and I think that's it."
Meanwhile, single and, like everyone, keeping his business afloat, "I'm not gonna be, like, at home, with my family, making Hanukkah dinner. I'll light candles," Katz says, but he will spend more of his time at Beverley's, where he's strung blue-and-white Hanukkah lights as well as Christmas lights throughout the restaurant.
"Yeah [it's feeling different]. I think the whole year and the last couple months have felt different," Katz says.
Jon Alexis of
TJ's Seafood Market
will not cater at all this year either, though he has in years past. Hanukkah party reservations were on the books. But, like many who do events, he saw them slough off and has been lenient about cancellations.
In the past, he's catered multiple Hanukkah events, which generally book early, from intimate, 10-person events to 100-person extravaganzas, with potato latkes, smoked salmon, and Doozie sandwiches specific to Dallas.
He will not plate tuna-fish sandwiches or assemble white-fish salad or fulfill orders of latkes, crispy-crunchy on the outside, fluffy inside. At home, though, his daughters, 4 and 6, will definitely be watching, mesmerized, as wax drips on a menorah they don't clean yearly, where the drippings of every candle ever burned remain, the wax layers acting as composites of history and time. (His four-year-old, who equated last spring's tornado with the arrival of the virus, has asked if the tornado will bring a virus for Hanukkah.)
The silver lining is the ability to Zoom with family members far away. In other times, Alexis says, they may have "taken it for granted" and had "the same Hanukkah we always have" with people in the city, but, thanks to a family Zoom menorah-lighting scheduled for December 13, "my family that stretches all the way from the Pacific Ocean to the Atlantic Ocean will have like a really big multi-generational Hanukkah party," he says.
On the call, which will include almost 40, will be the likes of second cousins and other blood relatives who haven't met one another, and he wishes his grandparents, now deceased, could see it: this testament to the power of family and conviviality, turning a negative into a positive.
"It's such a cliché Jewish perspective: 'We have faced travails throughout the millennia and this is just another one, and Judaism always finds a way; light always finds a way.' It's just a very positive Jewish way to look at things," he says.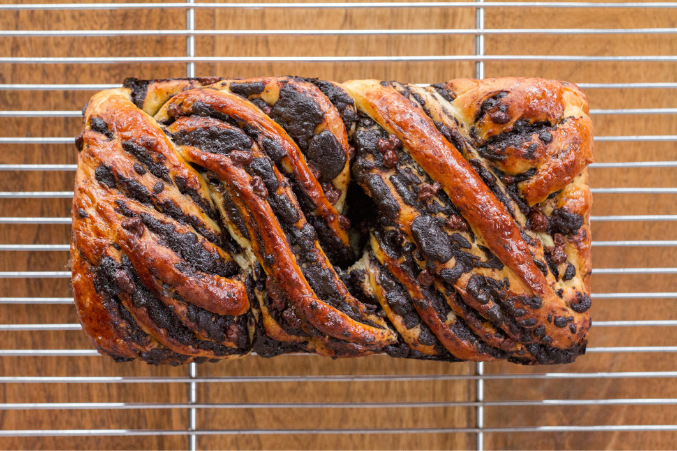 Perhaps the newest on the scene is Jordona Kohn a newcomer to the Dallas kosher world with
Market Local Café
, the breakfast-lunch café above 635 in North Dallas she co-owns with a business partner who, like her, hails from the East Coast.
She should be known for chubby challah braids scattered with poppy or sesame seeds or strewn with chocolate chunks or dusted with za'atar spice. She makes the egg-enriched versions by hand, filled with cinnamon raisin, caramelized apple, or honey-roasted garlic. (They also make a honey-oat-whole-wheat and a vegan water-based challah.) Find spreads, like tahini, sweet onion, and spicy confit chiles. There are also the babkas—chocolate and cinnamon—Old-world style.
For Hanukkah, she will be offering latkes by the dozen: classic potato and sweet onion or sweet potato-scallion-roasted garlic, with chic toppings of sour cream-based citrus crème, apple-cinnamon-raisin-chutney, or gravlax. Anticipate golden, powdered sugar-dusted doughnut holes, too, bite-size and airy, which you can dip in dulce de leche, strawberry marmalade, or chocolate sauce.
Kohn makes a point about this year: "[Hanukkah is] a holiday based on miracles. And I think everybody in the industry is in that theme. Each day that we survive, it's another miracle."
She applies the holiday's circumstances to the café itself, noting that the Israelites, under duress, found the oil that miraculously lasted for eight days. She extends the metaphor of the miracle to the restaurant itself, which, for its first year, will have survived two tornados and a virus. And seen the community—Jewish and non-Jewish—support them.
"[Hanukkah is] a holiday based on miracles. And I think everybody in the industry is in that theme. Each day that we survive, it's another miracle."

Jordona Kohn
She's already gotten emails about people wanting doughnut-making demos on Zoom. Fun activities at home for kids. Friday's to-go dinner of olive oil-poached salmon will show off the holiday's oil. And all of next week, she says, "we're just gonna embrace the fry." Fresh strawberry jam doughnuts, the round, stuffed sufganiyot, and Moroccan-style sfenj, and zeppolis. "We're just gonna fry stuff."
"We're joking about having the candles six feet apart. We're gonna socially distance our candles. It's a year for gratitude and for perspective," says Kohn.
The point of the extra frying or the menorah-shaped cookies or Jewish stars, she says, is "trying to create a little bit more joy. Usually on Hanukkah there's carnivals and different lightings in the area, where everybody gets together and sings and eats fried food. And now, with the world we're in today, we have to do that in our homes. Which we can do," she says. "And in whatever way we can help, in the restaurant, we will."
"And I know it's cliché, but we wanna bring light into this dark time. And that's the idea behind Hanukkah."
Regardless, tradition thrives.
We've now had weddings, anniversaries, graduations. We've seen holidays come and go. And now this holiday, with its underpinnings of light in darkness, waiting, hope. Born out of pressure and isolation, a new Hanukkah experience emerges.
Of Zooming with family scattered around the country, Plotkin says, "We can turn off the lights and see the glow of the candles, and we can sing the songs together and have a latke or a gold coin. It doesn't have to be long. Just a few minutes. It's really about bringing the normalcy of Hanukkah that we do every year," she says.
Get the SideDish Newsletter
Dallas' hottest dining news, recipes, and reviews served up fresh to your inbox each week.