Black-eyed peas and greens, symbolizing coins and paper currency, have long been consumed in Texas on New Year's Day for luck. Although they've become a Southern standard, black-eyed peas have an ancient lineage. They're not actually peas but a legume related to the mung bean that have been cultivated in China and India since prehistoric times. It's believed that they were brought to the West Indies by enslaved Africans in 1674, eventually making their way to Virginia and the American South, where they became a protein- and nutrient-rich dietary staple.
The Black-Eyed Pea Captial of the World is located southeast of Dallas, just past the Cedar Creek Reservoir, in Athens, Texas. For nearly half of the 20th century, the small town was the largest producer of black-eyed peas in the world. Sadly, the Black-Eyed Pea Jamboree is no longer an annual event, but now you can readily find fresh, flash-frozen, and dried black-eyed peas all year long.
So get yourself a bottle of BLK EYE Vodka (which is distilled in Dallas from black-eyed peas), mix yourself up a BLK EYE Honey Badger, and try one of these creative black-eyed pea recipes from four celebrated Dallas chefs. Your luck is sure to change.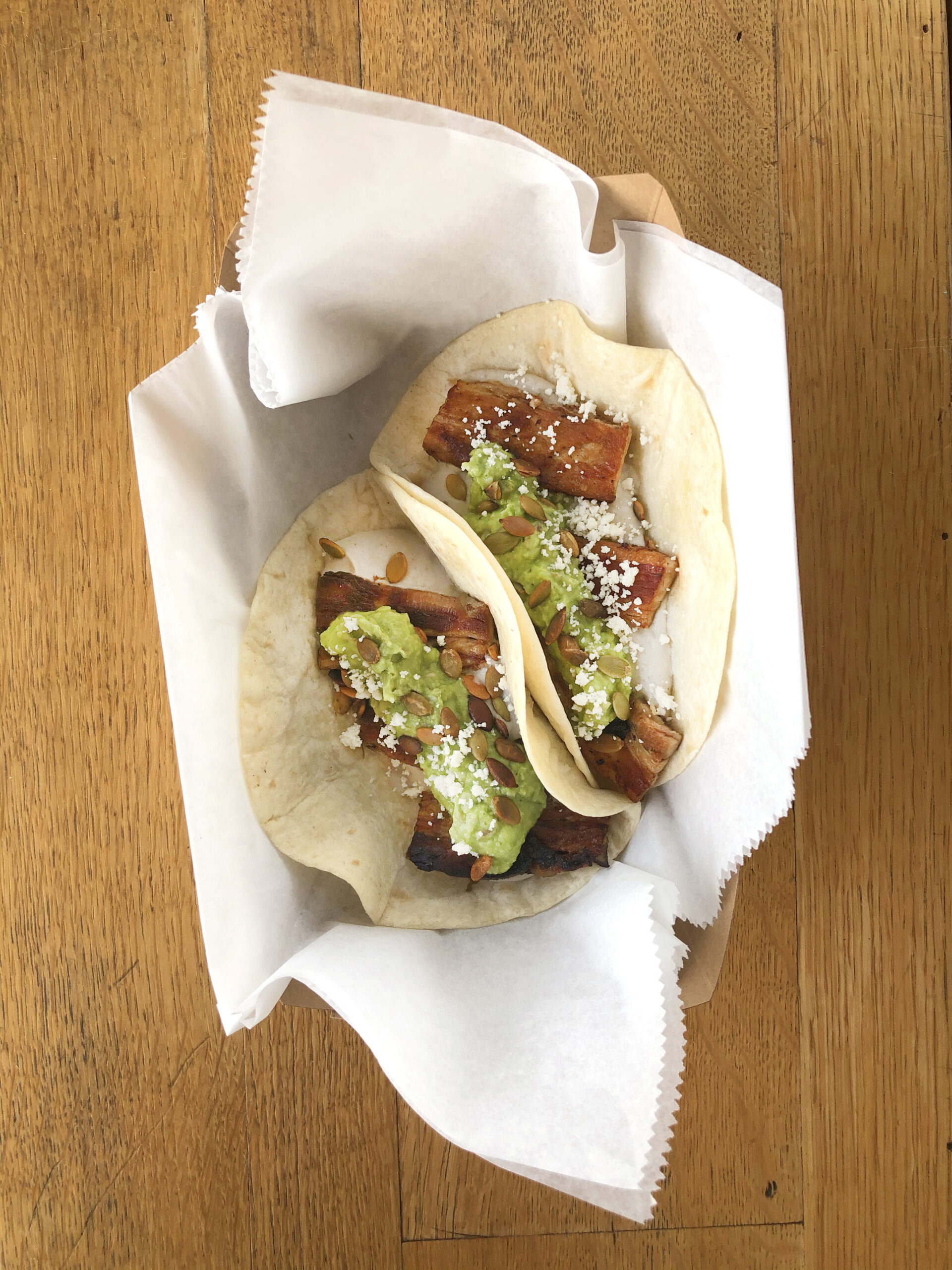 Recipes
Roast Pork Belly Tacos With Black-Eyed Pea Molidos and Black-Eyed Pea Guacamole
Roberto Espinosa, Tacodeli
Roast Pork Belly
2-3 pounds pork belly
1/2 cup honey
1/4 cup plus 2 tablespoons kosher salt, divided
1/4 cup brown sugar
1 cup onion, thinly sliced
1 cup poblano pepper, thinly sliced
1/3 cup sherry
1/3 cup tequila
2/3 cup water
The day before you cook your tacos, coat the pork belly with honey and 1/4 cup salt. Allow to rest in your refrigerator overnight. The next day, preheat oven to 375 degrees. Rinse off honey and salt and pat pork belly dry. Season with a mixture of the brown sugar and remaining 2 tablespoons of kosher salt.
Prepare a bed of sliced onions and poblanos on a roasting pan and place pork belly on top. Cover with foil and roast for 3 hours or until tender. Remove foil and strain out all but a small amount of the cooking liquid. Roast for an additional 30 minutes or until the pork belly is nicely browned.
Black-Eyed Pea Molidos
1/2 pound freshly hulled black-eyed peas
1 bay leaf
2 whole cloves
3 garlic cloves
1/4 cup chopped yellow onion
1/4 of a carrot
1/4 of a celery stalk
4 cups water
1/2 cup canola oil
1/2 tablespoon kosher salt
Place all ingredients in pot and cover with 4 cups water. Boil for 45 minutes to an hour until black-eyed peas are tender. Strain and reserve cooking liquid. Remove cloves, bay leaf, celery, and carrot from beans, leaving garlic and onion.
Set aside 1 cup of cooked black-eyed peas for the guacamole, and place remaining peas in a mixing bowl. Add canola oil, salt, and 1 cup of cooking liquid to the beans. Blend until smooth with an immersion blender. Add cooking liquid if necessary to achieve the desired consistency.
Black-Eyed Pea Guacamole
1/4 cup serrano chilis, stemmed, seeded, and roughly chopped
1/2 cup tomatillos, stemmed and roughly chopped
1/4 cup yellow onion, diced
1/2 cup fresh lime juice
1/4 cup salt
1/4 cup cilantro leaves
2 tablespoons chopped jalapeño
3 cloves garlic
2 tablespoons canola oil
1 cup peeled and diced avocado
1 cup reserved black-eyed peas
To make the guacamole mix, place all ingredients except for the avocado and black-eyed peas in blender and incorporate well, leaving a tad chunky if you desire. Place the black-eyed peas and avocado in a bowl. Add 1/4 cup of the freshly blended guacamole mix or more to taste. Mash ingredients together until smooth.
Taco Assembly
Tortillas
Pepitas for garnish
Slice roasted pork belly in 1/4-inch slices. Sear pork in a hot, seasoned cast-iron skillet to re-heat and give the belly some color. Spoon 1/4 cup of Black-Eyed Pea Molidos onto a hot tortilla. Slice the seared pork belly into taco-sized pieces and place on top of the molidos. Add 1 tablespoon of the Black-Eyed Pea Guacamole, or more to your liking. Garnish with toasted pepitas and serve.
Black-Eyed Pea Hummus
"In the tradition of celebrating resolutions and upholding the pledge to cook more at home, you have to start with the basics. I have always learned visually and by doing. Recipes are a good guide to get a feel for quantities and flavor profiles that complement each other. You don't have to do all of the preparation in one day, as preparation is the most time consuming part of anything. Start with a plan, look at three meals you want to cook at home, make a list, and shop for your ingredients. Look for the ways to cross-utilize the produce and make effective use of your time. For instance, if all three dishes need onions, dice all of your onions at one time. The more comfortable you are in your kitchen, the easier it is to adapt the flavor profiles and direction of a recipe to your own likes." —Eric Dreyer, Ellie's Restaurant & Lounge
Ingredients
2 cups canned black-eyed peas
2 tablespoons cooked bacon, chopped (optional)
1 cup diced tomatoes
1/2 cup diced red onion
2 tablespoons minced jalapeño
1 tablespoon chopped green olives
1 teaspoon minced garlic
1 teaspoon ground cumin
1 tablespoon red wine vinegar
1 tablespoon fresh lime juice
3/4 cup extra virgin olive oil
Salt and pepper to taste
Directions
Drain and rinse the black-eyed peas through a strainer, and transfer to a food processor. Add bacon, tomato, red onion, jalapeño, olives, garlic, and cumin. Blend the ingredients together, then add lime juice and vinegar. Continue to blend while slowly adding the olive oil. Season to taste with salt and pepper. Serve with a basket of your favorite tortilla chips for dipping.
Smoky Black-Eyed Pea Baba Ghanoush
Franchesca Nor, Dive Coastal Cuisine
Ingredients
1 cup cooked black-eyed peas (reserve 3 for garnish)
2 cups peeled and diced raw eggplant
1/2 a yellow onion, diced
5 garlic cloves
1 tablespoon tahini
1/4 teaspoon liquid smoke
2 tablespoons roasted and chopped piquillo peppers
1/2 cup olive oil
Cucumber ribbons, mint, parsley, miniature piquillo peppers, and crumbled feta, for garnish
Directions
Preheat oven to 350 degrees. Put diced eggplant, onion, and garlic on a sheet pan. Cover vegetables with 1/4 cup of olive oil and toss to coat, so they are saturated. Roast in oven for 25 minutes or until onions are translucent. Keep an eye on garlic so that it does not burn; if it starts to brown, remove garlic from the pan. When vegetables are done, set aside to cool.
Place roasted vegetables and black-eyed peas in a blender or food processor. Add 1 tablespoon tahini, liquid smoke, and salt and pepper to taste. Blend on high until all is puréed. Slowly add olive oil if it gets too thick, but only add a little at a time, just until the mixture is smooth.
Place mixture in a bowl and top with a few whole black-eyed peas, and garnish with a cucumber ribbon and miniature piquillo peppers. Then top with a few leaves of mint and parsley. Crumble some feta on top for a pop of white. Serve this dip with crostini, pita, or raw veggies.
Blackened Shrimp & Andouille Black Eyed Pea Soup
Nick Harrison, TJ's Seafood Market
Ingredients
2 cups fresh or flash-frozen black-eyed peas
3/4 pound Andouille sausage, diced
1 medium onion, diced
2 celery ribs, diced
3 cloves garlic, smashed and diced
1/2 teaspoon cayenne
1 teaspoon Old Bay seasoning
2 bay leaves
1 pinch crushed red chili flakes
6 cups chicken stock
Salt and pepper to taste
3 tablespoons chopped fresh cilantro leaves, for garnish
16 Gulf Brown shrimp from TJ's Seafood Market
TJ's Seafood Market Blackening Powder
Directions
In a heavy-bottomed pot or Dutch oven, sauté Andouille sausage over medium heat until caramelized. Remove from pot and set to the side. Add onion, celery, garlic, cayenne, Old Bay seasoning, bay leaves, and red chili flakes and sauté until tender, about 5-8 minutes, stirring occasionally.
Add black-eyed peas and stock and simmer, uncovered, until peas are tender, about 30-45 minutes (test a pea to make sure they're fully cooked). In a blender, purée 2 cups of soup at a time until blended smooth, working in batches. (Be careful blending hot soup:  always start blender on slowest speed, then increase speed gradually.) Return puréed soup to pot, add Andouille sausage, and bring to simmer. Adjust seasoning with salt and pepper to taste.
Season shrimp with TJ's Seafood Market Blackening Powder. Heat skillet with your preferred cooking oil until just smoking, add shrimp to pan, and sauté just until cooked through.
To serve, garnish each bowl with a blackened shrimp and sprinkle of chopped cilantro leaves. Pro tip: for a richer soup, add heavy cream before blending. For a thinner soup, add more stock before blending. 
Black-Eyed Pea Cassoulet
"I am working on a Black-Eyed Pea Cassoulet at Elm & Good right now that would be easy to execute from home. I'm using fresh black-eyed peas from Demases Farm in Boyd, Texas. We are dry-aging the duck breast and made our own house-made Toulouse sausage, but store-bought duck breast and sausage work well. I think a good way to get cooking more at home is to sign up for a CSA (community supported agriculture) from a local farm. They deliver a box every week typically and you get to make things from that box that you would not normally buy. This really gets people trying new things with ingredients at their peak. It also makes people more aware of the seasons and how well the farm is doing, as the bounty of the box generally correlates with how good the season is." —Graham Dodds, Elm & Good
Black-Eyed Peas and Vegetable Puree
1-quart fresh black-eyed peas
2 yellow onions, peeled and cut in half
6 celery ribs, washed and cut into 4-inch pieces
2 carrots, peeled and sliced in half lengthwise
1 fennel bulb cut in half
1-quart chicken stock or vegetable stock
1 teaspoon salt
In a stainless-steel pot, put in all of the above ingredients and bring to a boil. Skim off the foam that rises to the top and discard. Reduce heat to a simmer and cook for 20 minutes or until the peas are tender. Drain and reserve the liquid. Remove the vegetables from the black-eyed peas, and set both aside. Place the vegetables in a blender or food processor with the cooking liquid and puree until the mixture has a thin, soup-like consistency.
Cassoulet
2 duck breasts
Salt and freshly ground pepper to taste
2 Toulouse-style French sausages
Breadcrumbs or panko
Preheat oven to 400 degrees. Season the duck breasts with salt and pepper and cook, skin-side down, in a sauté pan until skin gets crispy. Add sausages to the same pan and brown on both sides, then place the pan in the oven. (If you desire the duck breasts to be more medium rare or medium, they will take less time to cook than the sausages.) Remove the duck breast from the oven when they reach the desired doneness and let rest. Remove the sausages when the internal temperature hits 160 degrees.
In another sauté pan, put black-eyed peas and enough of the vegetable puree to moisten but not cover the peas. Bring to a boil on the stove and cover with breadcrumbs. (At Elm & Good, we make fresh breadcrumbs pureed with parsley, chives, and tarragon, but any store-bought breadcrumbs or panko will work.) Toast the whole dish under the broiler to brown the breadcrumbs slightly. To serve, slice the duck breast and the sausage and place on top of the black-eyed peas.
Get the SideDish Newsletter
Dallas' hottest dining news, recipes, and reviews served up fresh to your inbox each week.