Last week, the
New York Times
published a story
that shone light on the experiences of women who had been subjected to sexual harassment and egregious misconduct by high-ranking male figures in the American Court of Master Sommeliers, from which they were seeking accreditation. It doesn't surprise many in the field. The report leveled blame on the highest echelons of the title-granting body in a way that rocked the wine world.
According to internal sources, "the abuse is a continuing problem of which its leadership has long been aware," wrote Julia Moskin, for whom this is the second piece in
12 months that exposes sexism and sexual misconduct
in the elite wine world, this time attached to the Court of Master Sommeliers and its educational branch, GuildSomm, where officials were accused of various instances of harassment, predation, and abuse, including rape and "promising professional favors in return for sex."
Two female sommeliers cited in the article hail from Dallas and are two in a landscape of powerful women who have distinguished our city with respect to wine. It is worth noting that of the 156 people in the U.S. who have earned the coveted title of Master Sommelier since the society's founding in 1986, fewer than 30 are women—of those, Dallas boasts two. One is Barbara Werley, who has curated the list at Pappas Bros. steakhouse for 13 years. The other is Melissa Monosoff, who is also a Cicerone—the commensurate title in the beer world—and the education director for the Court of Master Sommeliers.
Dallas women who have not pursued the title, such as Jennifer Uygur and Allison Yoder, run major wine programs at their restaurants
Lucia
and
Macellaio
and
Gemma
and
Sachet
, respectively, having guided the wine scene for years with a steady and accomplished hand. Just this year,
Courtney Luscher of the now-closed The Grape debuted The Lusch List
, a blog and service promoting guided wine pairings that leverage her expertise in innovative and novel ways.
Despite an industry entrenched in sexism, Dallas boasts a cohort of women who are a force to reckon with.
"So now you have a generation that's equally driven, equally accomplished," says James Tidwell, co-founder of the TEXSOM sommelier conference and co-owner of the TEXSOM International Wine Awards, a rigorous and respected awards-giving body founded in Dallas by Rebecca Murphy. "Women are now—and have been, though they have not been recognized for this until recently—drivers in the business of wine," he says.
And yet, many women in wine still face sobering realities as they strive for recognition in their industry.
Courtney Keeling, who shared her stories in the
New York Times
article, acted as wine director at Nick Badovinus's Town Hearth and now works in distribution. "I've known these women for the better part of a decade," Keeling says of those who came forward with her. And yet they had never shared their stories together. As the 20 women began connecting via a shared WhatsApp group set up for the purposes of the article, "I saw these names of the best women in the industry," Keeling recalls. "Individuals I look up to. I started seeing name after name populating this WhatsApp group, and I lost it. I started crying. That's when I knew I needed to be part of this."
"We're not there for your entertainment. We're there to be badass professionals."

Courtney Keeling
"Rachel Van Til [based in Houston] reached out to me and said, 'Hey, have you ever been assaulted by a Master Somm? There's a woman collecting stories,'" Keeling recalls of how she was approached by a fellow sommelier about participating in the article. "She started naming [men's] names. And with two throws of a dart, she hit the bullseye on both of them." It was clear to her then that these were "repeat" offenders.
Keeling had accepted sexual aggression as part of the general industry: "You learn to roll with the punches. You learn to smile, laugh, and to behave. That's put into you as hospitality. I can't imagine these men don't know that." Women have more to lose by coming out, she points out, particularly if they are beacons in the industry.
Like many, Keeling had sought out certification, pursuing the grueling, four-tiered, multi-year curriculum—capped off by notoriously difficult exams involving blind tastings, technical knowledge, and service—as a way to be taken seriously. "They read your resume again," she says of hiring bodies who look to all stages leading up to the red-and-gold lapel pin as an indication of a breadth and depth of knowledge beyond reproach. At first, for Keeling, as for others, pursuing certification was a means of securing attention and respect when entering the profession young.
But even then, the respect is hard to come by. In a case of excruciating irony, what was supposed to be a protective body was at times far from it. Keeling remembers the evening when, at Monosoff's suggestion, a cohort of Master Sommeliers, the highest rank, had descended on Town Hearth when in the area for an event. Keeling thrilled at the thought of the who's who of wine pouring over her work. Across a table littered with wine bottles, a male Master Sommelier leaned over, not to compliment Keeling on her wine list, the first she had built in her career, but to murmur, "You are just really wearin' that dress."
"It took the wind out of my sails. It made me sick to my stomach," says Keeling. She spent the latter part of the evening sitting on a milk crate outside the restaurant, crying. "It was just devastating to me," she says. "I was flying high that night. And then you realize that in this business, to many men, you are still just the blonde in the dress."
She is one of many others who have given up seeking the coveted pin.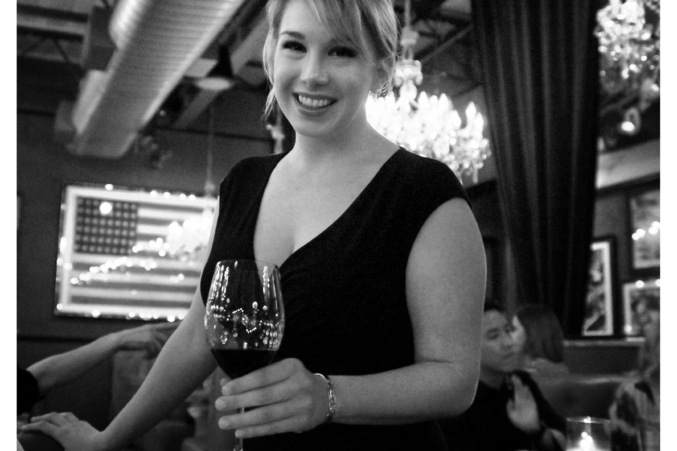 But the narrative of excellence and distinction is, or has been, a hard one to buck. Lauren Louiselle, the wine director at Homewood as of June, is not pursuing certification from the Court. During the five years she worked in San Francisco, she was the employee of an outspoken, confident female restaurateur who gave scant credence to certification and the system. She "showed me a way to navigate the industry on my own terms, not at the hands of an organization that historically is oppressive towards women," Louiselle says.
Though even so, she says she gets pushback. "Oh, do you know this person?" People ask about her wine background and try to corner her into naming names, the usual flag-waving. Even customers, she says, may say, "Have you gone through the program? Oh, I have."
"It feels extremely political," she says. It also patently ignores the fact that in this essentially pay-to-play system, "for women, paying your dues is different than paying your dues if you're a man." The attitude she sometimes encounters, however, is, "'If you haven't gone through these steps, paid this money, then you don't deserve to be where you are—Oh, and can I talk to a man?'" Most of the time, she says, the person in this gate-keeping position is male.
Louiselle also takes umbrage at an organization that, in her eyes, failed egregiously in not addressing the Black Lives Matter movement in a timely or adequate way. Even before the recent article was released, she was wary and suspicious of pursuing certification with a body whose ethics she disagreed with. The barriers to entry gave her pause. She had been looking into alternative accreditation, such as the Wine and Spirit Education Trust .
Yoder, who is one of the women in Dallas looked up to by the younger generation for having distinguished herself as a wine professional without the pin, considers herself lucky. Lucky to have left the culture of harassment and predation behind her in restaurants in New York, where she spent her 20s, and where she got used to standing up for herself. Lucky that she doesn't have such stories of her own to share. Lucky, also, to have learned on the job in her various positions (including time in Napa), in a way that never made her feel she had to seek a certificate. Fortunate to have worked for employers who saw things the same way. Now, she is paying it forward in her hiring at Gemma and Sachet, though for her it's simply a question of common sense. She hires for warmth and professionalism and without attachment to credentials.
Women, she hopes, will continue to speak up.
"I'd like to see a future where we're not keeping women and people of color and our LGBTQ community out of positions of power."

Lauren Louiselle
Once the dust settles after the
New York Times
article, some hope there will be a general reckoning in the Court. One source, who asked to be unnamed in fear of potential professional repercussions, said she intended to continue seeking the Master Sommelier designation, not to prove herself, but in the hopes of offering leadership. Several sources cited bullying and gate-keeping attitudes or exasperation at experiences of being excluded from male-only tasting circles that only heightened inequities. Many imagine this will change how employers hire in the future, placing less emphasis on the certificate. They believe the industry can be a place of rich and robust mentorship, with a focus on solidarity, inclusion, and mutual support.
Above all, they fervently wish to see this exposure debunk a false narrative. They want the power drained from that storyline. "We can do more, and we should," Keeling says.
"Women in wine and female wine professionals are not decorations that bring your bottle to you," she wants to remind the world. "We are professionals who study just as hard, if not harder. Who dedicate ourselves to this industry just as much as men. We're not there for your entertainment. We're there to be badass professionals."
"If this is a culture that we have allowed to develop," she continues, she wants to use the new narrative to protect the victims and pave the way for the future women in wine. "They're coming up, and we need to make sure that their experiences are different from ours," she insists.
As for Louiselle, "I'd like to see a future where we're not keeping women and people of color and our LGBTQ community out of positions of power," she says. "I'd like to see a world where that's not even a thing we have to think about."
Editor's Note: In addition to the anonymous source cited, some sources originally interviewed for this article wished to remain anonymous for reasons of legality or fear of professional retribution.
Get the SideDish Newsletter
Dallas' hottest dining news, recipes, and reviews served up fresh to your inbox each week.