When we first ran this blog post at the tail end of March, it was a slight scramble to get as many restaurants, bars, and markets into this living list as possible. Much like the eateries that were figuring out takeout, we were figuring out how to relay that information to you. As life has now—somehow, somewhat—settled, and many restaurants have reopened, everyone may have established their own personal risk assessments when it comes to dining out. Whether you're going out, staying in, or doing a combination of the two, the big need for takeout and delivery isn't going anywhere. It remains the safest ways to support your favorite restaurants. Tip like you're dining in.
So with that all said, here's an updated takeout guide, with even more of our highly recommended favorites.
We'll try to keep this as up-to-date as possible as we get word of more specials. Will this be completely comprehensive? Much like coronavirus news, we're tracking things day by day and doing the best we can. Keep checking back to this story for updates as we have them. Did we miss any?
Email me here
.
Be kind and tip well!
Alternative Markets
Brown Bag Provisions
Yogurt-makers Brent and Stephanie Gilewicz, the couple behind Milk & Patience, opened their deli in the Design District this spring. On weekdays from 7 am to 3 pm, you can pick up brown rice, yogurt breakfast bowls, pastrami sandwiches and pantry staples.
Pickup, curbside
Commissary
The headquarters of Headington Companies' production turned grab-and-go now offers smoked salmon on a house-made bagel, smoked fish salad with a soft-cooked egg, and outstanding French beef dip. Down the counter, you can ogle rotisserie chickens and house-cured meats, crusty loaves, and the pastry case's tarts and croissants.
Pickup, curbside, and free delivery
Dallas Farmers Market
Eateries and shops open daily in the indoor market include 8 Cloves, Bellatrino's Neapolitan Pizzeria, Beyond the Butchers, Cajun Tailgators Cafe, The Caribbean Cabana, Ka-Tip, El Mero Mero Tamelero, Scardello Artisan Cheese, Rex's Seafood and Market, Stocks & Bondy, and American Butchers. On weekends, you'll find produce and products from a variety of local vendors in the covered outdoor Shed.
Pickup, curbside
Foxtrot
From snacks to prepared meals to wine, this convenience store will bring grocery needs to your doorstep via contact-less delivery. (Note where it's most convenient for you, but know orders containing alcohol will still need be age-verified.) See Foxtrot's store locations for hours and more details.
Pickup, delivery
Jimmy's Food Store
Many think of Jimmy's as simply a sandwich counter that's home to a miraculous meatball sub. But it's also a market stocked with fresh fruits and vegetables, cheeses, frozen lasagna and pizza dough, dried pasta, olive oil, and aisles and aisles of wine.
Pickup, curbside
The Market at Bonton Farms
This oasis in the South Dallas food desert serves chef-inspired breakfast and lunch items straight from the farm. The eggs are laid by heritage chickens in the coop out back, the red peppers for the hash gravy are grown in the garden just beyond the patio, and the smoked pork in the hoppin' John comes from Mangalitsa pigs raised down the road.
Pickup
Barbecue
Baby Back Shak
Owner and pitmaster Clarence Cohens honors his hometown by serving the best Memphis-style ribs in town. His brisket is cooked low and slow over a combination of hickory, pecan, mesquite, and oak woods. Try the boudin sausage, Cornish hen, or bologna.
Cattleack BBQ
The once tiny catering company has expanded into the space next door. Now loyalists have plenty of room to sit and chow down on marvelous moist brisket with a black peppercorn bark, pulled pork, and beef and pork ribs. Save room for the outstanding Crack Cake. Preorder
Dickey's Barbecue Pit
Be still, our baked potato casserole loving hearts, the Dallas-based chain has all of the comfort food we need.
Pickup, delivery
Hardeman's BBQ & Catering
This casual family-owned restaurant has direct ties to the legendary Hardeman's barbecue restaurant that opened in the late 1940s. If you don't like your brisket slathered with sauce, order it dry. Otherwise they'll douse it with a sweet and tangy sauce.
Lockhart Smokehouse
If a wide variety of meat is what you crave, this is your mecca. Brisket, shoulder clod, dry-rubbed and slightly sweet spare ribs, and Kreuz Original sausage are always available. Pay attention to rotating specials.
Meshack's Bar-Be-Que Shack
Hickory is by far the dominant cooking wood for barbecue in this area, but Travis Mayes chooses the state tree of Texas (pecan) to fuel his smoker. It's a challenge to find the joint itself, much less a place to park. Ordering is done by shouting into a small screened portion of a soot-covered window.
Odom's BBQ
Don't let the "No Guns" sign out front deter you. Inside you'll find some of the friendliest barbecue folks in Dallas. Order a meat platter, and they'll pile a cafeteria tray with mounds of brisket laced with a mild hint of mesquite smoke and some fine ribs.
Pickup
Off the Bone Barbeque
Dwight Harvey and his wife, Rose, run this cozy spot that attracts a lunchtime crowd of local workers and cops. They come for the baby back ribs with a slightly sweet sauce, moist brisket with a dark crust, and deep-fried corn. Rose's pecan pie is silky as you please.
Pickup
One90 Smoked Meats
This modest new-school smoked-meat spot has five stools and a counter. We love the ribs, brisket, duck breast, filet mignon, and rack of lamb, most of which are sold in Cryovac pouches to reheat at home. And we're hooked on the subtle smokiness of the salmon served in a taco.
Pickup, curbside, delivery
Pecan Lodge
We crowned Pecan Lodge as the No. 1 barbecue restaurant in Dallas because its excellence extends beyond the meat. They do it all, and they do it the best. Outstanding brisket, beef ribs, side dishes, desserts, and a curated wine list.
Pickup, delivery (family-style meals only)
The Slow Bone
The brisket is luxurious. Rib meat tugs easily from the bone. Even turkey manages to be moist. And sides have serious charisma—a vegetable plate could make a vegetarian happy. Fried chicken and decadent cornbread pudding are also standouts.
Pickup
Smokey John's Bar-B-Que & Home Cooking
As a barbecue spot that also offers a large variety of soul food, this longtime family restaurant has something for everyone. On the barbecue side, the chopped brisket sandwich, ribs, links, and smoked wings are top notch.
Pickup, delivery
Ten 50 BBQ
A kitschy, 10,000-square-foot mess hall for barbecue lovers. The quality of the hickory- and oak-smoked meats, particularly moist brisket and pulled pork, exceeded our expectations.
Pick up, curbside, delivery
Terry Black's Barbecue
The Deep Ellum barbecue joint is offering takeout, curbside pickup, and delivery of their smoked meats and barbecue sandwiches. Menu available here.
Pickup, delivery (within a two-mile radius)
Burgers, Brewpubs
BrainDead Brewing
The brewpub offers more than 25 regional beers on tap (including a few of their own brews), and creative lunch, dinner, and late-night menus. Munch a Coma Burger, house-ground Black Angus brisket, Duroc pork bacon, and Texas wagyu top sirloin basted with clarified butter and topped with sweet onion jam, shredded butter lettuce, smoked cheddar, fresh tomato, and crispy shallots.
Pickup
Goodfriend Beer Garden and Burger House
It's not Goodfriend anymore, it's Good Citizen. Open from 4–10 p.m., the new takeout and curbside pickup sandwich shop also offers delivery to Dallasites inhabiting the triangle between Central Expressway, I-635, and I-30.
Pickup, delivery
Liberty Burger
Liberty Burger's to-go options include all specialty burgers that can be substituted for any protein, including beef, bison, chicken, lamb, turkey, ahi tuna, veggie and Impossible meat. They also offer a variety of salads, sides and a kids' menu.
Curbside, delivery
Rodeo Goat Ice House
Burgers and beer brought to you by the Wynne family and partners. The no-cute-food menu is full of gourmet burgers and great beer and served in a funky indoor-outdoor space.
Pickup, curbside
Black Friar Pub
The McKinney Street pub has its Irish menu offerings to go from 11–9 p.m. Delivery via Grubhub.
Pickup, delivery
Jaxon Texas Kitchen and Beer Garden
The Downtown beer garden is offering takeout (call 214-838-1422 to order) or delivery of Texan-inspired dishes such as black eyed pea hummus, wagyu burgers, and barbecue sandwiches and platters.
The Holy Grail Pub
The Plano pub's lunch and dinner menus—think gravy fries, ghost pepper chili, shepherd's pie—will be available for to-go orders beginning Wednesday, March 18. Call 972-377-6633 to place your order, then pull up in the Holy Grail's porte-chochere next to the outdoor patio to pick up your food without ever leaving your car.
Pickup
Cafe, Deli, Sandwiches, Bakery
Ascension Coffee
Alongside top-notch coffee, you can order breakfast tacos, avocado toast, or Aussie bacon and egg roll. Call your nearest location to place an order.
Curbside
Bird Bakery
The Highland Park Village bakery has carryout, in-store pickup, and curbside pickup options, though it is being mindful of how many customers are picking up at one time. For the best results, they recommend ordering ahead at
[email protected]
Preorder
The Biscuit Bar
The first lesson of quarantine: carbo-load. Take home the Biscuit Bar's customizable tots and behemoth sandwiches, like The Hoss made with fried chicken, bacon, jack cheese, gravy and honey butter. Call your nearest Biscuit Bar location to place an order for pickup.
Cafe Brazil
This cozy coffeehouse attracts everyone from lazy-morning brunchers to late-night bar crawlers craving their fourth meal. Choose from a hefty selection of crepes, omelets, and sandwiches to pair with your cup o' joe.
Frogg Coffee Bar and Creperie
The Allen coffeeshop, creperie and breakfast sandwichery is open until 7 p.m. Call 469-342-6881 to order from their varied menu.
Pickup, delivery
Mendocino Farms
The chain's slate of sandwiches (light fried chicken, pork belly banh mi, "elevated" turkey club) and healthful salads are archetypical lunch fare. Even you find yourself working, and thus lunching, from home these days, you can order online and pick up later.
Casual
Jonathon's Diner
Jonathon's serves three squares a day. But it shines brightest at brunch, when locals favor the muffins, fried chicken and waffle, and something called The Kure, which we can only assume is how the OC does a hangover helper.
Pickup, curbside Wed–Sun only
Oddfellows
This Oak Cliff favorite has a farmhouse-chic vibe and serves locally sourced, classic American breakfasts, lunches, and dinners (and brunch on the weekends). Cuvée Coffee is prepared using a La Marzocco Strada espresso machine.
Pickup, delivery (within three miles)
The Rustic
The menu offers 40 beers on draft, which should be taken outside for a spot on the patio. Known as "Pat's Backyard," named after country singer and part-owner Pat Green, the outdoor space comes fully equipped with picnic tables, fire pits, a grassy hill, and an outdoor concert space.
Pickup, curbside
Street's Fine Chicken
The full menu can be found here and pick up orders can be placed online here.
Pickup, delivery
Drake's Hollywood
Honey truffle chicken, burgers, pizzas with flair—and ranch (no judgment). Get wine with food orders if you so choose. Pickup orders placed via phone (214-651-4114) or in person Tuesday–Sunday 4–9 p.m. Delivery is complimentary in the Bluffview and Park Cities neighborhoods.
Hudson House
From grilled salmon caesar salads to The Cheeseburger, you can pick up phone orders curbside at Highland Park (214-583-2255), which is also offering free delivery within a two-mile radius. Deliver is also available on Favor and Uber Eats. Hours are Tuesday–Sunday noon to 8 p.m. (Other Vandelay Hospitality operations are open for takeout, too, like East Hampton Sandwich Company).
Chinese
First Chinese BBQ
A Richardson outpost for authentic Chinese barbecue, it draws several high-profile chefs on their nights off. It won't win any awards for atmosphere, and the service can be brusque. But the crispy-skinned duck served atop steamed rice is delicious. Here, you bring your own booze and pay with cash.
Pickup
Hello Dumpling
At this casual, counter-service spot, steaming dumplings encase flavorful fillings. Try sides of smashed cucumber salad and kale massaged with sesame oil or a bowl of hearty bowl of house-made sesame noodles.
Pickup
Imperial Cuisine
Everything here has been designed as a stage for noodle-maker Charlie Zhang. Imperial cold noodles, topped with bean sprouts and cilantro, showcase his skill. Regional offerings also shine: loofah and edamame is a beautiful dish in shades of jade, while cumin lamb's spice sweeps you to the steppes of Mongolia.
Pickup, delivery
Jeng Chi
Few Chinese restaurants in the Dallas area can boast a loyal Chinese and non-Chinese clientele, but Jeng Chi has attracted both ever since the restaurant first opened in 1990. The home-style menu offers shareable hot pots, seafood plates, and over-rice dishes. Pork soup dumplings (xiao long bao) are a must-order.
Pickup, delivery
Jia Modern Chinese
Jia Huang's Preston Center restaurant treats Chinese-American standards as decadent indulgences. Honey-walnut shrimp are fried to perfection and melt into a creamy sauce of sweetened consensed milk and fresh pineapple. The traditional Szechuan pork wontons, topped with a beguiling salty-spicy blend of red chili peppers and sesame seeds, may be the best thing on the menu.
Pickup, delivery
Kirin Court
This spot is the real Chinese deal, with more than 160 menu items. You'll have to ask one of the friendly waiters to explain half of the dishes or live on the edge and just point. You won't be disappointed.
Pickup
Monkey King Noodle Company
It's possible that on our last day on Earth, we would want to eat the spicy beef noodle soup at this noodle house dedicated to Northern Chinese street food. Everything is made to order, including la mian (hand-pulled) noodles and xiao long bao (soup dumplings).
Pickup, delivery
Royal China
The best thing about Royal China is the addition of a dumpling bar where you can watch staff fold little pillows of goodness in the open kitchen in the middle of the restaurant. Classics such as dandan noodles with sweet chile and lime sauce, pork sautéed with garlic and mixed vegetables in a spicy brown sauce, and Szechuan string beans are some of the best Chinese dishes in town.
Pickup, delivery
Sichuan Folk
Regional signatures include a wide array of cold appetizers (crunchy pig's ear, muddled cucumbers), won tons flopped in Szechuan sauce, and hot pots that come as a yin-yang of mild or spicy broth filled with your chosen vegetables and proteins.
Pickup, delivery
Eclectic, New American
Miscellaneous international cuisine
Beverley's
Greg Katz's update on the classic bistro is a place where you can get chicken liver mousse and caviar and latkes. Roots in South Africa and in Jewish recipes mean dinner can include a smart twist on the asparagus, frisée, and poached egg bistro salad; simple grilled fish; and a South African Chenin Blanc.
Curbside pickup
HG Sply Co.
This groovy back-to-basics restaurant appeals to those with paleo diets and people who just like to eat good food. Guests sit and chat over their house Stack bowl, with Texas bibb lettuce, tomato, sweet potato hash, avocado, and an over-easy Pachi Pachi Farms egg.
Curbside pickup
Homewood
Award-winning food from one of Dallas' best restaurants and we don't even have to put our fancy pants on? Yes, please. Matt McCallister announced Homewood at Home, which are four-course family meals to go (do order at least one day ahead for family-style orders that feed at least four). Call 214-434-1244 to place an order, or check the o
nline to-go menu
.
Pickup
Enrique Tomás
Jamón ibérico de bellota,
the indigenous cured ham of Spain, comes from a black-hoofed breed that feasts on acorns, the dry-cured meat fragrant and nutty, the fat of exceptionally luxurious quality. SMU alum Ricardo Sieveking's family first brought Jamón Ibérico to Mexico, opening five outposts of Enrique Tomás, a Spanish-based restaurant and premium ham purveyor with more than 100 locations around the world. In 2019, the family brought the first U.S. location to Dallas. A newcomer to Knox-Henderson, this Spanish restaurant offers delivery via Uber Eats. You can also call 469-577-4879 to order curbside pickup or delivery via Alto. Wine, beer, and sangria are available to go.
Legacy Hall
Similar to The Market at the Dallas Farmers Market, Legacy Hall in Plano has numerous restaurants inside, some of which will remain open. Roots Chicken Shak, Hōru Sushi, Chef Chins Hibachi Ramen, Whisk & Eggs, Forno Nero, and Shawarma Bar are all open and receiving walkup to-go orders.
Meddlesome Moth
This stunning gastropub's open kitchen turns out sharing plates, stick meats, salads, potpies, and items for "those who won't share." Expect 40 beers on tap and more than 85 in bottles, all served by knowledgeable staff, which includes a certified cicerone and certified beer servers.
Curbside pick-up
Petra and the Beast
The Old East Dallas restaurant has Sunday-only, family-style to-go dinner. See the menu online.
Curbside
Billy Can Can
Tristan Simon's latter-day saloon brings roguish fun to an upscale menu that includes the prettiest assortment of deviled eggs, served on a gilt-edged plate. For takeout, you'll have to provide your own gilded dinnerware, but the food atop still delivers on flavor. Email
[email protected]
or call 214-296-2610 to order. Delivery is available for residents of Victory Park, otherwise curbside pickup. Menu changes daily and is posted on their website.
Baboush
Its West Village is the only location open, but open it is: Find the Middle Eastern–Lebanese-Moroccan fare, with curbside specials available for both takeout and delivery. The restaurant also notes, "We offer free meals to those who can't afford to eat in these crazy times. We also would like to make Monday Industry Day for anyone who worked for a restaurant and [find themselves] out of a job; they can come over and pick up a meal [for] free."
Curbside, delivery
Sketches of Spain
The Bishop Arts newcomer has a small but mighty takeout menu with Spanish appetizers—ham croquettes, patatas bravas, Spanish tortilla—plus paellas for $15 each. The "black" paella, so named for the black squid ink is a favorite, ditto the seafood "a banda" version. Don't skip the cheesecake!
Pickup
Hola Cafe
Order authentic Venezuelan food from Hola Cafe in Carrollton via Uber Eats, DoorDash, or ChowNow, or call 972-695-6363 and order over the phone. Follow their Instagram for more information.
Gemma
Gemma balances fine dining with cutting-edge cuisine, and the menu features the bounties of each season cooked simply but with imagination. The restaurant is open from 4 pm to 8 pm, Tuesday through Saturday, for curbside pickup or delivery.
Ethiopian
Desta Ethiopian Restaurant
One of the newer of the city's many Ethiopian restaurants, Desta distinguishes itself by offering a contemporary take on Ethiopian cuisine. Modern platings do away with the communal trays that most people enjoy, but hats off to the owners for introducing variety into this already diverse genre.
Pickup, delivery
Ibex
Among the city's top contenders in the Ethiopian department, Ibex attracts Ethiopian expats and Dallasites alike with welcoming service, a no-nonsense dining space, and generous, affordable portions with pitch-perfect seasonings.
Pickup, delivery
Queen of Sheba
Long live this shrine to Ethiopian food, especially the multicourse Queen's Dinner, which kids love because you eat it with your hands.
Pickup, delivery
French
Bullion
After his tenure at the Rosewood Mansion on Turtle Creek, French-born and Michelin-starred Bruno Davaillon imagined this modern French brasserie. Now you can order cocktail kits, wine packages, cream puffs and pastries, wagyu burger kits, fresh pasta, caviar, charcuterie, fresh meats and vegetables—even a Made In Cookware frying pan—for curbside pickup.
Pickup, curbside, delivery
Lavendou Bistro Provençal
Lavendou is still one of the city's top dining experiences, and it is currently open for dinner service and curbside pickup. Must-haves: fat escargots bathed in butter, crackling garlic, and parsley; a fork-tender filet with brandy cream sauce flecked with peppercorn; a pastry shell filled with skillfully prepared shrimp.
Curbside pickup
Toulouse Cafe and Bar
Here traditional French flavors are glossed over and made pretty. Niçoise salad is a slab of pepper-crusted ahi seared rare, perched on a small bed of greens studded with fresh herbs, red onions, egg, haricots verts, and anchovy.
Pickup, delivery
Fusion
Asian Mint
This restaurant may be located in a strip mall, but the lime green-and-cream decor is unquestionably stylish. Pad kee mow is done right, with lots of garlic, basil, and chiles. Fried sea bass is prepared with finesse, with a perky basil sauce that seeps into the accompanying jasmine rice.
Curbside
Malai Kitchen
The plates at this West Village nexus of great cocktails are moderately priced and artfully presented Thai and Vietnamese cuisine. Signature dishes: fresh summer rolls, Kobe beef tartare, Vietnamese beef noodle soup, and classic pad Thai. Outstanding green curry chicken.
Curbside, Contactless pickup, Delivery, 
Nosh Bistro
Call 469-730-2400 to order from this Mediterranean-American-Asian fusion menu. They're even offering 20 percent off food and 50 percent off wine. Receive a $20 gift card for every $100 gift card purchased. Delivery only on orders over $50.
Zenna Restaurant
The Thai and Japanese restaurant's extensive menu is available via Grubhub, Uber Eats, and DoorDash. Order online from one of five locations (in Dallas, Plano, Mesquite, and Fort Worth) nearest you.
Third-party delivery only.
Indian
Chennai Cafe
Southern Indian food rules. There are so many choices here, it's advantageous to gather a group of friends and sample. There is a long list of dosas, unique rice dishes (one scented with tamarind; another simply with lemon juice), and a stellar Thalappakatti-style mutton biryani. Currently, they have lunch and dinner family meals.
Pickup, delivery, curbside, contactless
Mughlai Fine Indian Cuisine
Adventurous eaters will have a blast ordering from a long list of specialties from Northern India. Try the murgh malai kebab (chicken marinated in yogurt and served on a cast-iron skillet), then move on to spicy minced lamb with peas. Some of the best Indian food in town.
Pickup, inquire for delivery
Italian
Adelmo's Ristorante
Adelmo Banchetti has been serving sophisticated Italian-French-Mediterranean fare since 1989. The old-school menu is full of familiar comfort food such as gnocchi tossed in Gorgonzola cream sauce mixed with prosciutto and peas. P
ick-up, curbside, delivery
Bruno's Ristorante
The Irving Italian restaurant with baked manicotti, pollo parmigiana, and other Italian American classics.
Campisi's
Contactless delivery within a four-mile radius! Full-contact Italian American flavors. Order from a location nearest you.
Carbone's Fine Food & Wine
Julian Barsotti, chef-owner of Nonna, heads this Italian-American grocery store, deli, and restaurant that honors his grandfather and father's old sandwich shop in New York. His artisanal meatballs, made from fresh Berkshire shoulder, are combined with bread crumbs and ricotta cheese to create a tender result.
Pickup
The Charles
With its decadent, over-the-top decor, The Charles is like the love child of Fellini and Chihuly—with utterly fabulous food. Chef J. Chastain delivers wood-fired oysters topped with crisp pepperoni and bronzed, taleggio cheese-filled focaccia to nibble on, but also excellent house-made pastas and mains.
Pickup
Fachini
In Julian Barsotti's fourth restaurant, the vibe is classy Italian-American, with midnight blue walls and tuxedoed servers. Lobster fra diavolo looks like a lavish hairdo, and veal parmigiana from an exquisite loin chop comes cratered with house-made mozzarella.
Curbside, pickup
Il Bracco
The sleek Italian restaurant is well-suited to its Preston Center environs, with appetizers like fried baby artichokes you pop into your mouth, drizzled with a bit of lemon, or house-made cacio e pepe, twirled generously with pecorino and Reggiano. Tangy panna cotta comes smothered with fresh blackberry compote and crumbles of house-made biscotti.
Curbside, pickup
Lucia
Remember how you could never get a reservation? Now you can order curbside pickup Thursdays through Sundays and never be disappointed. One example: $100 dinner for four that includes braised short rib lasagna, tomato and fresh mozzarella salad, house-made bread and butter, and chocolate mousse.
Curbside, pickup
MoMo Italian Kitchen
Food snobs adore this BYOB Italian-American restaurant. Favorites include ris in cagnon, a traditional wedding dish from northern Italy, and bresaola topped simply with olive oil and lemon.
Curbside, pickup
Nonna
At this charming, authentic Italian spot on the edge of Highland Park, chef-owner Julian Barsotti uses local, organic, and sustainable ingredients to produce everything from elegant lobster ravioli to a simple white pizza. The menu changes often, but the wood-burning oven always turns out thin-crust Neapolitan pizzas.
Curbside, pickup, delivery
Sprezza
The kitchen's approach is not rigidly classical at this modern Italian restaurant. Roman pastas include a stellar classic cacio e pepe, and rotating dishes that change with the seasons often take the form of splendid antipasti.
Curbside, pickup, delivery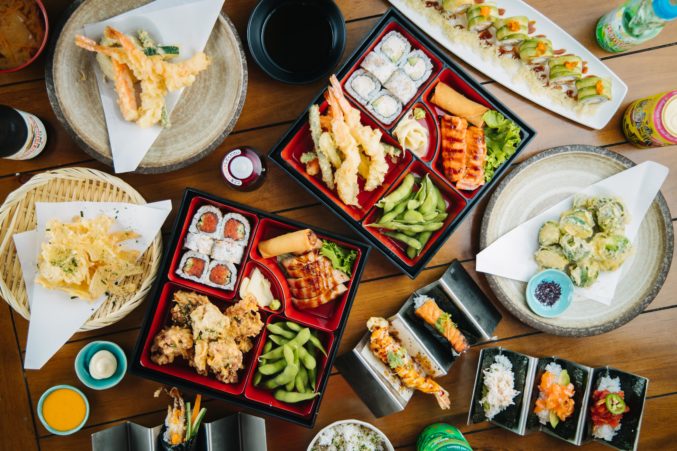 Japanese
Ai Sushi Sake Grill
Sushi, Korean spicy bulgogi, Chinese lo mein—satisfy all those pan Asian cravings. The Oak Lawn spot's doing takeout and delivery via all the major third party services.
Delivery
Ichigoh Ramen Lounge
The ramen spot that was once Tanoshii serves ramen in its purest, most classical form. Whether you need a balm for a cold day or broken heart, Ichigo is at your service with bowls of brothy goodness. The menu features six ramen options and airs on the side of assari, a lighter style than the richer kotteri. All the flavoring oils are made in house to compliment the broth and hand-selected-in-Japan noodles. Toppings are spare—menma, seasoned egg, or maybe the scallop-edge slice of naruto fish cake—to let the flavors take center stage. A vegetable broth gets Fuji apples and burdock root; the chicken paitan ramen is lip-smacking.
Pickup, delivery
Mr. Max Cafe Nippon
Slip off your shoes, sit cross-legged at a low table, and choose your sake cup from the basket proffered. Mr. Max is about full immersion. Hand-lettered signs may help steer you toward oden (fishcakes in dashi broth), grilled fish collars, miso-braised eggplant, or beads of raw octopus riled with wasabi.
Pickup, delivery
Namo
Namo's to-go boxes make takeout simple: Choose three prix fixe options of four rolls and sashimi. For large sushi-loving groups the "Super Namo" get you 10 rolls of your choice for $90.
Pickup
Nobu
The menu offers more than 200 items, many of them small plates. The signature black cod with miso, sushi, and bento box are all very good. Whole fish coated in tempura batter and tossed with tempura vegetables is a popular dish to split.
Pickup, delivery
Nori Handroll Bar
At this dark, hip spot in Deep Ellum, a long, narrow room with a 24-seat counter is where you order handrolls, warm sushi rice and a tartare of seafood rolled into a cylinder of crisp nori. Fluffy red crab has a low rumble of flavor from garlic aioli and spicy tuna gets crunch from bits of deep-fried yam.
Curbside pickup
Oishii
Oishii has grown from a small BYOB sushi joint to a sophisticated sushi and Pan-Asian restaurant and lounge with two locations serving fine Vietnamese, Chinese, and Thai specialties. Lunch specials are a delicious steal.
Pickup
Tei-An
Chef-owner Teiichi "Teach" Sakurai continues to raise the bar on fine dining in Dallas. His spot in One Arts Plaza specializes in Japanese soba noodles made by hand from nutty-tasting, nutritious buckwheat flour. Another must-try: omakase.
Pickup
Tei Tei Robata Bar
This truly Japanese-style restaurant has been going strong since it opened in 1998. The menu offers unique and surprising items such as fresh octopus and crunchy smelt alongside more familiar dishes.
Curbside, delivery
Teppo Yakitori and Sushi Bar
Miso-glazed sea bass is as fleshy and good as ever, but simple yellowtail, tuna, and salmon sushi can be marred by too much wasabi. It's still a hot spot for exotic dishes like quail eggs.
Curbside, pickup
Uchi Dallas
Should you choose the sushi, the most wonderful slivers of fish will cross your tongue. Pick a cool tasting and composed bites with constantly changing flavors and textures arrive. Hot dishes include a brilliant whole fish festooned with fresh herbs.
Curbside, pickup
Yutaka Sushi Bistro
Rolls, such as tuna and yellowtail, center on impeccably handled fish, but Yutaka's intriguing menu puts this bistro in the same league as Nobu and Tei Tei. Try the gyoza dumplings filled with spicy tuna, pan-seared until crisp.
Pickup
Zen Sushi
A winsome place from Michelle Carpenter, who's been cutting fish for 20 years. Her innovations include buttery yellowtail trimmed into neat slabs then marinated in a citrusy ponzu doctored with chile sauce, fresh cilantro, and jalapeño.
Pickup, curbside, delivery
Korean
bbbop Seoul Kitchen
We love bbbop's accessible Korean dishes, including bibimbap, aka a bowl with rice, meat, vegetables, lettuce, and sauces drizzled all over. The fantastic "old school bowl" is a quick and inexpensive way to get your Korean fix on the go.
Pickup
Charm Juk
This restaurant is dedicated entirely to rice porridge. Try the seafood combo or abalone juk, and end your meal with a sweet pumpkin soup.
Pickup, delivery
Korea House
The elegant doyenne of the Asian Trade District, with its burgundy awning and wood-paneled sushi bar, has stood on the corner of Royal and Harry Hines since 1979. The barbecue selection may not be as broad as Koryo Kalbi's, but the galbi is prime Black Angus.
Pickup, delivery
Laotian
Khao Noodle Shop
Donny Sirisavath went from much-lauded pop-ups to a brick-and-mortar where noodle bowls showcase Laos' tantalizingly funky flavors. Tapas-style small bites include soured pork meatballs and filled tapioca balls. Dip purple sticky rice in jeow sauces and accompany with beef jerky. The new Khaonvenience Mart offers jars of jeow and pickled greens, bags of jerky, and pork steam buns to go.
Zaap Kitchen Lao & Thai Street Eats
When they landed on Greenville Avenue, the owners of Zaap were one of the first to give Lao food a brick-and-mortar restaurant. Their sizzling Lao sausage; "dancing" garlic riblets; and heavenly, sticky-sweet beef jerky were part of a revolution in the works. We loved that we could add a fried egg and jeow som or jeow bong, Lao superpower condiments, to every order.
Mexican
José
Valet pickup or delivery on orders that feed four, eight, or 12 at $50, $70, $90, respectively. Peep the takeout menu on the José website.
Las Almas Rotas
Call 972-685-5666 or order online to enjoy tacos, burritos, elotes, beer, and Takis Fuego (seriously—they sell them to go!). Roll into the bar's alleyway drive-thru, no car needed.
Meso Maya
The Lakewood location of Meso Maya, one of Dallas' classic Mexican restaurants, is now open for curbside pickup. Delivery is also available for orders over $25 and made within a seven-mile radius of the restaurant. Call 469-998-1182 to order from their extensive menu that includes bar kits to-go.
Jalisco Norte
At Jalisco Norte, the talents of chef Jose Meza, whose experience includes work at gastronomical meccas Noma in Copenhagen and Pujol in Mexico City, come out in dishes that blend fine technique and indigenous ingredients.
Pickup
Pizza
Fireside Pies
Fireside Pies will be offering curbside services for all to-go and pickup orders. When you arrive: Call your Fireside Pies location, provide the make and model of your car, and the name the order is under.
Greenville Avenue Pizza Company
Greenville Avenue Pizza Company, which celebrates its 13th anniversary this year, is delivering pizzas until 3 a.m. and selling beer to go. To order delivery or takeout over the phone (their preferred method), call 214-826-5404 for the original Greenville Ave location or 214-324-2726 for the Peavy Road store.
Pickup, delivery
Grimaldi's Pizzeria
Order brick-oven-baked pizzas online for delivery or takeout—or order delivery with DoorDash or Uber Eats—from the Grimaldi's Pizzeria locations at Park Lane, West Village, and Highland Village.
Pickup, delivery
Pie Tap Pizza Workshop + Bar
Chef Giovanni Mauro's naturally fermented pizza dough is made using only unbleached flour, water, salt, yeast, and olive oil, resulting in a base that's chewy and crisp. Garlic knots with housemade dips are a must.
Pickup, delivery
Pizzeria Testa
The Neapolitan pies here are simply constructed, with fresh, full-flavor ingredients on a crust as light and soft as a goodnight kiss. The Italians we know in town swear by them.
Curbside, delivery
ZaLat Pizza
Always a favorite for late-night pizza cravings, this offshoot of DaLat doles out pizzas dizzily swirled with hoisin, teriyaki, and Sriracha. The reckless will pass up cheese and pepperoni for the corn-topped ode to elotes or the pie topped with sauerkraut, whose muse is a Reuben.
Pickup, delivery
Seafood
Rex's Seafood and Market
Order online from either of Rex's two locations to enjoy fresh seafood from the lunch and dinner menus, which are now available for takeout and curbside pickup. You can also order over the phone (214-758-0566 for Northwest Highway restaurant; 214-272-9372 for Dallas Farmers Market store).
Pickup, curbside, delivery
TJ's Seafood
Dallas' favorite seafood purveyor has a few options going on. There's to-go curbside pickup for its Oak Lawn and Preston Royal locations. Order anything off the regular menu and snatch it from the curb, hot and ready to eat. Also: Heat-at-home family meals with your choice of grilled shrimp, salmon, or daily catch plus sides; add dessert and wine bottles.
Shell Shack
The seafood joint's menu is available at all locations (Dallas, Plano, Mesquite, Arlington, Denton, and Fort Worth) for pick up, delivery.
Taco Joints
Tacos la Banqueta
The shack's holy trinity is served on small, two-ply corn tortillas: cabeza (cow head meat), lengua (beef tongue), and suadero. The latter, Tacos la Banqueta's signature meat, is a braised cut of steak finished on the griddle, sealing in the juices with a charred exterior.
Trompo
This casual, no-frills taqueria may have moved to the Bishop Arts District, but it still serves up some of the best authentic tacos in Dallas. Order the namesake taco, juicy pork on a corn tortilla, and ask for extra green sauce.
Pickup
Revolver Taco Lounge
The Deep Ellum taco institution will begin offering to-go orders through its curbside window.
Tacodeli
Tacos are available for takeaway and curbside pickup at Tacodeli's two Dallas and two Plano locations. Order online from their extensive menu or call the nearest location.
Taco y Vino
Six tacos and a bottle of cava or rosé for $30, also known as the social distancing starter pack. Full food and wine menu available. (Service industry folks, you get 50 percent off all food for the foreseeable future.)
La Nueva Fresh & Hot Tortilleria
The guisado verde is a green conflagration of pork. The guisado rojo with strips of nopalitos lashes out at the palate with less intensity—but not by much.
Pickup
Maskaras Mexican Grill
Rodolfo Jimenez opened Maskaras in 2016 as much to share regional Mexican dishes as to house his impressive collection. The tacos de camarones, aromatic and sturdy enough to withstand the salsa roja, are a required order next to the tacos ahogados.
Pickup
Resident Taqueria
This trendy and casual taqueria in Northeast Dallas serves made-to-order tacos on house-made tortillas, loaded up with seasonal and local produce and tender, slow-braised meats.
Pickup
Thai
Family Thais Asian Bistro
Located in Dallas' West End, this Thai restaurant with an enormous menu is now offering everything from tom-yum soup and bubble tea to crepes and macchiatos via Uber Eats, Grubhub, DoorDash, and Favor. You can also call 972-773-9950 to order takeout.
Ka-Tip
Grown from pop-ups, the counter-order spot in the Farmers Market depicts an alley of food stands in Bangkok, which is the inspiration for authentic Thai street food. Chewy pad Thai, grilled pork salad showered with toasted rice powder, and chicory-laced coffee are par for the course. As are Sunday's coconut-milk-and-rice-flour pancakes with custardy centers and crisp edges.
Pakpao Thai
Just behind Oak, you'll find Tiffanee and Richard Ellman's funky Thai restaurant. There's a long exhibition kitchen that is particularly useful when celebrity executive chef (and consultant to the restaurant) Jet Tila is in town whipping up his drunken noodles. If the weather is nice, pick a spot on the patio and sample as many of the appetizers as you can.
Royal Thai
While other restaurants are fusing and confusing palates with Asian ingredients, Royal Thai remains dedicated to preparing straightforward Thai cuisine spiced with plenty of fresh herbs and peppers. If you order a dish "Thai style," you'd better be ready for it.
Sakhuu
Chef-owner Kyla Phomsavanh's stuffed chicken wings take a whole day to make, but they're well worth his efforts. We still haven't met a single person who hasn't fallen in love with this appetizer of juicy chicken filled with pieces of rice and veggies. There's really nothing on this menu we wouldn't recommend.
Tex-Mex
Blue Mesa and TNT
Fajita family pack for four ($50) includes grilled steak, chicken, rice, beans, sweet corn cake, sweet potato chips, and condiments. But the whole regular menu is available as well. Pick up orders curbside at your nearest Blue Mesa Grill (locations here), or get orders of $100 or more delivered.
E Bar Tex Mex
E Bar Tex Mex is usually always full, never dull, and the regulars love the long bar. Eddie Cervantes, the former owner of Primo's, now rules over this modest restaurant.
Pickup
El Fenix
El Fenix is offering takeout, curbside, and delivery  from numerous locations across North Texas. Call your nearest location to order from their extensive menus. El Fenix is offering its $6 enchilada special every day along with six-packs of beer to go.
Miriam Cocina Latina
Enchiladas, tacos, and other Miriam favorites will arrive curbside quick and contact-free. Call (214)855-5275 to order.
Rafa's Cafe
The 25-year-old Tex-Mex institution is doing lunch Friday through Sunday, with dinner Tuesday through Sunday. Curbside pickup or delivery within five miles.
Primo's
The Uptown Mexican restaurant is now offering takeout, curbside pickup, and delivery. To order, go online or call 214-935-5111. Takeout and delivery menu available here. Twenty percent of food, 50 percent off wine, and a free $20 gift card for every $100 gift card. Delivery only on orders over $50.
Las Palmas
They've got curbside pickup. Call 972-863-7900 for that good Uptown Tex-Mex.
Steakhouse
Al Biernat's
Now offering curbside pickup and free delivery within a three-and-half-mile radius of both Oak Lawn (214-209-2201) and North (972-239-3400) locations. Per the restaurant, preferably lunch entails a $75 minimum order and dinner order's include at least two entrees. And, yes, you can order from the kids' menu, too. Hours of operation will be 11:30 a.m.–8:30 p.m. daily, and Saturdays 5–8:30 p.m.
Bob's Steak and Chop House
Bob's on Lemmon Avenue will be offering curbside and delivery services for all to-go and pickup orders. Bob's will deliver in a five-mile radius and require a minimum two-entree order for delivery. To order, call 214-528-9446.
Dunston's Steakhouse
Established in 1955, Dunston's is Dallas' oldest steakhouse and is offering curbside pick up at both locations on Harry Hines Boulevard and West Lovers Lane via Favor.
Perry's Steakhouse and Grille
Self-isolating need not reduce your steak intake. Get three courses for $45 or two courses for $29.
Curbside pickup
Knife
Limited menu available for takeout or curbside pickup from 5–10 p.m. daily at the Dallas location only. Call 214-443-9339 to place your order.
Knife Butcher
One of many butchers still open, Knife's Plano location is selling cuts of meat for customers to cook at home. Place your order online. Allow Knife 24 to 48 hours to process the order, then go pick it up when the meat is ready.
Georgie Butcher Shop
With a street-facing open window, Georgie Butcher Shop is now serving a menu comprised of dishes from its sister restaurants: Georgie by Curtis Stone, Le Bilboquet Dallas, and Up on Knox. Find the new and abbreviated menu here. Call 469-466-8263 to order curbside pickup (free delivery is available for orders over $20 and within a two-mile radius). The Butcher Shop is also offering an extensive list of grocery items like cured meats, pickles, salsas, stocks, and juices. Wine is 60 percent off.
Y.O. Ranch Steakhouse
The Downtown steakhouse is now offering curbside pickup and delivery. Call 214-744-3287 to order from their burbside menu, or use Favor, Grubhub, or Uber Eats for delivery. You can order either pickup or delivery with Caviar.
Vegetarian, Vegan
Da Munchies
Whoever said vegan food was all kale salads and bland meat replacements had never met Angela Alexander's plant-based, southern-style comfort food. Fried "chicken" mozzarella burgers, Beyond Meat "cheese" burgers, "fish" tacos—the meat may be faux, but the impactful flavors are very real.
Itso Vegan
Amiya Cleveland's Grand Prairie eatery is delivering flavor and nostalgia sans animal products. Selections like fried chicken and Salisbury steak feature seitan and pea protein as meat substitutes, while classic sides include yams, cabbage, and collard greens (without the ham hocks).
Flower Child
Flower Child's hippie vibe is apparent in both its bright, punchy interior and its health-conscious menu. The food is largely plant-based, and most options are vegetarian, vegan, or gluten-free. So should your self-isolation require something a bit more healthy, Flower Child's offering curbside pickup, takeout, and delivery (via DoorDash) at all four DFW locations with 35 percent of to-go orders online.
Peace. Love. & Eatz
Chef-owner James McGee believes in approachable foods: that's why he slings smoky barbecue jackfruit sandwiches with sides of loaded baked potato and collard greens, or jerk-spiced mushrooms with fried plantains at his plant-based restaurant and smoothie bar located in the Grow DeSoto Market Place.
Recipe Oak Cliff
Known for her juices and wellness shots, Tisha Crear attracts all walks of life to Recipe Oak Cliff with its to-go juice and tea bar and deli market. We also love the sweet and tangy pulled jackfruit sandwich topped with a slaw of purple cabbage on house-made apple-and-flaxseed bread.
Spiral Diner & Bakery
Vegetarians and vegans, rejoice! You now have excellent choices for meatless comfort food, such as a VLT (soy-veggie bacon, lettuce, and tomatoes) and the Big Taquito (tofu scramble with soy sausage, potatoes, and avocado). Brownies will blow your mind.
Tribal All Day Cafe
The goal in this sunny brick-and-mortar that evolved from local juice company Tribal: to soothe with nourishing, plant-based food. Pickup
Vegan Food House
Elizabeth Anderson left Da Munchies in West Dallas to open VFH in a bright blue bungalow in Oak Cliff. The diners are as colorful as the Creole-inspired comfort food, which includes fried oyster mushroom po' boys, stuffed seitan sausage sandwiches, and a lemon cake that can't help but make you smile.
Vietnamese
Bistro B
Don't let the strip-mall location dissuade you from trying this loud and lively Asian eatery. The menu is packed with dishes marked by fresh, bright flavors, and the wallet-friendly pricing has earned citywide loyalty.
DaLat
Owner Khanh Nguyen gave up his day job to open this restaurant specializing in Vietnamese comfort food. Night owls can go here to get their pho and banh mi fix until the wee hours of the morning.
Lá Me
In addition to build-your-own pho ($5.95 for a hearty bowl), Lá Me is known for its fantastic banh mi. Our favorite, of course, is also the most expensive: the Buu Dien, with ham, pork roll slices, and soft liver sausage on French bread ($2.75). Egg rolls are a must-order, and there's free wifi if you care to surf the web while munching.
Ngon Vietnamese Kitchen
At Ngon Vietnamese Kitchen, Carol Nguyen's recently opened restaurant on Lower Greenville, steamed rice bánh beo is topped with pulverized shrimp. Vietnamese coffee sweetened with condensed milk gets a float of cognac and a soft layer of whipped egg foam. The bánh mì in their crackling baguettes feature classic cognac-infused pâté, as though reminding us that her food influences are from Ha Noi, a city historically inflected with French colonial influence—the city from whence hails her clear-brothed style of pho.
Pickup
Sandwich Hag
Reyna Duong's love letter to Vietnamese street food operated as a pop-up before taking root in the Cedars. From her casual stand with its funky mural, the energetic chef serves banh mi filled with excellent house-made Vietnamese pork sausage, lemongrass pork, ginger tofu, or chicken; salads and spring rolls; Vietnamese curries; and boba fruit teas made with real fruit. Online orders only at the moment.
Pickup
Mot Hai Ba
Take home chef Peja Krstic's ingenious twists on the northern Vietnamese cuisine via curbside pickup and free delivery within three-mile radius. Delivery via Caviar and Favor or call 972-638-7468.
Pho Is for Lovers
There's nothing like steamy pho on a stormy night. Both Greenville (972-708-1028) and Richardson (469-620-3910) locations are offering takeout and delivery via UberEats.
Get the SideDish Newsletter
Dallas' hottest dining news, recipes, and reviews served up fresh to your inbox each week.