Katie-Rose Watson is bringing back the art of the dinner party, even in quarantine. Her blog,
The Rose Table
which she launched in 2014, has built a following for hosting ornate and elegant Disney dinners (some even sponsored by Disney). We caught up with Watson to chat about her virtual cooking class series that are launching this week.
For the uninitiated out there, what is the Rose Table?

So the Rose Table is a food and lifestyle website where I post original recipes, travel inspiration. And most notably, themed parties, which is what I'm best known for. I also have my video series, which is mainly on the
Rose Table Facebook page
as well as YouTube. And I'm best known for my Disney dinners, which are fabulous, adult, Disney-themed dinner parties. They're very elegant. They're not like kitschy. There's not, you know, cartoon cutouts or anything like that. My goal with the Disney dinners was really to inspire people to entertain, to kind of bring back the outdated notion of the dinner party and show people how it can be whimsical and fun. So my thinking was, to the naked eye, they're just beautiful dinner parties. But to Disney fans, they see all of the symbolism and all the reasons behind everything, and it very much looks like a Disney dinner if you know what the movie is.
What other content do you create for your blog?
There are 17 Disney dinners, and then I've still been doing my cooking series and in quarantine I brought back the straight cooking videos, as well as Quarantine Halloween, which I got the idea for because more people have recreated my Disney dinners in quarantine than in the entire year of Disney dinners. I feel like every week someone sends me pictures or an email saying, "Oh, I did this for my family" and I think it's because people are really looking for ways to make magical moments at home and that's been my thing forever. So that's been really exciting to see people appreciating that.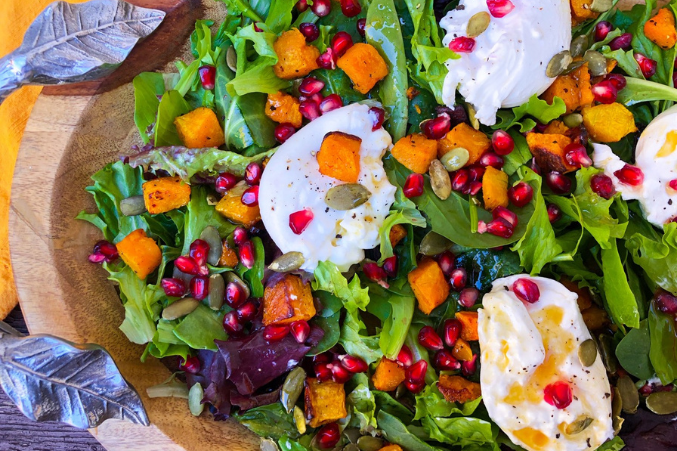 And so I got this idea to do Quarantine Halloween. I did four sort of "party episodes," except they're obviously not parties—I've been quarantining in this entire time. I did a harvest festival with my quarantine bunch. My parents live very close by. And we are one unit, we're like the sitcom people that pop in and out every day. So I did a little backyard harvest festival with pumpkin tic-tac-to and apple cider. Sort of like a fall lunch, I should say. And then I did a pumpkin picnic with one of my best friends, Emily. And it was socially distanced. We're on two separate picnic blankets, we actually measured, we're nine feet apart. I had a whole pumpkin menu.
For the grand finale, I did a classic Halloween. What I actually make on Halloween every night before trick-or-treating with my niece on normal years, and my "guests" were pumpkins—special effects that I projected on my table. It was very cute. So just trying to have fun, lighthearted ways to inspire people to celebrate, you know, safely at home this year.
Tell us about the virtual cooking classes you're launching.
I'm very excited about this, mainly because people are always asking me about doing events, and I think this is a really good fit because a lot of my readers are all over the country—they can be anywhere in the world and still participate. So the first one is this Friday [October 30] and it's one of my Halloween recipes, my Cauldron Queso.  We're also going to learn how to make one of my Disney dinners cocktails Foolish Mortal. We'll get dry ice chips and answer whatever questions they have about party planning. That's the number one thing that people ask me about. So I hate to even say cooking classes, more like cooking experiences because people always have so many questions about the party planning process. People always want to know, if you come up with the theme first of the food first, or how do you develop a recipe and those sorts of things, so it's gonna be a little bit of everything. That'll be the first one.
I think next I will do a Thanksgiving one in November, where we'll make my favorite cranberry sauce that I've been making since I was a teenager, and some easy Thanksgiving like appetizers and salads. We'll go over different floral arrangements that would be cute for Thanksgiving and table tips. So it's really gonna be all encompassing and then this is exclusive. Nobody knows this. I am going to do my first Disney dinner's cooking class in December, and it's going to be
Frozen
themed. That was my very first Disney dinner. And it's still one of my absolute favorites. And the reason I want to do it in December is because it was such a beautiful winter table. So if you're not a Disney person, you will still want to do this class because it's basically how to do a magical winter dinner table.
What can people expect if they sign up?

So for now, the first one is, I know people are gonna ask about this, it's not a two-way camera, because I worried that people would be intimidated by that. I thought if I did something like a virtual cooking class, I wouldn't necessarily want to, you know, fix my hair, make sure I have good lighting in my kitchen or whatever. I just want to follow along. I'm open to feedback. And if people would rather that I see them have a two-way camera as part of future classes, I would love that feedback. But for now, if that's something that makes people nervous, then they don't have to worry because it's basically like a private Facebook live where people will sign up, tickets are $15, and they can basically follow along. [They can] comment and say,
Hey show me that again
, or
Back up
, or whatnot and they have the ingredient list ahead of time so that they can literally cook along with me.
Get the SideDish Newsletter
Dallas' hottest dining news, recipes, and reviews served up fresh to your inbox each week.