If you were to walk along Commerce Street at the corner of Malcolm X Boulevard in Deep Ellum, you might assume the two next door spaces belonging to Basic Taco and Yellow Rosa have nothing to do with each other. One is a modern, bare-bones space punctuated with neon accents, where you'll find both simple street food-style tacos along more trussed-up versions. The other is an agave-focused bar, draped with viney plants and soaked in sunlight and old world charm. Yet Basic Taco and Yellow Rosa come from the original creative minds behind Toasted and Real Nice Place (not the current ownership, to be clear).
It has been about a year in the works, but the adjoined taqueria and an agave bar finally have a soft opening date: October 13.
Basic Taco started as a food truck that often parked outside Deep Ellum watering holes. Now at 2901 Commerce Street, the taco shop serves up low-fuss, simple Mexico City-style street tacos in a fast-casual setting.
"The truck was just an experiment [since] Dallas is taco heavy…I don't want to go into the market without knowing that my tacos work," says one owner, who wished to remain unnamed. "I really don't like notoriety." (As most food media likes to create celebrity around certain chefs or restaurateurs, I'm totally okay with obliging this individual's noble, if offbeat, request this time.)
So let the tacos speak for themselves then: wood-fired meats and veggie options, like cauliflower and, by some food alchemy, a vegetarian chicharrón. As for proteins, think carne asada, chicken asada, and al pastor, as well as "gourmet tacos" with smoked brisket or shrimp. There will be about a half-dozen margaritas available, a full to-go menu, and Yellow Rosa cocktail kits (with food purchase, because thems the rules).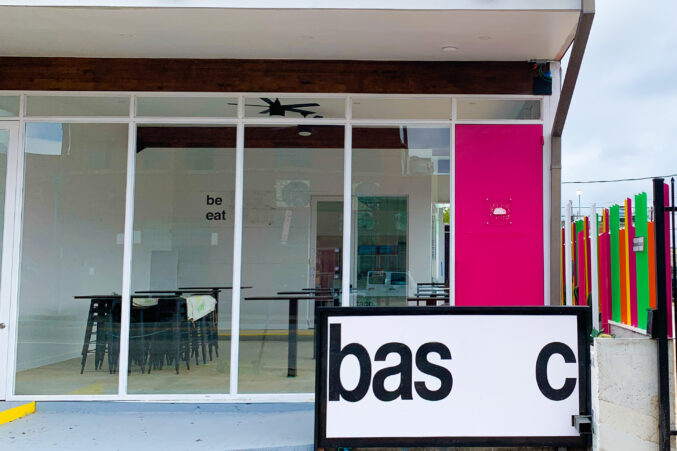 Where Basic Taco's neon door screams into your eyeballs to come eat, Yellow Rosa is its subtle sibling, whispering to come hither for a cocktail or two. As you enter, an actual neon light fixture reads "you're not here" in cursive lettering, hinting at the clandestine feeling of the bar. The hidden "cocktaileria," as they're calling it, will be filled with plant life and floral elements from Petal Pushers. A local macramé artist's woven work evokes Tulum vibes. The words "oasis" and "Disneyland" get tossed in. Yellow Rosa isn't trying to be any one specific thing. Rather it's a mixture of rustic and refined and tropical. There are hints of Mayan culture juxtaposing the post-colonial Mexican city a la San Miguel de Allende. Even one of the owner's many family trips to Guatemala growing up inspire the design.
As a former moderne-style 1940s-era gas station, the space's history lends itself to this antique feel. The owners wanted to play with bringing the outdoors in, akin to a hacienda's hidden garden-courtyard. A skylight can open up, letting in fresh air. There are also mentions of little hidden toys or messages for guests to find, again nodding to the playful theme park–adjacent spirit of the place. "I think if I think if you're too cool to be in here, then we won't let you in," they joke (I think?).
"I just kind of wanted a place I wanted to hang out," says one owner, adding that this is the kind of bar you start the night at before marching into the belly of Deep Ellum.
Everyone will be greeted with a botana—a snack or appetizer ideal with booze, if you will. In my case, it was aguachile and chips. It's as though you'd just walked into an old cantina in Mexico City. "We're inspired by agave, but we don't want to be a mezcaleria," says a second owner. You can expect sotol, raicilla, and mezcal aplenty, but also bourbon- and gin-based drinks, too (there are 10 house cocktails in all). In addition to the full scale bar, there will be brunch on weekends.
Two private "Sancho rooms," separated from the main dining area by macramé curtains, are reservation only for two people who can dig into a four-course meal ($125 per person) in two-hour time slots. And on Wednesday evenings, Yellow Rosa will host a private dining lottery featuring a four-course custom menu. This is how they describe it: from "the aguachile starter to a wood-grilled ribeye paired with Latin-inspired craft cocktails, guests will dine in the open-air terrace behind Yellow Rosa's hidden front entrance." Okay, what's the deal with the lottery? You'll be able to sign up for Yellow Rosa's email list (coming soon) from which you'll be the first informed and able to put your name in for a dinner spot.
The duality of the two spaces reads like an homage to the old and new Deep Ellum: Yellow Rosa with its rough-hewn look, plus the clean-lined contemporary finesse of the fast-casual Basic Taco.  Keep in mind opening days tend to be swarmed, so proceed masked with caution (and extra patience). As with many restaurant and bar openings in 2020, these, too, are outfitted with COVID safety guidelines, health protocols, and equipment from a custom UV air-filtration system to the hand-washing stations just outside.
Basic Taco hours: Tue–Thu, 10:30 a.m. to 10:30 p.m., Fri and Sat, 10:30 a.m. to midnight, and Sun, 10:30 a.m. to 9 p.m. Yellow Rosa: Thu–Fri, 4:30 p.m. to 2 a.m., Sat 10:30 a.m. to 2 a.m., and Sun open until 10:30 p.m.
Get the SideDish Newsletter
Dallas' hottest dining news, recipes, and reviews served up fresh to your inbox each week.