If you're anything like me, you've been buying the same bottle at the front of the grocery store fridge for the past six months. Isn't one bottle of Post Malone–ordained rosé more than enough? I ask myself as I put yet another in the cart. If you, too, suffer from general choice paralysis in the wine aisle, Courtney Luscher offers you a way out of the darkness: The Lusch List.
Luscher, who handled the wine list at The Grape for 12 years, has launched her own platform for direct-to-consumer wine recommendations and tastings with a focus on smaller producers and local wine shops. Luscher recalls when the idea came to her, standing in a big box retailer, faced with a daunting wall of still rosé. "I just thought, I know a thing or two about wine, I've got some background knowledge, and I'm struggling. What does the regular person do? No wonder everybody buys the same three bottles of wine."
When she and her husband, Brian Luscher, closed The Grape in October of last year, Luscher felt like she had to start from scratch. She started buying and tasting wine in the under-$20 price range, keeping notes and getting feedback from her friends. When she realized there was a need for what she was doing, The Lusch List was born. "It just popped into my head. I have to treat it like The Grape. I need to make a wine list for my house."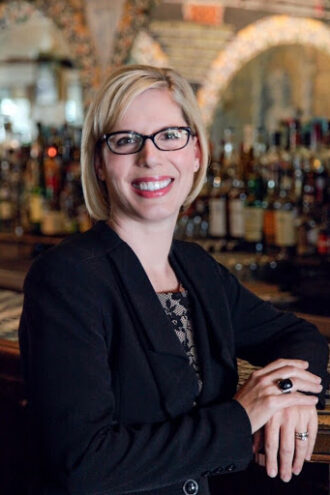 The Lusch List currently offers a free menu of eight wines Luscher has been drinking over the last six months. The catalogue includes the wine profile, a pairing, and where-to-buy guide with a mix of local spots and big box retailers. There's also a weekly newsletter that features a bottle of the week, with a stricter focus on small shops around town. "Whether or not there may be a subscription service in the future, I don't know," Luscher says. "For now, everyone's going to get a new wine every week and a place to go buy it." Plus, the last Wednesday of the month will incorporate a local restaurant with a specific dish and recommended wine pairing. On top of the newsletter, The Lusch List also offers virtual tastings and will be partnering with other local businesses to create a variety of experiences: think cheese and charcuterie from Board Mama with Luscher's pairings.
Though Luscher appreciated the 10 months spent decompressing and spending time with her daughter after The Grape shuttered, she quickly realized that she couldn't abandon the hospitality industry in its time of need. She remembers her time at The Grape, and how her approach there translates to her hope for The Lusch List: "I wanted to present variety, quality, and affordability. I didn't want everything that everyone else had. I wanted to feature smaller producers, independent—like how I was as a small business owner." Trying new wines can be daunting, but with Luscher's help it doesn't have to be.
Get the SideDish Newsletter
Dallas' hottest dining news, recipes, and reviews served up fresh to your inbox each week.