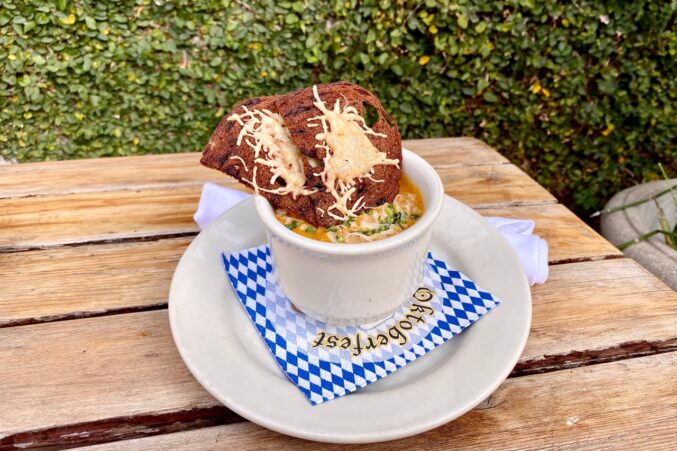 Pandemic Pantry: Meddlesome Moth's Cheddar Block Soup
Or what I like to call Chock-a-Block-a-Bock Soup.
In Germany during the Middle Ages, it wasn't unusual for nobility to eat biersuppe (beer soup) for breakfast, presumably made with leftover libations from celebrations held the night before. Some of the oldest recipes used cream, egg yolks, and a roux made with flour and butter as thickeners. Across the French border in Alsace, cheese might be added to a mirepoix of diced onions, carrots, and celery.
This year's Oktoberfest in Munich might be canceled, but that's not stopping Suki Otsuki, the Meddlesome Moth's chef, from planning a celebration. She'll be serving up German-themed specials through October 4, including beer brats with caramelized onion gravy, pork schnitzel with stone-ground mustard creamed collard greens, and the aforementioned cheddar block soup with pumpernickel crostini. Save room for the chocolate-covered pretzels with caramel and toasted coconut, and be sure to start with the $14 Oktoberfest Flight, featuring your choice of four 5-ounce pours of the following selections: Odell Oktoberfest, Hacker Pschorr Oktoberfest, Weihenstephaner Oktoberfest, Peticolas Same Time Next Year, and Ayinger Oktoberfest.
Not ready to celebrate in public? Take advantage of the Moth's curbside pickup, or make your own biersuppe and order some Rahr & Sons Oktoberfest, Oak Highlands Brewery Oktoberfest, and Alstadt Brewery Oktoberfest for delivery from Pogo's.
If you're not a fan of German brew, there's still time to celebrate Restaurant Week at the Moth through September 27. Otsuki will be serving a three-course dinner for $39, with selections like lobster bisque or Luscher's Meat Fight sausage, mushroom bolognese or Black Angus filet, and fruit cobbler or Drunken Monkey Bread Pudding.
Recipe
Meddlesome Moth's Cheddar Block Soup
Otsuki's recipe is a bit of a misnomer, as she chooses to use Gruyere, a nutty, creamy French cheese. But feel free to substitute a nice block of cheddar if you prefer.
Ingredients
1/2 cup unsalted butter
1/2 cup flour
1 yellow onion, diced
2 cloves garlic, crushed
1 small carrot, peeled and diced
1 stalk celery, diced
2 12-ounce bottles of Shinerbock, Zeigenbock, or other double bock beer
4 cups chicken broth
2 cups milk
2 tablespoons Worcestershire sauce
1 teaspoon dry mustard
1/4 teaspoon ground cayenne
1 1/2 tablespoons kosher salt
Freshly ground black pepper to taste
1 pound Gruyere cheese, grated
Directions
In a large stockpot over medium heat, melt butter. Add onion, carrot, celery, and garlic, and sweat until tender.
Slowly add flour and whisk until roux forms. Gently add chicken broth, milk, and one bottle of beer. Allow mixture to thicken over medium heat. Whisk in Worcestershire, mustard, and cayenne and allow to simmer. Once soup comes together, turn off heat and season with salt and pepper.
Working in batches, carefully blend mixture in blender until smooth. Return to stockpot over low heat. Whisk in gruyere and remaining bottle of beer. Prost!