When COVID-19 closes two taquerias, it opens a tango bar.
At least that's how it worked out for Jesus Carmona after he had to shutter both of his Tacos Mariachi locations. The newer Lowest Greenville spot was the first to close along with the neighborhood's bars; the original Singleton restaurant, which graced our Taco City cover a couple of years back, couldn't hold on after the downtown lunch crowd disappeared. But with the setback came an opportunity.
Carmona had been in talks for years with his friend Ramiro Fernandez Pazos, an Argentinian native and Mexico City-based restaurateur (check out his viral empanada video below), about opening a restaurant together. Pazos scouted out Dallas, Houston, Austin, and San Antonio, but nothing seemed quite right. Then he took a second look at Dallas. Over the years, the Bishop Arts District had expanded north, and Pazos suddenly found the vibrant cultural community he had been looking for. Pazos and Carmona signed a lease for the former Tillman's Roadhouse at the end of February; two weeks later, the city was closed.
The pair had nothing but time to dedicate to Chimichurri, their longtime dream of an Argentinian bistro. On Monday, Carmona gave me a tour of the space, which is still a work in progress but should be—knock on wood—open in October.
Inside the entryway they plan to install a large refrigeration unit so customers can see the cuts of meat as they enter instead of carried around on skewers, as they typically are in Dallas' churrascarias, he says. The plan is to make the entry look like a village store, with jars of dulce de leche and yerba mate mugs. Further inside, a Mexican artist commissioned by Pazos has created a series of paintings of Argentinian icons: Carlos Gardel, "The King of Tango"; footballers Diego Maradona and Lionel Messi; actress Amelia Bence in her title role in El Pecado de Julia; and Madonna as Eva Perón. One of the works, titled The Last Asado (based on The Last Supper) features more Argentine footballers enjoying a traditional barbecue with vermouth-based aperitivos.
Argentina has a history of la hora de vermút, or vermouth hour, when bars would serve laborers the house bitter liqueur—perhaps the Argentinian Hesperidina or Italian Fernet, Campari, or sweet vermouth—alongside a soda water dispenser after work. So Ramiro has plans to create a vermoutheria, an aperitivo-based cocktail bar, on the patio in front of the restaurant.
A former service station has been turned into a rustic wine bar, and Tillman's former private dining room will now be The Tango Bar, a speakeasy inspired by the 1935 film of the same name that will be accessible via the back alley on weekends.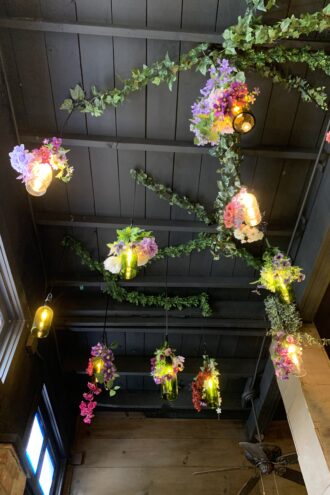 As for the food, chef Charlie Peralta, who has worked with Pazos from Dubai to New York to Mexico City, will be at the helm. ("You know Corrientes?" he asks. "It's okay. This will be more authentic, more nice.") Carmona's plan is to keep it casual and traditional, with handmade empanadas and Argentine-style pizzas. "Like Neapolitan, but a little thicker, a little richer, with more meat," he says. Boneless rib eyes, strip steaks, and chorizo will be cooked asado style over charcoal on the imported Argentine grill. The wine list will be focused on South American wines, with at least 70 percent coming from Argentina and most of the rest from California.
"I don't want it to be like any other wine list," Carmona says. "I just want people to come in, have a drink, and say, 'What a great meal!' The average check is going to be less than $50."
It's clear he's having fun, from the chandeliers he has made from wine bottles pulled out of recycling bins to the handpicked Mexican tile in the bathrooms. It's an eclectic mix that works with Tillman's former lumberjack-inspired decor, much of which is still visible. As with Tacos Mariachi, he's not trying to reinvent the wheel. He's trying to add color and flavor and make it more fun.
"I've been working for many years in fine dining restaurants, in lots of steakhouses: Capital Grille, Nick & Sam's, Knife," he says. "I know there are not many Argentinian places in Dallas. But in the end, it is steaks. And people in Dallas love steaks, Mexican food, and bars. I think Dallas will accept it very well."
Pazos' viral guide to making empanadas:
[d-embed][/d-embed]
Chimichurri is slated to open in October (dinner only for first two weeks) at 324 West 7th Street in the Bishop Arts neighborhood of Oak Cliff.
Get the SideDish Newsletter
Dallas' hottest dining news, recipes, and reviews served up fresh to your inbox each week.