There are delicious things happening inside Brown Bag Provisions. Co-owners and couple Brent and Stephanie Gilewicz opened the Design District deli in late February, in the "before times." Local pantry goods—apricot preserves, granola, grains—line open shelving. They sell their own yogurt brand, Milk and Patience, in a cold case by the register. Arm chairs are vacant, missing would-be patrons sipping Full City Rooster coffee and playing board games.
These days, much of the action is happening behind the counter. I'm talking sandwiches, people.
When the Gilewiczes teamed up with Jenna and Matt Bresnan, the duo behind Bresnan Bread and Pastry, sandwich-making magic was inevitable. As the head baker, Matt's repertoire of breads and pastries is deep—brioche with a rich brown exterior, nutty loaves, laminated doughs—and everything is executed with an artisan's acute touch. It's one key reason why the sandwiches here are so soul-satisfying: the bread has to hold up to the goodness inside.
The Meat and Patience is among the most praised, perhaps because it's such a labor of love. Brent crafts a sous vide pastrami, the crisp edges of which burst of salty, fatty, smoky, sweet-spice flavor. Those pastrami slices live alongside melted swiss cheese, whole grain mustard with seeds popping with tang, not-too-thick, and not-too-thin rounds of horseradish pickles, all between toasted marble rye bread.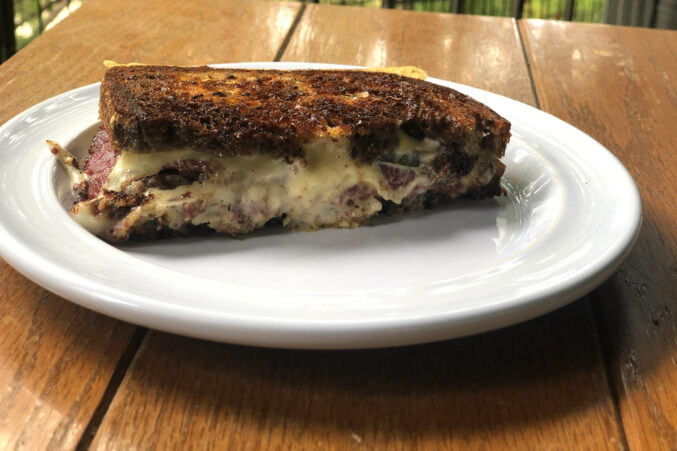 While the pastrami is the perfect marriage of sweet and salt and tang in one bite, Brown Bag Provision's other sandwiches can't be overlooked. I shan't allow sandwich erasure on SideDish. The fried chicken achieves an incredibly crunchy, golden-brown exterior, with a creamy slaw, ginger-jalapeño pickles (I could've used more!) and melty American cheese, all on Hawaiian-style rolls—plural, as it's portioned off from a whole sheet of rolls—from Esmeralda's Bakery.
The salmon tartine, too, delivered on smoke and salt. As a Washington-raised, self-described smoked salmon connoisseur, I had to try the open-face sandwich. House-cured and -smoked, the salmon tartine is a clear nod to the deli classic: lox. In lieu of a bagel, though, a hefty mound of salmon sits atop a slice of everything-seasoned bread and a layer of avocado "carpaccio," with fresh dill, pickled red onion, and a creamy remoulade. Does it need both a remoulade and avocado, providing the creamy-fatty counterpoint to the salmon? Probably not. But when you have everything bread, you put everything on it. And I respect that.
Check out the rest of Brown Bag Provision's menu for both breakfast and lunch (I still have much eating to do on those fronts). The deli is open for to-go or curbside pickup only, but you can walk in and order as well.
Get the SideDish Newsletter
Dallas' hottest dining news, recipes, and reviews served up fresh to your inbox each week.