Not just another Third Wave coffee shop dedicated to thoughtfully sourced beans and max-flavor brewing methods. Not just another bar stocked with Mexican spirits. Neither
Xamán Cafe
nor
Ayahuasca Cantina
, a coffee shop plus back bar at 334 West Jefferson Boulevard, are carbon copies of anything else. Co-owners Gerardo Barrera and Mauricio Gallegos want to stamp a new mold of what a cafe and bar is entirely.
Along Jefferson, where Norteño music might blare out of a pickup truck cruising down the boulevard, the entrance to Xamán Cafe is wedged onto the same block as Dallas' longest-running record store, a beauty salon, and a Boost Mobile. It's simple and bright, with cacti out front and tendril-draped plants above the coffee bar. But what Barrera has journeyed toward for nearly six years is that perfect cup of coffee—one that tasted a bit like home.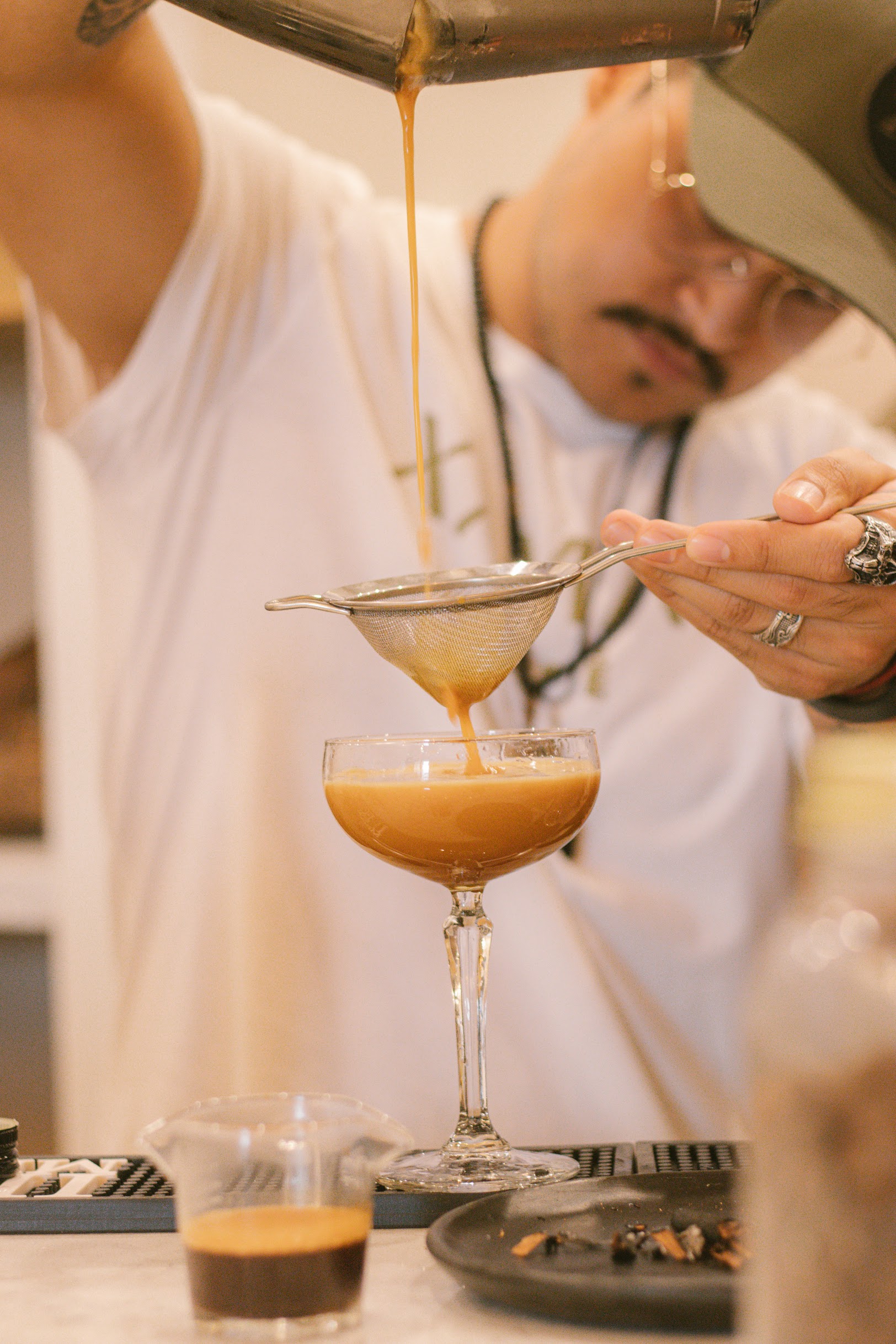 In Mexico, "the day in our family started with a cup of coffee," says Barrera, a systems engineer by trade. He had a cup of single-origin Ethiopian at Ascension one day and has been chasing it ever since. Only the Mexican equivalent, so to speak. "There are a lot of coffee-producing regions in Mexico. Oaxaca, Veracruz, Durango, Puebla, Colima," says Barrera, but Chiapas produces the most at 40 percent, according to the USDA. But at Xamán, they want to showcase small, family-owned farms, starting with one in Verzacruz. The goal is to eventually start a co-op to bring in more single-origin coffees from other Mexican states. Maybe someday those beans can be roasted locally.
But for now they'll start by bringing in Mexican coffee you can't find stateside. They plan to brew via V60 pour over, a Yama slow drip tower for cold brew, French press, Chemex, and a Slayer espresso machine. Drinks like Oaxaca chocolate mocha, cajeta macchiato, "dirty" horchata, and a piloncillo-sweetened, cinnamon-spiced cafe de olla grace the simple coffee menu. Xamán will also serve pastries, chilaquiles for breakfast, salads, and sandwiches with Mexican flair.
The modern coffee bar is offset by the older, more traditional, pre-Hispanic Mexican elements Barrera and Gallegos want to evoke throughout both Xamán Cafe and Ayahuasca Cantina. That means everything from the Mexican art soon to grace the walls to the dried, hulled, and carved jícaras or clay cantaritos—both vessels for coffee and cocktails alike.
They don't just want to bring in products and ingredients from Mexico, though that's certainly an important component. Barrera and Gallegos are melding new and old, their Mexican heritage with their Dallas climes. Especially in this current moment in which the two agree the world needs a little more of that ancient wisdom, that spirituality. Hence the names Xamán, which means "shaman," and Ayahuasca, referring to the psychoactive drink used in some shaman-led rituals. To be clear, there are no hallucinogenic brews here. But the conceit still works.
As you walk from the light-filled cafe through a hallway to a dimly lit back bar where it's all dark wood and white candles, the short passage is a physical representation of "transcending."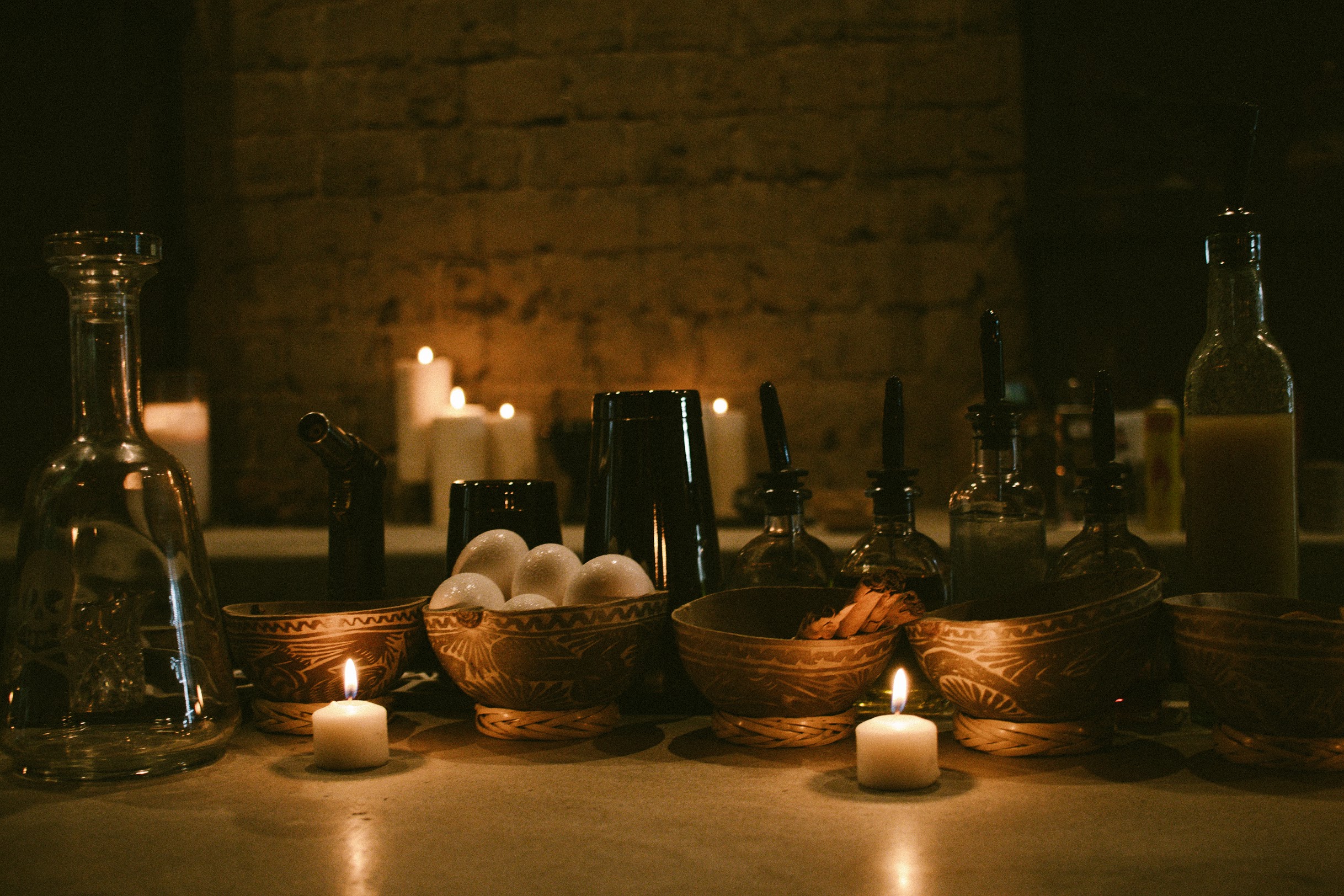 After his Santos y Pecadores pop-up inside Bowen House and stints at Las Almas Rotas, La Viuda Negra, and La Palapa del Sabor, Gallegos is ready for his own space. At Ayahuasca Cantina he'll home in on one spirit in particular: sotol.
As mezcal quickly ascended into the greater American bar vocabulary, it was no longer known merely as tequila's smokier cousin. Put some respect on mezcal's name. Mezcalerias have proliferated all over the U.S., but more often mezcal appears in twists on classic cocktails—a mezcal Negroni, a mezcal Old Fashioned, even in a tiki swizzle.
"Mezcal has been in Mexico forever. It's just that people started to know it," he says. Now it's sotol's moment. The bar feels intimate and in normal times could fit a few two- and four-top tables, plus a banquet along one wall and the bar. But for now, Gallegos wants it to be reservation-only both to control capacity as well as the experience he can give guests (parties of around four). "I want to talk about the spirit because I'm gonna introduce it to you with cocktails, but the best way to do it is just neat."
"It's Texan, but it's also Mexican…we're bringing something that straddles both worlds, which is kind of like us."

Gerardo Barrera
Sotol comes from the northern regions in Mexico—Coahuila, Chihuahua, Durango—as well as New Mexico and parts of Texas where native plant grows. (Balcones in Waco makes its own sotol, ditto Desert Door outside Austin.) Borders may splice Mexico from the southwest United States, but sotol will thrive where it has for centuries.
"And these are the native species, so they have been drinking this in those regions across the border for a few hundred years," says Barrera. "It's Texan, but it's also Mexican. We're not only bringing stuff that's from Mexico with the food, the music, we're bringing something that straddles both worlds, which is kind of like us."
Traveling between both of those worlds, Gallegos goes to Mexico to meet the sotoleros themselves and visit their vintatas where they harvest and produce. It's as much about knowing the people and stories behind the spirit as it is ensuring the product is made in the best way—no chemicals, no harmful farming. "The beauty of all these spirits is the way they make it. Whenever you go to Mexico and see how they make it in their house, they don't have any equipment, they just look at it, feel it. So that's passion," he says.
One such distillate, Sotol La Higuera Wheeleri from Chihuahua with bright notes of green herbs, tropical fruit and faint hints of smoke, will serve as Ayahuasca Cantina's house sotol.
Hugo Galvan will helm the kitchen. You may recognize him as the opening chef at El Bolero. His resume also includes Flora Street Cafe, a menu at Regino Rojas' Purepecha Room, and most recently Casa Komali. So expect skillful modernist Mexican fare, with playful takes on taquitos, ceviche, and toastadas. Bar food, but make it moderno.
"We want people come in, enjoy our concept, our food, our culture, and then leave with a different perspective of what we bring to the table," says Barrera. "Not just food, not just sell stuff, or coffee…it's the complete experience: bringing that cultural awareness to DFW [and] our perspective of our culture—and the way we grew up."
Building that community through all these converging cultural elements is important to the duo. It's also showing Mexicans and Mexican-Americans what their country produces.
"It's not better or anything like that. It's just different. And we are unique and we have good stuff," says Gallegos. "Like three years ago I don't think Dallas was ready for something like this, now I think it is. Dallas is becoming something else. Not just Tex-Mex anymore."
Get the SideDish Newsletter
Dallas' hottest dining news, recipes, and reviews served up fresh to your inbox each week.