It's a tricky time to be a new restaurateur with a year-old business. Mackenzie Hall talks about how it all started, the more-than-70-year-old dynasty of Henderson fried chicken to which she belongs, and how she and her father took it from there. Her story answers the question of what "honey-fried" means (it's not what you think). What it means to her to be a young millennial with a degree in business, serving the same recipe her great-grandfather did. It's also a look at one nugget in a fried chicken landscape. This week, Mackenzie's father, John Hall, is reopening his Hall's Honey-Fried Chicken in South Oak Cliff after closing temporarily earlier this year. It's where Mackenzie first started working with her father. The story comes full circle. —Eve Hill-Agnus
•••
My great-grandfather, Herman Henderson, started Henderson chicken. People will talk about Henderson's at Thomas and Hall [Streets]. My dad grew up working there from 16 and up. He was the youngest of seven. He figured there were a lot of people in line for anything [having to do with the family business]. So he opened up Hall's with my mom. They were high school sweethearts. I grew up with my dad being a business owner and working at Hall's over the summer.
I went to the University of Tulsa. After I majored in business management and marketing, I still didn't know what I really wanted to do. But I was pretty sure I didn't want to work in food or at Hall's. I came home, looking for a job. I worked at the University of Texas at Dallas in Richardson. They needed an administrative assistant [but it was] just really monotonous. [I told my dad,] "I'm quitting my job. So you can either hire me or not hire me, but I'm quitting my job."
My dad had been on the hunt for a new location for Hall's. The floor had collapsed in the old building. He needed help in opening the new store. I said, "Hey, I can do your payroll. I can do reports for you," because he was paying other people to do that. We moved payroll in house; we moved reporting in house. That became my big responsibility. It was a learning experience.
This is where my story really gets interesting. [My dad is] always on the lookout for other locations in general. We found the current location in the Medical District. He'd been trying to be in touch with the owner. He'd left his business card on the door. He just happened one day to be looking inside, and a guy at the gas station there said, "Are you looking for the owner? He owns [this] Chevron. I'll go get him."
And literally everything got rolling from there. When I say it happened immediately: it happened so quickly. I knew I would be running the second store, like a [general manager]. But I didn't know who would actually own it. My dad said, "It's gonna be in your name: it's gonna be your store."
We had planned to open in January of 2019, but with inspections and equipment it got pushed off. Around that time, I was supposed to be taking a trip to Italy for 10 days. Our goal was to open a month before. We opened the week before I left. And so my dad and my mom were working overtime for three weeks. And then on that trip my fiancé proposed to me.
I opened March 25th, 2019. It's been running ever since then.
"We do have a large group of people who put honey on the chicken. It's kind of a cult thing.

Mackenzie Hall
There are some things I learned in school that kind of helped me, but overall, a lot of this stuff, you have no idea until you're doing it. The paperwork and procedures with the city of Dallas. Licensing, hiring, training. And with the food industry, retention is difficult. We consider ourselves a fast-food place, and they talk about retention as a problem.
I became a business owner at 24. So there was a lot of learning. Being so young, a lot of people think I'm just an employee.
The biggest thing I learned about was working capital and how hard it is to get it. And you multiple that times a hundred if you're a Black business owner. Going to banks is very difficult; getting loans is very difficult. It's something we didn't sit down and talk about, but I realized it as soon as we got started. My dad was so used to working without working capital. He knew how to do with just enough money to get started.
Our recipe is actually pretty simple. I would say the base is simplicity. And we use fresh chicken, which makes the biggest difference overall. When you go to most fast-food places, they don't use fresh chicken, because it's really expensive.
I never thought of changing or tweaking [the recipe] because it was personally so good to me. And it was clearly working. Why complicate it when your very simple product has been working for years? It's just the same recipe my grandfather had, and it worked for my dad, so why wouldn't it work for me?
We added waffles three years ago. Before that, it was literally chicken, fries, pickles. That was it.
We [also] added "honey-fried" [to the name]. And people will say, "Oh! The chicken is sweet!" No, it's just the color of the chicken itself. It's more of a marketing thing that distinguishes him from my uncles. (My uncles do it differently, like [adding] seasoning salt and different sides.) But we do have a large group of people who put honey on the chicken. It's kind of a cult thing. People will ask for honey and pour it over the waffle and chicken instead of syrup.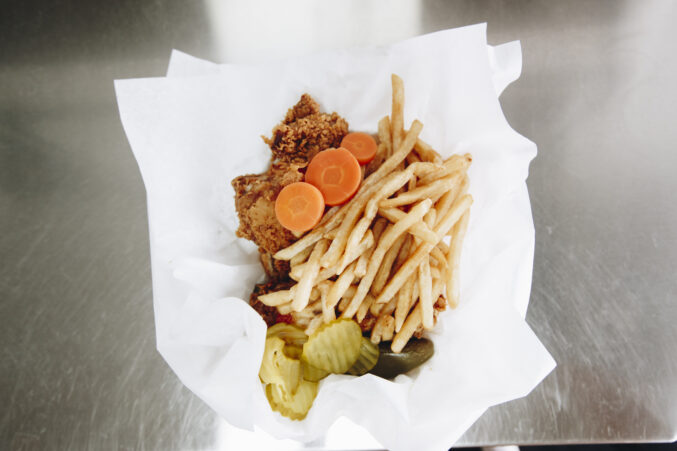 There are things that I've brought to the page, like social media. Instagram, Facebook, UberEats. We have a website now.
Initially, we had a lot of people who knew about Hall's. And they saw our sign, and they'd say, "Oh, there's a Hall's over here?" Now during the day, our lunch run is business professionals and hospital employees. At night, we see a younger demographic. On Friday and Saturday, we were open until 4 am pre-COVID-19. We would have days when we had that 2am, after-bar run: 20-year-olds going out, wanting something to eat. Those are different from the crowd that's very nostalgic. I didn't know my great-grandfather. But we have a history wall and pictures of the logo over time. We're seeing more and more now. And they're not on social media. They'll say, "Oh, my friend said, this is Henderson! You do the chicken just like Henderson."
They can tell stories. And it's exciting.
I definitely didn't expect to be doing this. Because this industry is really difficult. And it's really hard for people to be successful. [But] I'm really kind of proud of carrying this on.
As told to Eve Hill-Agnus. This interview has been edited for length and clarity.
Get the SideDish Newsletter
Dallas' hottest dining news, recipes, and reviews served up fresh to your inbox each week.
Author
Eve Hill-Agnus was D Magazine's dining critic from 2014-2021. She has roots in France and California and during her time at D wrote…