There is an art to the Japanese sando, a pressed miracle of simple fillings sandwiched between fluffy, pillowy milk bread. There's an art, too, in rising to prominence as astronomically fast as the quartet behind Sandoitchi, our new, Instagram-mobbing, online-order-only, curbside-pickup Japanese sandwich sensation.
It was hard to tell, when they first appeared on Instagram two weeks ago with the first images of sandos whether this was lasting, or just a fad fueled by social media and the pressure cooker of the times.
"I would love to say that the attention we've been getting has been planned," says Keith Tran, operations manager. "But it totally of course has not. I don't think you could ever plan for it."
They are appetizing, these sandos, tucked into boxes with windowpanes. They come in flavors of egg salad, breaded chicken cutlet, and fruit and cream—classic Japanese offerings (ranging from $7-$13). And everybody, it seems, wants one. Or at least enough to make them sell out again—and again.
And there is, as it turns out, pedigree and a story behind them—the confluence of culinary cred and fate.
Primary on the culinary side is Stevie Nguyen, whose style becomes clear when one learns that he traced his course by staging and working at any restaurant that would fuel a desire to learn. Originally from Louisiana, he worked at Uchi in Houston, then moved to Dallas and worked at our Uchi here. Then he decamped to New York to take on positions as omakase chef at Morimoto and at David Chang's Michelin-starred Momofuku Ko, where he spent several years soaking up the refined Japanese kaiseki-inspired modern fare, searching for what he wanted to do in the rarified atmosphere of experimentation. Called back to Dallas, which is closer to his Louisiana roots, he eventually had thoughts about opening a chef-driven restaurant, and he took on a position at Niwa in Deep Ellum.
This is how Tran knew him, and so it didn't seem far-fetched that Nguyen, Tran, and his business partner Angel Acosta—veterans of brand-building in the apparel industry—and marketing director Andy Sirois would all join on a venture.
The idea had been in the works since late last year, but the advent of COVID-19 threw off the project, and at the same time accelerated it.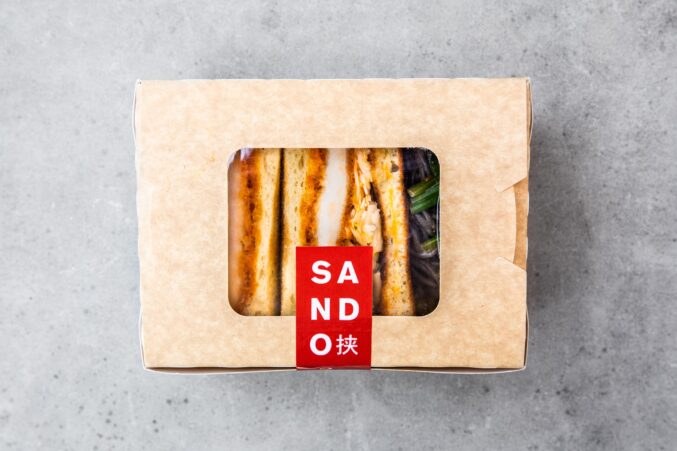 They began with what they thought of as beta testing: 30 boxes of sandwiches they'd give out to friends. Tran urged Nguyen, "Let's start doing it real scrappy like. And let's just give it out to our friends: what do you think? Give us some feedback." Immediately, the feedback mobbed social media. People were tagging Nguyen's personal Instagram page. "Stevie, I think we need to create something," Tran said.
That something was an Instagram presence that began June 14, with Nguyen working out of the Niwa kitchen at owner Jimmy Niwa's invitation, making 200 sandwiches and tracking orders via an Excel spreadsheet.
Swamped with orders, in week two (last week), they built a website and went from direct-messaging and spreadsheets to something more streamlined, and within four hours of opening ordering, they had 500 orders come in. "Stevie was like, 'I think we're in trouble,'" Tran says.
But the right kind of trouble. To talk about the sandwiches. One of the things Nguyen has looked into is the bread—no surprise: he did, in fact, stage at La Casita Bakery in Richardson before the shutdown and was in talks with Pullman Bakery inside Mitsuwa Marketplace in Plano—and so the bread is fluffy Japanese milk bread, sourced from various places while he waits to find a bakery that would be willing to work with him and produce his recipe.
What the fluffy bread sandwiches is egg salad, with the finesse of egg cooked three different ways. For others, the chicken Nguyen bathes overnight in a wet shio koji solution adds an umami secret weapon, almost like using miso or salt in a brine. For the hot truffle chicken sando, the only riff that deviates from classic Japanese execution is a variant on Nashville hot chicken, which speaks to Nyugen's Southern roots. In the fruit and cream, a lightly sweetened Chantilly is a pillow around late-spring strawberries and kiwi. And he added a miso brown sugar pudding last week ($4), so it of course now has a life of its own.
If it all looks well-polished, it's by dint of brand-savvyness and nimble adaptation. "No one's more surprised than we are," Tran says. "So right now, we're just trying to figure out how to keep the momentum going, but not to be making, like, a million sandwiches a week." They'd like it to stay simple. The sando, when done well, embodies the argument for restraint.
They didn't expect this whirlwind when they started making sandwiches, stirring up a maelstrom of attention. Now they're trying to stay in a place where they're not deviating too far from the notion of one thing done well. There may be an art to that, too.
Then again, look to Konbi in Los Angeles. They're Momofuku Ko alums, too, and look where they landed: on the cover of Bon Appetit as the No. 1 new restaurant in America. Small and scrappy may be the way.
The Details:
Order here. Curbside pickup Wednesday andThursday from 11am-2pm at Niwa Japanese BBQ in Deep Ellum.
Thursday-only delivery in Carrollton, Garland, and Richardson (minimum $25 order).
Get the SideDish Newsletter
Dallas' hottest dining news, recipes, and reviews served up fresh to your inbox each week.