I have a recurring dream. It involves being inside Teppo on Lowest Greenville. The light is dim, the ambiance hushed and intimate, the plates discreet and enchanting. Smoke curls and rises from the binchotan grill, as someone with deft yakitori skills slowly turns the skewers. I have come for morsels of food, patiently made. This, like many other small enclaves, fills my reveries.
And then I awaken. Outside of my dream state, you see, I am not dining in restaurants.
Right now, everything we love about restaurants seems to hang in a balance. As COVID-19 numbers continue to climb, we have seen places like Nick Badovinus' Vantina, an open-air younger sibling of Desert Racer, open only to close again when an employee tested positive for the virus. The same is true for many others both known and unknown. And across the country, scores of restaurants have shut after encounters with COVID-19; it feels like a matter not of it, but when.
We must ask ourselves: What does it mean for restaurants if they are forced to shut down again? How much is lost? How many staff, front and back of house, enter free fall?
Judge Clay Jenkins sent a letter to Gov. Greg Abbott on July 5, pleading for a decree to close in-restaurant dining which is currently operating at half capacity. (Outdoor dining and takeaway would still continue.) "If not, please rescind your prior order restricting local control and allow Dallas County to implement the above recommendations in an effort to slow the spread of the rampant and devastating COVID-19 virus," he wrote. Abbott may act on such a request soon.
The longing to dine inside a restaurant is real. I, like many, feel it acutely.
I have been emailed invitations by PR reps to dine in places that have tentatively reopened. Would you like to dine in our new dining room with its COVID-19 accommodations? How comfortable are you? they ask. Politely. Thoughtfully. In a way I've never heard a PR person ask before, a way that is new to our times. I decline, of course. I am not dining in restaurants. Nor do I do so on PR invitation. But I have to ask myself the question—we all do. How comfortable are we? It has become an emotional, personal, ethical question.
Yes, the longing is real. But one must think, too, of the toll. The cost to the cooks, servers, and public-facing employees who enter into contact with us and with each other. The restaurateurs forced into impossible situations of monitoring and at times confrontation.
If the stress for us is palpable, how much more so for them? Restaurants and dining rooms are potential epicenters of transmission. Over 80 percent of those hospitalized for COVID-19 are essential workers, a good portion of which include restaurant workers.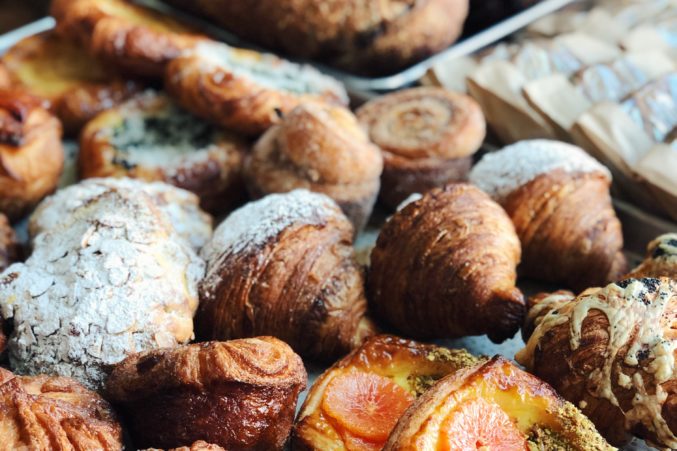 From city to city in the past few weeks, my fellow dining critics have written about their decisions not to dine in restaurants—but merely to do takeout—as their cities fail to flatten the curve.
I, likewise, am not dining in a restaurant. Not now. Not this week. Not this moment. Right now, it is a choice. But when I cannot dine in, I think about what I can control as we do our small part to pump oxygen through the industry's veins. I think about what I can contribute.
In the New Yorker, dining critic Hannah Goldfield penned a love letter to frozen foods, describing opening a drawer of her freezer to find her favorites, lined up like reassuring comrades and friends, the wealth of a city's culinary riches there to comfort her (Balkan burek and xiao long bao).
I find purpose in driving to pick up a crackling loaf or a lardon-studded fougasse, a pint of luscious ice cream or a pat of koji butter. In creating the spreads I can arrange at home—a sumptuous feast of Ethiopian injera or a repast from Mughlai: lamb biryani, each glistening rice grain distinct and gilded, bordered by paneer kulcha, stuffed with soft cheese; Kashmiri naan, studded with luxurious nuts and dried fruits; and lacha paratha, whose flaky, buttery coils gild the fingers.
I think, too, of what this does to the pleasure we take in food, in savoring and arranging it. Or to our sense of a dish: it makes me choose; it makes me savor. It brings the incredible preciousness of this complex, tenuous ecosystem that is our dining landscape hurtling to the foreground.
I have picked up tender Sunday chicken and mole from Revolver Taco Lounge, noticing how its weekend-only status marked an ephemeral specialness. I've almost wept with pleasure at the shattering whorls of a strawberry-basil Danish from Bresnan Bread's weekly pickup and then ordered two, knowing they would disappear with the season.
We can support the industry as they turn to meal kits and to-go cocktails and family-style takeout. The new ones—new ventures, new pop-ups, new players in the dining scene—want our attention. They will not be cowed by a pandemic.
If our budgets allow, we can do all these things.
While we continue to log more than a thousand COVID-19 cases daily, if we are not dining in, we can support in these other ways. We can double down on takeout and tip generously and think about the businesses we support, eschewing chains in favor of the places we hope will make it through, the places that enrich our city.
We can rally behind the call to ask legislators to support small businesses. We can remember all the ways that the hospitality industry makes us feel. And all of the ways in which, in the absence of more formal support, those in the industry have been the first to help their own. The first to feed each other. The first to donate food, participate in fundraisers, and open their kitchens to pop-ups and tackle social justice issues through the means they had. And we can hold the dream close.
Get the SideDish Newsletter
Dallas' hottest dining news, recipes, and reviews served up fresh to your inbox each week.