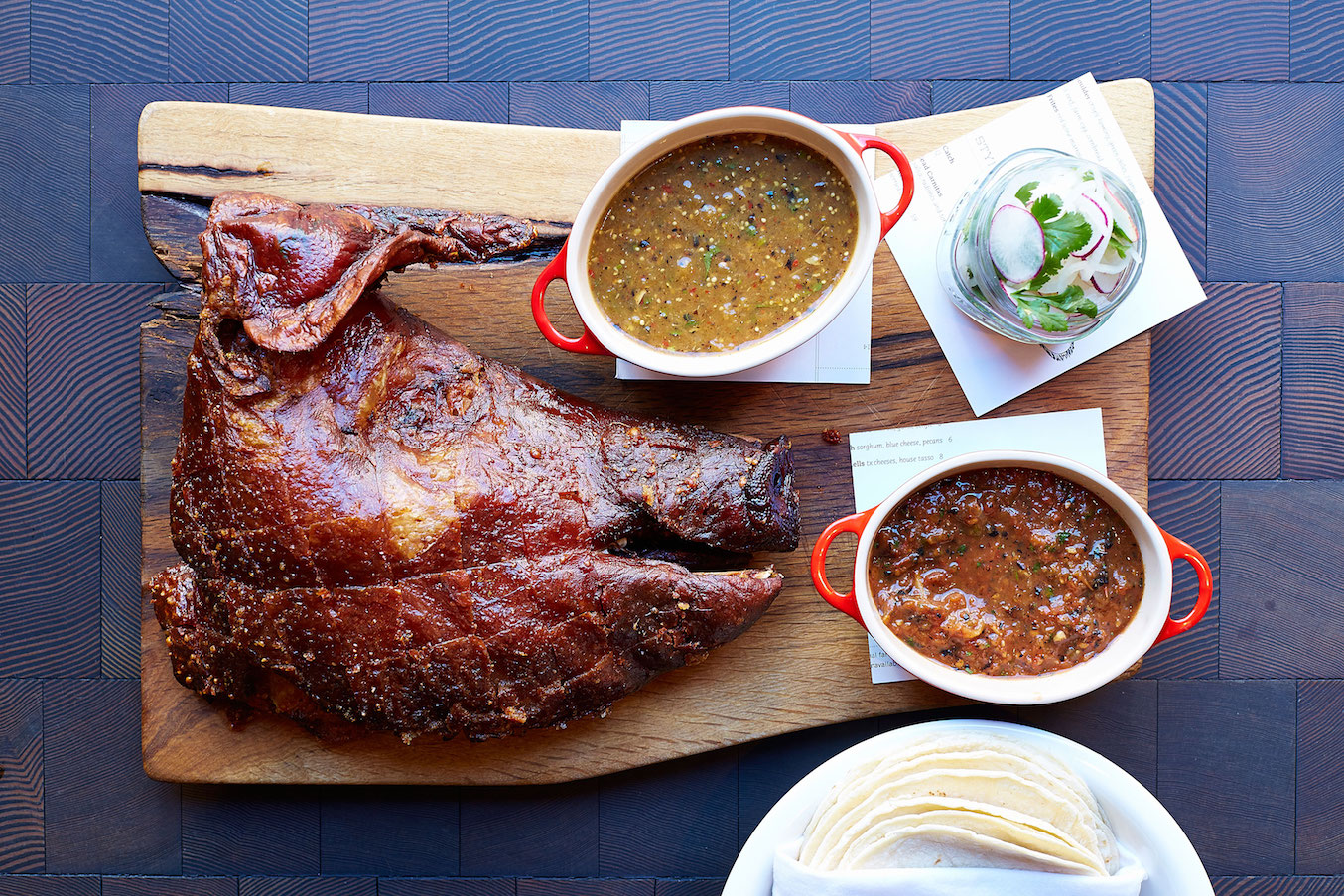 CBD Provision's Pig's Head Is Back
But be speedy, the Joule has re-released these pork carnitas in limited quantities.
Per the Joule, CBD Provision's famous crispy pig's head carnitas is back. I saw this last night and immediately went a little giddy. In case you missed it—but how could you have?—that was the Instagram-worthy shot that upturned Dallas more than five years ago, when the downtown eatery put it on its menu. At the time, chef Michael Sindoni subjected the Berkshire beast to a multi-day brine and a many-day braise, then pricked the skin and blasted it crisp in the oven for crackling, mahogany contrast to the ungodly-juicy meat beheath.
The fact that they're offering it now—in monthly limited batches—is a testament to what we want in these times, as restaurants simultaneously think about what they can deliver to us. Things we will crave, that feel like an occasion, that we can take away, that we won't mess up.
They're offering 20 of them, for preorder and pickup, served with housemade corn tortillas, pints of tomatillo salsa and charred salsa roja, a little side salad of radishes and cilantro, and lime wedges (because they are essential). Signups close next Wednesday, July 29 for Friday pickup.
You can, while you're at it, order sides like their white gazpacho with Jonah crab, cucumber, and grapes, which sounds unbelievably refreshing, or the steak tartare that has never stopped being as good as it was Day One (it's that black garlic). Throw in a white sangria or paloma or michelada cocktail kit with housemade michelada mix (like the meal, it serves up to 6) or a bottle of garnacha or cab franc. And now you've got a porcine party. It all depends on the nature of your fête. Is this Saturday by the pool? Saturday dinner? Sunday brunch? (You can even add carrots roasted with vadouvan spices or a ribeye. But my god, why would you—you have a pig's head.)
We're lucky we're able to tap our restaurants—their skill, their ability to source.
Don't dawdle. Be quick. Speak now, or put a pin in it for next month.
Order here. $75 for the dinner.