For weeks, Justin Shugrue and his team have been baking limited batches of bagels inside his University Park café. Testing out blueberry bagels one weekend, and maybe everything bagels the next. Then Shugrue would take to Instagram to let his growing followers come and get them. Scoring Shug's Bagels after standing in a line that stretched down the block is like securing the hottest pair of celeb-sanctioned Nikes: It's a lifestyle.
But people are like that about good bagels. Something many say Dallas has been lacking.
Enter Shug's Bagels, which opens Saturday, June 13 at 7 a.m. at 3020 Mockingbird Lane in the space formerly occupied by Lover's Egg Roll by the Southern Methodist University campus.
Shugrue, a New York native and SMU grad, runs the bagel shop with Preston Paine, who moved back to his hometown of Dallas after being furloughed (due to coronavirus) from the Michelin-starred Eleven Madison Park in New York. "I wasn't planning on being back in Dallas," he admits, but is excited to bring his organizational mind and culinary prowess to the project. The former chef de partie also enlisted New Yorker Miguel Garcia with years of bagel-making bona fides to sling egg sandwiches at Shug's. (Garcia actually worked at the New York bagel joint Shugrue fondly remembers from his childhood; it's a full circle bagel fairy tale. "He was a godsend," Shugrue of Garcia who moved to Dallas just a week ago.)
Together the trio and their schmear spreading crew (Glory, Ryan, Landon, and Rosie; plus Joe Nilsen is also a co-owner and manager) churn out about 1,200 bagels per day, baked in an early-'90s oven that Shugrue proudly showed me ("It's older than me," he pointed out as another strand of my hair turned gray); on weekends the bagel shop bumps it up to 2,400.
The ingredients are straightforward: high-gluten Texas-milled flour (Shugrue says in blind tests, people prefer bagels made with the King Arthur gold standard), dough conditioner, brown sugar, yeast, flour, malt, salt, and softened water.
But don't call it a New York bagel. "I have never said that what I'm doing here is a New York bagel," says Shugrue. "I've always tried to tell people like, 'No, we're a Texas bagel, we're a Dallas bagel." Ultimately, Shugrue simply wants to provide a community shop with legit bagels that speak for themselves. If people liken them to the holy grail New York bagel, well, that may just speak to how strongly folks feel about a decent, kettle-boiled bagel.
Shugrue says they aren't above making bagels that a bagel purist might scoff at. "At the end of the day I just want to make the community happy," he says. "I have no reason to be a purist. My family didn't bake bagels. I'm not Jewish. I don't have any family reason to be doing this besides that I just love the cuisine and I know that a lot of people clearly want it. So if people want a French toast bagel, like, I'm gonna make a French toast bagel."
For now, though, Shug's sticks to the bagel basics: everything seasoned, poppy, salt, cinnamon raisin, sesame, and garlic. A green felt menu spells out specials like housemade chicken cutlets in a variety of sandwich forms—one with scratch marinara sauce and melted mozzarella, one with pesto, another barbecue style.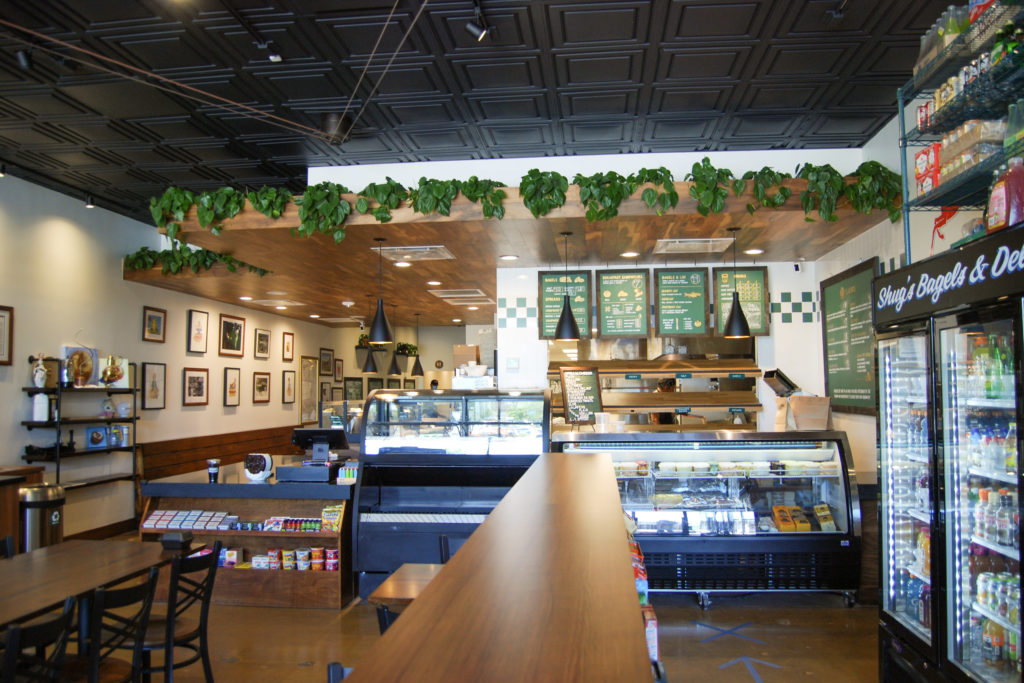 Shug's sources their meats and cheeses from the same place as Jimmy's Food Store, so you know it's legit. One of Paine's main goals was "to bring some kind of seasonality and fresh ingredients to what the New York bagel scene was lacking," in his opinion. "Yeah, they had great bagels, but everything was just kind of premade, precut." Paine, who was born and raised in Dallas, is also excited for the "opportunity to play around with some really cool ideas, but still be able to put some kind of twist on it."
Take Shug's bacon, egg, and cheese. Listen–the union of bacon, egg, and cheese on a kaiser roll is my love language. At Shug's, you can add ketchup, a hash brown patty, and make it spicy, which, to me, is pretty much a marriage proposal in sandwich form. Shug's strikes that balance between respecting the classics and putting their own stamp on things.
Shug's also boasts a deli case with to-go options: deli-cut meats by the pound, chicken salad, pimento cheese, various lox in small tubs for carryout, and even convenience store staples like candy, soda, Advil, and Altoids.
Shug's Bagels has been in the works for nearly a year and Shugrue wanted to open up much earlier in 2020. Then—as the story often goes these days—coronavirus hit. Even now, Shugrue remains naturally concerned about safety and health; he's sticking to health guidelines but recognizes he can't control every mask-less person that may walk through the door. He hopes people mostly decide to take their orders to go or eat outside at the few tables in front of the shop.
Hours to start are Tuesday through Sunday, 7 a.m. until 3 p.m.
Get the SideDish Newsletter
Dallas' hottest dining news, recipes, and reviews served up fresh to your inbox each week.