Inside Revolver Taco Lounge, Regino Rojas Invites You to Join La Resistencia
Regino Rojas debuts a new tasting-menu concept based on beautiful, heirloom-corn tortillas at his Deep Ellum taqueria starting this week.
What Regino Rojas of Revolver Taco has been working on for the past few months, as the restaurant industry as a whole grapples with reimagining itself, is opening a socially distant tasting-menu enclave in the front room of his graffiti-bedecked Deep Ellum taqueria: a concept he's calling La Resistencia.
Last Saturday, I had been issued a call to the revolution. It was my first night back inside a restaurant. Nor was it the usual anonymous visit (of three, typically) that might form a review. (Any such experience has turned surreal.) I was summoned to the resistance, and what I found was something exceptional in this about-turn world.
He couldn't reopen Revolver the way it was, Rojas knew. The single long communal table, of course would make no sense. And so he landed on this: a long slim corridor of a dining room with only four socially distant tables, carved out from the to-go operations happening on the other side of what is now a dividing wall. The servers wearing black vests, black gloves, black-and-white bandanna masks (firmly secured to their faces with elastic bands), and visors that shield their eyes evoke the resistance, too—incognito. (Their outfits are reminders of our new sanitation- and safety-conscious life, too.)
For Rojas, the secret to high-end Mexican food lies in technique. That was what he thought when he brought Dallas the Purépecha Room, his ode to romance in the back room, a tasting-menu space where gilt-edged plates and roses brought you into nostalgia and regional modern-Mexican both. It was all about the salsas, the flavors that came from slow, ancient techniques, and the integrity of the ingredient.
A revolution is happening—something extraordinary and exciting—in the former Revolver Taco space.
For this new concept, though, Rojas wanted to focus more exclusively on the corn: maiz milpero, raised in the ancestral way in a three-crop planting system.
The corn: It's all about the indigenous strains that form the puffy, fluffy, fragrant disks of tortillas that animate the menu with their pretty, light aromas and beautiful hues. Inhale, and sense the difference. (All the corn will come from Oaxaca and Michoacan, sourced seasonally. And Rojas is glad to be supporting indigenous practices and the groups still upholding them. He had to find his sources: they are rare.)
He nixtamalizes the corn. He soaks it. Lets the outer layer peel off. Then grinds it. Each has a different grinding length and process, achieved by hand-spinning the screw-thread knobs of the new molino in which he invested. Blue corn stays grittier. Yellow is softer, soft and smooth as sand and almost buttery.
Whether white, blue, red, or yellow, the tortillas' tacos form the base for the menu: four courses of a six-course tasting, with those corn-specific aromas and colors matched to toppings grilled on a traditional wood-fed yakitori grill that allows him to change flavors for each protein—mesquite for meat and mushrooms; applewood for fish.
On Saturday night, the night of my first re-entry, we begin with a dish that evokes the tajin-laced fruit cups Rojas grew up eating when he was a child, buying them from street vendors in Michoacan. Here, silky scallop is layered over papaya, tart mango, watermelon, and ribboned cucumber. The fruit is soft, and the watermelon is smoked. The layering makes the bites look like pressed sushi: a rectangle of layers. A tangerine olive oil rings the plate and each bite is garnished with pearls of caviar and cilantro blossom. This is our beginning, and it's beautiful.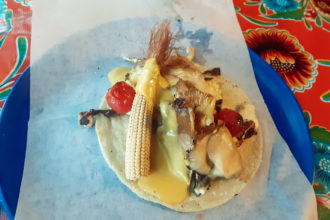 The smoke has been rising in plumes from the yakitori grill. I marvel at the way its aromas suffuse every morsel.
There will be a pure-white corn tortilla laden with locally grown oyster mushrooms (earthy and meaty, with deep, umami notes) and panela cheese, griddled until the edges turn black and everything about it endears itself to you. A yellow roasted pepper salsa and blistered cherry tomatoes add their gush to a powerfully architectural taco.
Next, a soft, tender filet of red snapper is the center of a sumptuous fish taco. Perfectly cooked, it sits on a tortilla whose dappled corn turns the water red when you nixtamalize it (so Rojas says). It is lapped in a sauce—based on mayonnaise and ketchup—and pays homage to the tradition of Nayarit, where fire-grilled fish zarandeando is king.
And Rojas's octopus taco—the pulpo here sliced into oblong disks and presented in a beautiful fan. Underneath, a dehydrated slice of pineapple is almost like a fruit leather and adds a sweetness to every bite, with daubs of vibrant, bright jalapeño sauce on a yellow corn tortilla. (The pineapple and the pulpo's rim of spice are Rojas's nods to al pastor.)
And the coup de grace, a wagyu ribeye carne asada taco on a dark-blue tortilla. It is extraordinary, the meat seared perfectly. A smooth puree of refried beans, thrice refried, is bulked up with chorizo. And there is a lovely roasted tomato salsa. Each bite is carnal bliss.
Dessert could not be simpler: a single slice of quince paste laid across a dish of pottery from Michoacan. It's served with a flute of liqueur made from the capulin berry that can remind you of plum or cherry brandy. (Otherwise, we've sipped mescalitas, palomas, or margaritas.)
And that is all. It is more than enough. White, red, yellow, blue: each tortilla speaks of a movement. We've seen it at restaurants like Cosme and Empellon in New York, and a number of places in Mexico City, including Enrique Olvera's internationally famous Pujol. We had not seen it here yet in quite such singular focus, though Anastacia Quiñones-Pittman has been infusing masa for taco specials she calls tacos de tacha.
Starting this week, La Resistencia will be open for three seatings a night: four tables for a maximum of eight people. It will feel, ideally, like a safe and COVID-19-cognizant oasis (with temperature checks at the door and plenty of hand sanitizer). One hour and fifteen minutes—tacos, elevated. While outside, the insanity of party mobiles peddles by in the fading light of a Deep Ellum evening.
As for me, it all felt like a one-act play. All the questions swirled in the air as we contemplate what the new world will look like: for us as diners; for restaurateurs; and for our foodways. All those questions lingered for me, as we sat in this black-box theater, with its cacti and these questions, as in an existentialist play by Sartre.
After so long, it was surreal to have something plated come at me. And thank God, in fact, it was a taco.
But one thing is certain. A revolution is happening—something extraordinary and exciting—in the former Revolver Taco space, where Rojas is whispering a gospel of corn.
La Resistencia
Open now Tue-Sat with seatings at 5, 7, and 9 p.m. for parties of two to four. Make your reservation online. $65 for six courses.