A juicy, perfect peach is a marvel. Maggie Huff, pastry chef at Homewood, knows this. When they arrive, fuzzy orbs ushering in a long and delicious season, they open the door to possibility.
"One of the things I love about them is just how versatile they are," Huff says. "You can smoke them, you can grill them, you can poach them. One of the great things about them is they develop different textures, too."
Think about a peach cobbler, she says: the flesh is almost slippery, with a soft, melt-in-your-mouth texture; whereas, grill them and they caramelize on the outside while remaining firm and even a little bit crisp. "I'm intrigued by anything like that."
"There is just something magical that happens when you combine them with butter, sugar, and vanilla," Huff muses.
Maybe it's a childhood thing, she posits. Maybe it's from growing up with her great grandmother's peach cobbler, which was more of a buckle than a cobbler, made with cling peaches in heavy syrup, folded into something almost like a cake batter, which would bake up crispy-topped with lava pools around the edges from the peach juice bubbling up. Her great-grand matriarch used margarine; she reaches for butter and whole vanilla beans and adds a streusel topping. But it's still nostalgia.
As a pastry chef who marries sweet and savory and coaxes inspiration from what the season brings, she's made plated desserts with a basil pesto that leaned sweet, paired with peaches and a buttery caramel-blonde butterscotch. She's done peaches with chamomile flowers—which are in season together—in a warm bowl of rice pudding with brown butter fruit and a chamomile crème anglaise. (This was at FT33 several years ago, where the team tinkered only with produce that was hyper-local.)
One dessert she brought back several times was peaches and blackberries, covering vanilla-roasted peaches and blackberries in a cloak of aerated vanilla sabayon so they disappeared entirely. The idea was a fruit crisp that didn't look like a fruit crisp. That looked, instead, like a yellow cloud dotted with lemon thyme and streusel.
In Huff's hands, the ripe berries and opulently fragrant stone fruit of local farms become ephemeral postcards.
So, on the menu right now at Homewood is a semifreddo that is also a soft yellow cloud. Slivers of ripe peach—veined pink and almost purple around the edges—lay over a pale yellow frozen square studded with chewy amaretti cookies and the crunch of smoked almonds. Fennel pollen tints the sash of crème anglaise. I tried it last week and was in heaven.
Next, she might turn to serving a peach crostata with cornmeal and ice cream infused with corn. Peaches will come from various farms throughout the summer. Currently, Homewood is using Comeback Creek and Winona Orchards.
We can look forward to this. Seek them out to capture a fuzzy, juicy—and ephemeral—glimpse of the season. Because there's nothing like the glory of a peach.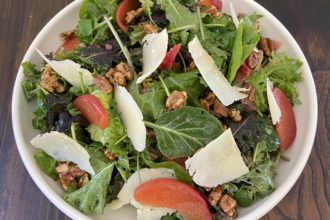 Where to Find Peach Dishes
At Homewood, in addition to Huff's masterful way with the peach, chef-owner Matt McCallister is layering house-cured prosciutto with peaches that span two seasons. Last year's pickled peaches puréed with their pickling liquid and fennel pollen act as a dressing for raw peaches tossed with a powder from peach skins. Umami-rich and tart. A pork duo—tenderloin and confit belly—gains sweet focus in roasted peaches that have been glazed in fermented honey.
At Petra and the Beast, you'll find a baby kale salad with shaved cheddar and curry-dusted pecans that gets tousled with a smoked peach vinaigrette and ginger-pickled peaches (image to the left). This week, a peach and black mint cheesecake comes layered with peach powder, peach cream, pickled peaches, garden mint, and textures of puffed rice. And the team has been putting up juicy, Comeback Creek peaches in larder-good jars of pickled peaches and strawberry-peach mostarda that sell quickly.
Get the SideDish Newsletter
Dallas' hottest dining news, recipes, and reviews served up fresh to your inbox each week.