Food Network star
Amanda Freitag
will open her first Texas concept at AT&T's $100 million Discovery District. Hospitality Alliance, which recently opened JAXON Texas Kitchen & Beer Garden at the communications and entertainment firm's downtown campus, unveiled new plans to
D CEO
about its next project: a 35,000-square-foot, two-level food hall, which will include 19 outposts from restaurateurs.
Freitag is the first chef named on the roster.
Hospitality Alliance CEO Kevin Lillis says the Chopped judge will open an American Bistro named Rise and Thyme. The concept will focus on breakfast sandwiches, salads, grab and go, baked goods, and great coffee.
"This is going to be her only restaurant in the country," Lillis said. "The space, the timing, what AT&T is doing really resonated with her."
The food hall was initially slated to open in May. A new opening date has not been determined.
"I think it's just a matter of where we are in the COVID world," he said. "It's a bit of a moving target as things change day-to-day in the market."
The food hall, JAXON, and another stand-alone restaurant are all part of AT&T's transformation of the company's five-block office campus at Commerce and Akard streets. Designed by Gensler, the project will be a new centerpiece for the area, complete with 65,000 square feet of retail space anchored by the Dallas Cowboys' Cowboy Fit Gym, one-of-a-kind art, and a seven-story media wall with a higher resolution than Times Square.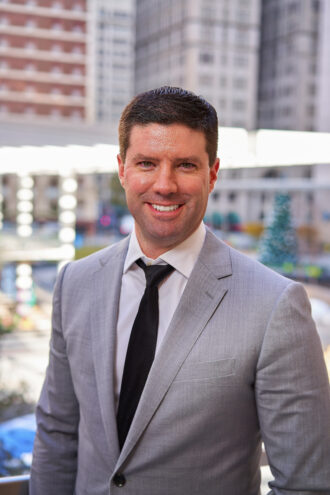 Hospitality Alliance was tapped for the project following its work to open the award-winning Food Hall at Crocket Row in Fort Worth.
When it comes to the concept for the food hall, natural fibers, wood, and light will invite all visitors to enjoy the "authentic space." The hall, which is designed by the Johnson Studio, is elevated and exposed—where light can stream in and where each tenant can express their creativity.
"Some operators are going to have street art, and some are going to have cartoons that they think represent their brand," said Lillis. "It's really going to be all across the board of what those aesthetics are within their individual spaces."
"And to us, that's kind of what the definition of a food hall is," he added. "It's cohesive but still authentic."
To start filling the spaces, the company committed to one goal: Recruiting the best from every category.
Pizza, desserts, Mediterranean, Mexican, burgers, and coffee were a few on the list—and they got exactly what they wanted.
One of these is a "steak by the ounce," concept. Brian Zenner, previously with Oak, Belly and Trumpet, and The Porch, has sketched out plans for
Ounce
. A preliminary idea for the restaurant would be to include an aging meat locker that's visible to guests as they come up the stairs. Zenner was brought on to Hospitality Alliance as the corporate chef to oversee all operations of both the food hall and JAXON.
Ounce
will be his new baby.
With Studio 11 tapping into the design process, JAXON—which recently reopened—holds a 5,000 square foot interior and 10,000 square feet of patio space. It's is a blend of "old and new"—just like AT&T, Lillis said.
"It's an old company started by Alexander Graham Bell …but now it's super modern," said Lillis. "[In JAXON] we've got reclaimed barn wood from East Texas overlaid on the metal, we've got brick sourced from all over the state, some of which are well over 100 years old, but then we have a bar where you can charge your phone."
The menu draws culinary inspiration from regions like Texas, Lousiana, Mexico, and New Mexico. Barbecue influences were a must in the district—and Jaxon offers more than 40 percent of barbecue on the menu.
I'd call it "bougie barbecue." Menu highlights I loved include cheesy jalapeño hush puppies served with a tangy housemade sauce, cumin-forward queso, brisket as soft as butter, and a warm blueberry griddled pound cake that had me waddling out of the building. The restaurant also has stellar vegetarian options—make sure to try the portabella mushroom French dip.
It won't just be food that draws a crowd, though, said Lillis.
"It's going to be yoga. It's going to be a movie night. There's going to be live music. That's going to be the focus of the district—working in tandem with AT&T to showcase its assets and give its employees and the people in Dallas a great experience."
Get the D CEO Newsletter
Stay up to speed on DFW's fast-moving business community with weekly news reports, interviews, and insights.