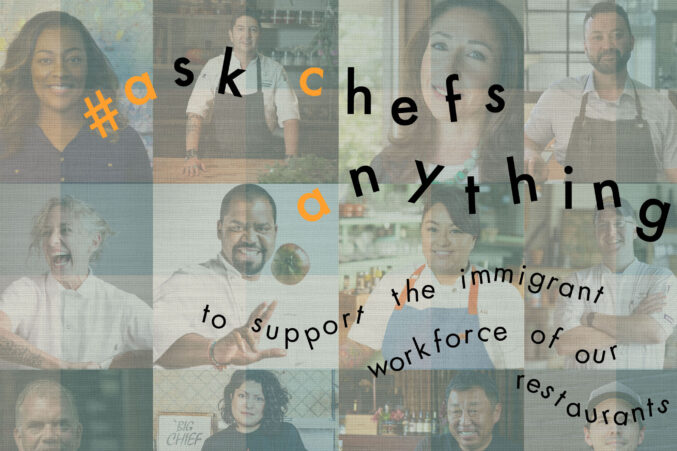 Ask Chefs Anything Aims to Raise Money for Immigrant Workers
You can make a bid for a conversation with one of Dallas' lauded chefs and tastemakers.
Chefs from eight major U.S. cities including Dallas are participating in a campaign to raise money for immigrant workers in the food industry. It's called Ask Chefs Anything because, as you can you likely guess, it's an auction to win a a half hour to ask a chef about cooking, their career, kitchen culture, where they like to eat out—anything.
More than 30 Dallas chefs and a few local tastemakers (including D dining critic Eve Hill-Agnus, and, no, she didn't put me up to writing this) are offering a 30-minute virtual Zoom call for the cause. The lineup of participants include José chef Anastacia Quiñones-Pittman, Stephan Pyles, Donny Sirisavath of Khao Noodle Shop, Tiffany Derry, Asian Mint chef Nikki Phinyawatana, and many more.
There's former Dallas Morning News dining critic and former PaperCity Dallas editor Michalene Busico, who was also the food editor at the New York Times. "She created that amazing Dine In Dine Out section," says Leslie Brenner, another former News dining critic who is the project manager for Ask Chefs Anything. "She was Anthony Bourdain's editor there, so people might want to ask her about it." Brenner is also the founder of Cooks Without Borders, where she covers food currently, and Leslie Brenner Concepts. You can also bid for a half hour of her time.
"It's just an amazing opportunity to grill a chef for a half hour really about anything," Brenner says. Ask Chefs Anything was launched in April by two New York startup founders and food industry veterans Gaeleen Quinn and Anna Polonsky who wanted to help the community most impacted by the COVID crisis within the restaurant world: immigrant workers. Here in Dallas that means the funds raised (a goal of $8,500) will be used to purchase groceries distributed through Harvest Project Food Rescue.
The cause is undoubtedly a good one. As so many grapple with unemployment, those who often work behind the scenes in restaurants—line cooks, dishwashers—are immigrants who don't all qualify for government benefits or aid.
This also raises the question of whether help with rent and basic bills could be a part of fundraisers like this. There are so many helpful nonprofits providing free food and meals right now, which is wonderful, but are we asking immigrant workers what their biggest needs and financial fears are? Speaking of asking, I clock a couple of highly skilled, talented participating chefs here who are immigrants—but who's missing from this list? This is a fundraiser for immigrant workers, but it does lack some visibility of immigrant chefs here in Dallas.
Brenner said she was tasked with creating a strong lineup of chefs and writers with strong social media followings, who are beloved within the community, and are community minded. Chefs "who people would be excited to bid on," she says. This is certainly a roster that anyone can get excited about. I'm wondering about who else we get to know (but I suppose that's my own self-assigned goal).
Restaurateur John Tesar, who said on Instagram that he felt left out of the campaign because of a prior beef with Brenner, is collecting money for Ask Chefs Anything on his own in exchange for a 30-minute virtual call.
Bidding closes today at 8 p.m. and some auctions have really heated up. You can also donate $25–$100 simply from the good of your heart.