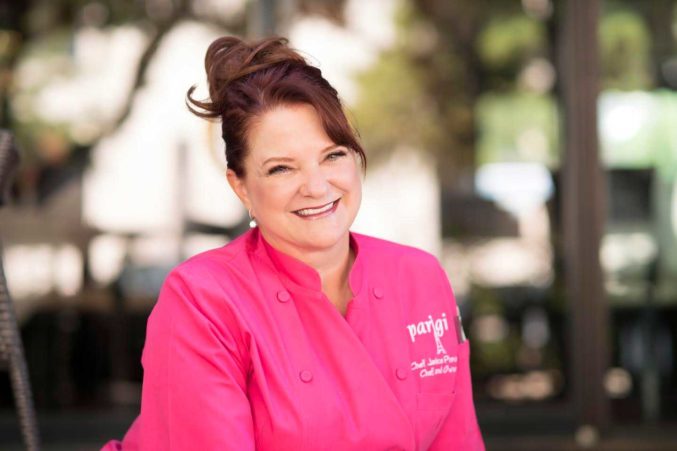 The Pandemic Pantry: Janice Provost's Chocolate Glob
Because chocolate is always a good idea, especially if the recipe hails from the chef and owner of Parigi.
We're pulling out a recipe from ye olde D Cookbook—yes, D Magazine has a cookbook! We've dusted off the timeless tome to bring you a recipe that's good for any occasion: a celebration, a breakup, a pandemic. One of life's eternal truths is that chocolate is always a good idea. Thankfully, we have Dallas luminary Janice Provost, the chef-owner of Oak Lawn's Parigi to help with that.
(If you don't know chef Provost, be sure to brush up on the fierce force of nature, both in and outside of the kitchen. Provost, who we recently interviewed for a story about the relief and struggle of getting restaurant relief funds, continues to be a force in the Dallas food world.)
The recipe we're reviving this week is chef Provost's famous dessert, the Chocolate Glob. Or, as former Dallas Morning News dining critic Leslie Brenner once said, "a monstrous runny glob of purposely undercooked chocolate soufflé known as 'the glob.'" I don't believe there's a publication in Dallas that hasn't sung the pleasantly gooey praises of this dessert.
Should you desire a less hands-on approach, as in you'd rather not even bother opening a sack of flour, then go directly to the source. Parigi is indeed still open for takeout and you can absolutely order the chocolate glob from the curbside menu.
Recipe
Chocolate Glob
Ingredients:
3 eggs
1 1/2 cups sugar
3/4 cup flour
3/4 cup unsalted butter, melted
1 cup walnut halves
4 ounces semisweet baking chocolate, melted
Directions:
Preheat oven to 350ºF. In a large mixing bowl, beat the eggs, sugar, and flour together until fluffy. Slowly blend in the melted butter and walnuts. Pour the mixture into a greased eight-inch square baking dish. Pour the melted chocolate over this batter and swirl it through with a knife or spatula until the whole mixture looks rippled. Bake for 15 to 20 minutes, until the mixture is cake-like at the edges and gooey (but not raw) in the center.
Serve the glob immediately (!). Be sure when serving it to give each person a bit of the outer, cake-like section and some of the goo from the center. (Don't be stingy, this is key.) Top each serving with whipped cream (homemade or from a can, we're not judge-y!). This dessert will keep at room temperature for several days—but we want to know who you are if this dessert lasts more than a night so we can ask you, How? And also, Why?—and can be heated before served.