A confession: I go full-on fan girl over the test kitchen chefs on Bon Appétit's YouTube channel. Claire with her gentle anxiety, as she tries to re-create Starburst candies. Chris and his regimented logic, as he runs his fingers over a slice of cooked cheese, trying to reverse engineer its origin. Gaby, whose tiny figure is omnipresent in the background of the frame, just, well, just being.  They are keeping me sane during the lockdown.
But it wasn't until they aired a special episode last Friday, showing the chefs cooking from home with their dogs and their kids, mostly in their tiny New York apartments, that I realized one chef was cooking from her parents' kitchen. In Dallas.
[d-embed][/d-embed]
Priya Krishna is a rising star in the world of food writing. Her work appears in Bon Appétit, the New York Times, and The New Yorker. She recently published her second cookbook, Indian(-ish): Recipes and Antics from a Modern American Family, with her mother. And although she's usually based in New York, she grew up in Dallas. So that's where she's currently sheltering in place.
We caught up with Priya to discuss the lockdown, her go-to takeout in Dallas, and what's ahead for the food and restaurant industry.
First, let me ask if your family, your loved ones, are safe? Yes, everyone's okay, thankfully.
How's the sheltering in place going? It's going well. I definitely wasn't expecting to be here. I came here a couple of weeks back, for my dad's birthday. Then things got really bad in New York, as you've probably seen on the news. So I figured it wasn't responsible to get back on a plane. I brought zero clothes with me, because it was supposed to just be a weekend trip. So I went out and purchased a six-pack of underwear, and here we are.
Are you doing much cooking with your mom, Ritu Krishna, with whom you wrote Indian(ish)? Yeah, we're cooking pretty much exclusively. I am trying to support local businesses, so I'm doing takeout once a week. But every other meal we cook. It's really funny, I feel like I've reverted back to a high school state. I try to help in the kitchen and my mom's like, "No, no, no! You're not expert enough at this to help me." And I'm like, "Mom, I wrote a cookbook with you."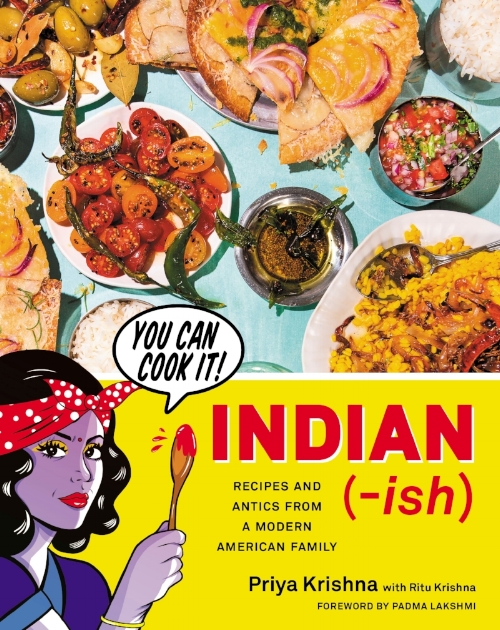 What's your mom's kitchen like? I mean, compared to my kitchen in Brooklyn, it's palatial! It really is a gorgeous kitchen, with these nice marble countertops, and a big island. Everything is so neatly organized. There's always cut fruit in the fridge. It just feels so adult in a way that my kitchen at home, perhaps, doesn't feel. A lot of that is due to the fact that my job is a food and restaurant writer. I'm going out to eat three to four nights a week.  So I don't get to cook at home as much as I'd like.
What's your go-to takeout place in town? We recently did Khao Noodle Shop and we loved it. I scouted it way back when, for Bon Appétit, when we were putting together our Hot 10. It ended up being the second best new restaurant in the country. So I was a big fan when I visited.
And when you venture out to get your groceries? We were going to Patel Brothers a lot, but they just shut those stores down [until April 9]. So I think now the go-to will be Sprouts. It's a less stressful Whole Foods, basically.
Are you developing any recipes while you're hunkering down? I have a recipe coming out soon with Bon Appétit for khichdi, which is a rice and lentil porridge. The recipe was supposed to come out in the fall, but we moved it up because it's the kind of pantry/staple-heavy dish that people want to be cooking right now. I'm developing a bunch of yogurt recipes for Fine Cooking, too.
[d-embed][/d-embed]
How are you doing the video content for the BA Test Kitchen without your normal recording setup? It's been pretty hilarious. The video team basically sent us a package with a lavalier mic and a tripod. We are so not tech savvy, at all. I think one of the chefs ended up recording her segment without sound. So that was definitely an adjustment. But the video team has just been so amazing. They made it seamless, and kind of leaned into our lack of technology. Not all of us know our camera angles, so I'm sure there will be quite a few up-the-nostril shots.
Tell us your favorite shelter in place cocktail. I'm pretty simple. I like my mom's gin and tonic. It's nice and heavy on the lime, which I love.
Your shelter in place comfort food? Comfort food would probably be kadhi chawal. I just put a recipe on BA. It's a soup with chickpea flour, turmeric, and yogurt, and you put it over white rice. It's just so cozy and comforting. And it doesn't require many fresh products.
Your first cookbook was Ultimate Dining Hall Hacks. Can we anticipate a shelter in place cookbook anytime soon? Not right now. I'm trying to focus on reporting — I feel like a "breaking news" reporter, because we're trying to tell the story of this industry that is kind of disappearing. But I'm trying to find stories of hope and resilience when it comes to cooking. In light of all this, I'm trying to give people some perspective.
Get the SideDish Newsletter
Dallas' hottest dining news, recipes, and reviews served up fresh to your inbox each week.