Craig and Veronica Bradley are well acquainted with the unpredictable. The couple with a brewery on the way had to fight to keep their dream alive during the government shutdown in 2019. When the Bradleys faced complications with their small business administration loan, they reached out to the community for support via donations. As soon as a state representative helped secure the Bradleys' loan, the couple got back to work, and nearly a year later, they've made a full recovery. "We're chugging along steadily," Veronica says.
Come March, Craig and Veronica plan to debut Vector Brewing in Lake Highlands. While any new brewery is exciting news, what the Bradleys and their head brewer, Tommy Gutierrez, aim to do at Vector is little seen in Dallas: mixed-culture fermentation beer.
Craig was the creative director at Lakewood Brewing when he developed an interest in homebrews and a taste for sour beers in particular. After six years at Lakewood, Craig and Veronica left to take their shared passion for those uniquely flavored brews to Vector. And they brought in Gutierrez, a friend and fellow sour-and-wild-ale lover who brewed at Lakewood, along with them.
And if you're scratching your head a bit about what sets a mixed-culture brew apart from a traditional beer, the process introduces bacteria into a beer just before or during fermentation to deliver distinct flavors to the brew—often acidic or earthy elements. Think rustic sourdough starter versus bread leavened with the store-bought yeast packet. Mixed-fermentation beer is the former. But the process can be time-consuming, so these funkier ales will take a moment to debut at the brewery (not until 2021 they suspect).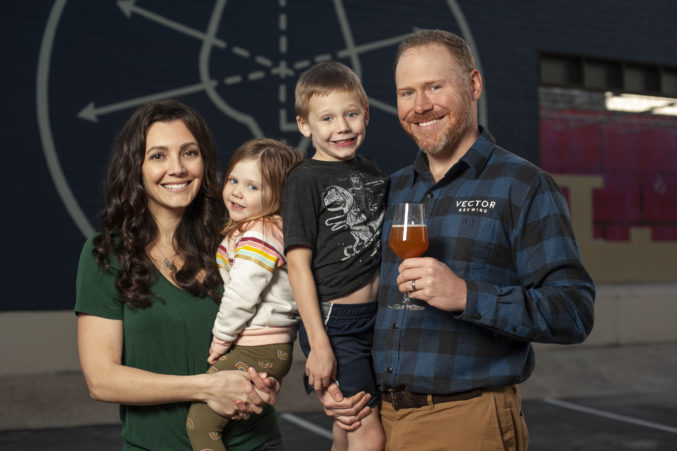 In the meantime, Gutierrez and the Bradleys' focus is on perfecting their all-grain brews. "On the flip side of all of these crazy, more blended, mixed-culture beers, Tommy and I, we have a love for classic, traditional lagers," Craig says. "They are some of the hardest beers to make [because] you can't hide behind a ton of hops, you can't hide behind a big 'ole malt profile."
Rather than maintain a set of core brews, Vector will roll out a number of core styles—some traditional beers, lots of mixed-culture brews. Sixteen taps will star hazy IPAs, pale ales, stouts, lagers, light and fruity Berliner Weisse sours, and those wild, flavor-packed brews. "We will basically be using the first year to build up the barrel program, and then we can really start showcasing what we can do [with mixed culture brews] in the next year or two."
Once the Bradleys and Gutierrez begin tapping their wild and sour ales, they'll be among arguably few breweries in the state with that particular specialty. Kettle sours—brews that often feature vibrant colors and a taste true to the name—are more common in DFW (Deep Ellum's Play Date, for example). But mixed-fermentation beers, because of the aforementioned lengthy brew times, are unique and a total labor of love.
We anticipate some pretty fun and funky beers next year. In March, though, visit Vector Brewing at 9850 Walnut Hill Lane #405, where the decor nods to midcentury modern style, and drink pints of refreshing lagers or hazy IPAs alongside housemade pizzas, pretzels, and charcuterie. Beyond beer altogether, Vector brewing will have a rotating tap of ciders, cold brew on tap, ditto kombucha, craft sodas, and "Topo Chico, obviously." Also: beer cocktails, like micheladas, radlers, and beer-mosas (beer, champagne, and juice). Keep an eye out for beer pairing and education events. Stay tuned to SideDish as we track the premiere of Vector's signature, mixed-culture blends in 2021.
Get the SideDish Newsletter
Dallas' hottest dining news, recipes, and reviews served up fresh to your inbox each week.