The buzz, if you haven't heard, is for the sando, the Japanese word for sandwich, referring to anything sandwiched between two slices of fluffy, soft, pillowy milk bread—usually pork cutlet. The cover of the October's Bon Appétit Best New Restaurants 2019 issue made famous the crispy pork cutlet with cabbage and tangy tonkatsu sauce from L.A.'s Konbi. It was the Instagram shot sent 'round the world. And now No Aloha has installed likewise photogenic—and, importantly, tasty—sandwiches.
I have to say, there is something supremely satisfying about the simple sandos at Mitsuwa Markeplace, the California-based Japanese grocer and food court that has an outpost in Plano. Order the egg or tuna salad on plain white bread—the bread a milky fluff, the egg salad perfectly creamy, the tuna version highlighted by the slightest hint of slivered onion and a single lettuce leaf. Creamy and understated, but definitely there.
The sandos recently unveiled at No Aloha, inside downtown's Forty Five Ten, are not this kind of sando. (The cafe nestled on the ground floor of the Headington empire's sleek department store used to sell slightly sophisticated salads and sandwiches.) They are, rather, inspired by places like Don Wagyu in New York, where a fat, finger-wide cut of Japanese meat-butter was famously set between bread at the cool price tag of $180 (the menu entry shot sent 'round the world). When the powers that be decided to redo the menu in the Forty Five Ten space, which has been open two years, they went for simple. The kind of simple that the Japanese specialize in: one person doing one thing very well.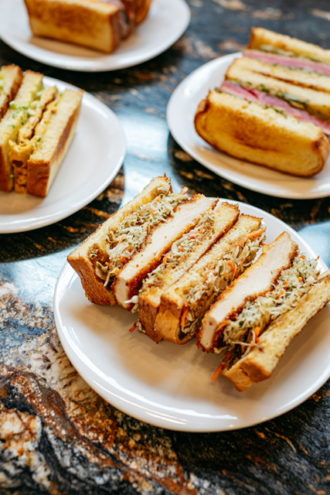 When I went in a few weeks ago, the menu had changed. Now on offer were three versions of Japanese sandos. There's a 48-hour beef short rib, braised, pressed, dusted in rice flour and deep-fried. On another, a chicken cutlet is sent through three stages of breading with rice flour and panko, then layered with a riff on katsu sauce and a simple, zippy slaw. But, for me, it was this: a most heartbreakingly good version of egg sandwich made with the same method used to make a sushi counter's tamago (egg omelet). A slightly sweet slurry of local eggs, cream, and umami flavor, folded and trimmed and set between bread—an eiderdown of omelet with Kewpie mayo and scallions. Classic and not. They are essentially executing omelets to order. They are each about $12. (For comparison, Mitsuwa's sandos will set you back about $2.50.)
Michael Ehlert, executive chef at Mirador on the top floor of the department store, got involved in the project and looped in the kitchen. The challenge was finding a way to make the perfect sando with one counter and one employee. They began by sampling both milk bread and brioche from Mitsuwa and other Japanese markets before landing on an enriched bread the pastry team could lavish love on for these sandos alone. It's not fluffy milk bread, but then these are Japanese Sandos 2.0.
They're building a sake list. And because it is Forty Five Ten, your perfect, Instagrammable tamago-sando can come cut into threes, with a side salad of compressed watermelon and cantaloupe ever so delicately showered in sesame seed salt (gomashio).
So this is what happens when Forty Five Ten wades into the crustless, timeless snack made popular by konbini, the Japanese 24-hour convenience store. It's not exactly 7-Eleven, though would you like a side of truffle-scented potato chips?
Get the SideDish Newsletter
Dallas' hottest dining news, recipes, and reviews served up fresh to your inbox each week.