From the bar that brought you the Harry Potter–themed Leaky Cauldron pop-up, the Whippersnapper in Knox-Henderson is at it again, but this time with NBC's hit sitcom The Office. A little piece of Scranton (What? The E-lec-tric City!) arrived at the Whippersnapper in January and will be known as Dunder Whiplin until February 15.
Upon arriving at the Whippersnapper's door—ahem, Dunder Whiplin—you're greeted with a mural of Dunder Mifflin's Scranton office. If you fell in love with The Office for its subtleties—a knowing look to the camera from Jim, an endearing moment from Pam, a tearful-yet-happy glance from Michael—you'll dig Dunder Whiplin's interior for its obscure details in decor and the imaginative tributes to each beloved character.
While you only have 12 days left to drink a Pam Beasley and Jim Old Fashioned, we've got some takeaways that will have you dressing up in your best Dwight Schrute cosplay ("Fashion show, fashion show, fashion show at lunch!" as the sartorial-minded Kelly Kapoor once cheered).
The decor was on point.
Poorly inflated brown, black, and grey balloons dangle limply from the ceiling among strands of Christmas lights and a construction paper sign that reads, plainly, "IT IS YOUR BIRTHDAY." Paper doves, mimicking Pam Beasley's creations crafted for the closing ceremonies of "Office Olympics," crown the bar, while episodes of The Office play upon two flat screens on the walls. Portraits of the TV show's quirky cast hang on the walls, including a nearly nude rendering of Meredith's on-screen nip-slip and a fully nude shot of Kevin leaning over a pot of his famous chili. (Somebody call HR.) Mundane cubicle walls with Sabre signage and Angela's cat calendar break up sections between the booths. The Party Planning Committee did Dunder Whiplin's interior design justice.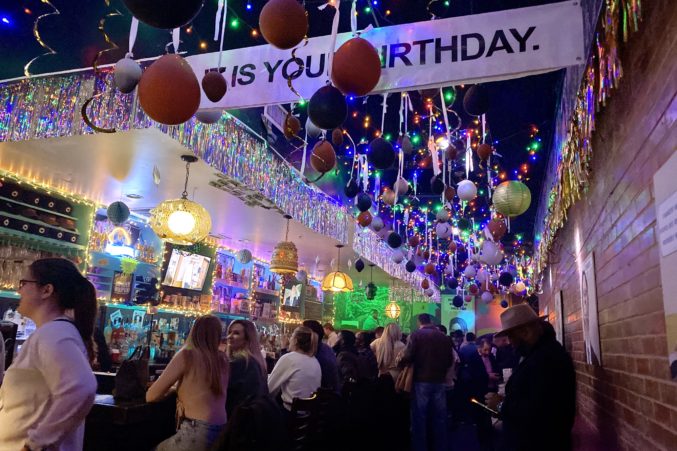 The Office episode Easter eggs are everywhere.
Immediately upon entering, one's experience might commence with a Jell-O shot served in a tiny plastic cup. Classy stuff. After the fraternity-party flashbacks cease, it's easier to appreciate the gelatinous shot's homage to one of Jim Halpert's many pranks on Dwight Schrute: placing Dwight's stapler in a large mold of lemon Jell-O.
The food and drinks were gimmicky. (But that's the point.)
Bartenders in character—a poor-man's Toby Flenderson and a "Hi, I'm date Mike" take on Michael Scott—sling novel drinks such as a That's What She Said (tequila, triple sec, lime juice, sour, orange juice) and a 40-ounce St. Pauli Girl beer. (You might recall Michael's retina-searing St. Pauli Girl beer sign; it sold at auction for $14,000.) Provisions include Scott's Tots, a take on tater-tots, and a nod to the Finer Things Club Sandwich.
Even the DJ got in on the action.
A bartender, this time dressed as Prison Mike, one of Michael's classic tone-deaf personas, hands over Oscar's Lemoñadé, a mixture of vodka, mango puree, lemon, simple, and a splash of water. Meanwhile the DJ made his own mix, splicing signature quotes from characters like Stanley and Phyllis into early aughts hits like Usher's "Yeah!" bringing The Office die-hard fans and the Whippersnapper regulars together on the dance floor. What a time to be alive.
Hours are Wednesday through Saturday, 6 p.m. until 2 a.m. For table reservations email [email protected]
Get the SideDish Newsletter
Dallas' hottest dining news, recipes, and reviews served up fresh to your inbox each week.