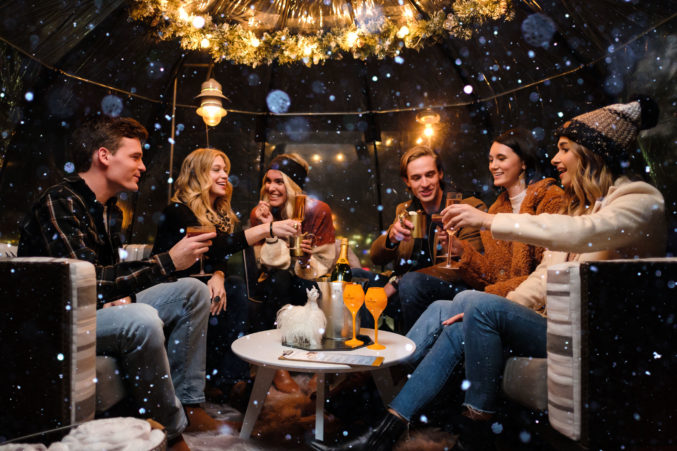 14 Holiday Cocktails To Drink This Christmas Season in Dallas
We've found the best, most-spiced, and booziest.
By Susie Oszustowicz
Published in Food & Drink
December 11, 2019
11:39 am
It seems our city's bartenders are making every night of December the night before Christmas. As in they're stirring so we can rest nestled snug in our beds, with visions of Luxardo cherries dancing in our heads. For that, we say, "Dash away, dash away all—of the Angostura bitters."
Most holiday cocktails walk you one step closer to diabetes, with Old Fashioneds that have imbibed gingerbread and martinis wearing peppermint stick garnishes. With extensive research (and a good dose of insulin), we've found the best holiday cocktails that can help you become your favorite reindeer, whether that be Dancer, Vixen, or Blitzen.
Deck The Halls at The French Room
Plymouth gin, Ramazzotti, quince, Perrier-Jouët Grand Brut Champagne
If bubbles in a beautifully decorated historic hotel don't scream "holiday feels" to you, then you're broken. The French Room has gone full-tilt bubble lounge, offering four Champagne cocktails along with high-end by-the-glass pours of various Perrier-Jouët specialty bottles. The Deck the Halls has us bringing out the boughs of holly, because this is one beautiful cocktail we wish we had more time to enjoy. Gin and herbal liqueur are lifted perfectly by the bubbles, just like your spirits after a couple sips.
$18 | Available until December 31, 2019
Rum Toddy at Al Biernat's
Flor de cana dark rum, agave, lemon juice, lemon wheel
This toddy has plenty of spirits to keep yours bright, even when you're battling the holiday sniffles. Since Al Biernat's just happens to be nestled in one of the best neighborhoods for Christmas lights, have that second cocktail and ask your Uber to take the long way home.
$12.50 | Available until January 1, 2020
Hot Apple Pie at Double Wide & Single Wide
Apple spice-infused Fistful of Bourbon whiskey with hot apple cider, stick of cinnamon
This adult apple cider will put you in the right spirit inside both of these tacky-on-purpose spots. (While one may think it's always Christmas thanks to their delightfully wacky decor, they really step it up for the holiday, complete with an upside-down Christmas tree.) Simple enough: they took a great whiskey and added everyone's favorite childhood warmer. Honorable mention goes to their famous Yoohoo Yeehaw that will be available warm to keep you cool.
$8 | Available until December 31, 2019
Winter Warmer Margarita at Waterproof at The Statler
Uno Por Favor Blanco Tequila, blood orange, Curaçao Lime, agave
Crawl into an igloo (literally) at this pool club-turned-ski lodge perched atop the snazzy downtown hotel and get a real holiday experience. They'll be showing holiday movies and warming guests with a hot cocoa bar and their holiday-inspired offerings like the Winter Warmer Margarita, a tequila tipple that bucks the traditional holiday cocktail by using seasonal blood oranges, keeping it on the lighter side.
$12 | Available at least until February 15, 2020
Figgly Wiggly at AC|Lounge in the AC Hotel Dallas Downtown
Absolut Elyx, apple brandy, Orange Curaçao, fig, brown sugar, sage, lemon, egg white
While we always sing about figgy puddings, who really wants to waste figs in a fruit cake-like sponge? We like them much better in things like the AC|Lounge's Figgly Wiggly, a beautiful marriage of baking spices, Absolut Elyx vodka, and apple brandy. And, truth be told, you can't get a prettier coupe than a shiny, copper one, no?
$13 | Available through January 2020
Wisconsin Lunchbox at Bolsa
Vodka, amaretto, orange juice, OCB Hefeweizen
Beer in a cocktail? You betcha—it's the Wisconsin way. This cheeky cocktail from Bolsa's holiday menu is the perfect hair-of-the-dog hangover cure thanks to the splash of orange juice. (You have to get your Vitamin C somewhere, right?)
$10 | Available Sundays before 3pm through January 5, 2020
Smoking Bishop at Proper on Magnolia
Ruby port, red wine, blackberry brandy, brown sugar, ginger, spices, orange
Whether you call it glogg, vin chaud, or glühwein, you've never had a mulled wine like this. The Fort Worth speak-easy really brought the Christmas theme this year with their all-new menu and enough decor to make Campo Verde (yes, you know that glittery, tinsel-strewn Tex-Mex lounge in Arlington) give it a double take. But their version of mulled wine takes the cake. Warm, spicy, and just the right amount of the good stuff, it'll make you want to order seconds. Just make sure to leave the cup, because, while it may look like take-out, it's gotta stay in.
$13 | Available until December 28, 2019
Fireside Chat at Truluck's
Bourbon, Averna, Ancho Reyes, bitters, cinnamon syrup
Truluck's didn't fall short of our expectations. The Fireside Chat is a stirred cocktail so warming that you can almost hear the crackling fire. If the bourbon doesn't warm you up, the Ancho Reyes ancho chile liqueur will.
$14 | Available until February 29, 2020
Palmas Pierre at Las Palmas
Coffee, amaretto, cinnamon
The Palmas Pierre is the perfect after-dinner drink before you rush to the theater to see "The Nutcracker" (because that first half sometimes begs for a caffeine boost). Enjoy the show as the bartender prepares this flaming extravaganza of a cocktail that will, undoubtedly, be ordered by the next table shortly after the show ends. We love a cocktail that warms us from the outside in.
$11 | Available anytime
Abuelita's Elyx Hot Chocolate at LAW at the Four Seasons Las Colinas
Nutella-infused Absolut Elyx Vodka, Frangelico, Vahlrona Hot Chocolate, toasted house-made marshmallows
If you're going to have a hot chocolate this season, folks, this is the one to have. Curl up by the outdoor fireplace or fire pit on the patio, enjoy live music, and sip this comforting, kicked-up taste of childhood. The drink pairs Frangelico, a hazelnut liqueur, with Nutella-infused vodka, and if that's not enough to convince you, they took the time to make marshmallows in-house to finish this delicious drink.
$15 | Available through February
Eggnog à la Minute at Bowen House
Bourbon, egg, sugar, milk, heavy cream, nutmeg
As a child, do you remember hearing the name eggnog, your parents' favorite things to swizzle at a holiday party, and thinking it sounded disgusting ? We do, too. But now we love the dairy-based cocktail with egg in it. That's why we were excited to hear that the little cocktail haven in a historic house in Uptown will whip up your very own, personalized eggnog to order. Go heavy on the nutmeg.
$13 | Available anytime
The Gruber at ARMOURY DE
Maker's Mark Whisky, unsweetened dark chocolate, cold brew coffee, peppermint cream, candy cane
Okay, we let one candy cane-clad cocktail into the mix, but it was too good not to. Armoury DE, known for its sense of humor when naming cocktails, is offering guests a small smattering of holiday drinks, and our favorite, by far is The Gruber. Named for the villain in Die Hard, a much contested Christmas flick, it will bring out the villain in you, thanks to that shot of cold brew.
$7 | Available through December 25, 2019
The Holiday Spritz at MoMo Italian Kitchen
It was the Summer of the spritz, so let's keep it going. MoMo is offering a cold-weather slant on the summer favorite by bringing in a blood orange vermouth. This vermouth turns the flavor profile to the warmer side to fit into the season thanks to its spice notes of cinnamon, clove, and cardamom.
$11 | Available anytime
The Mistletoe Margarita at Mi Dia From Scratch
Clase Azul Tequila, lemon, egg white, strawberry-infused agave, frozen cranberries, rosemary, powdered sugar
The second we see "infused" in a cocktail, we know it's more work and planning than we'd do to make a drink at home and our appreciation rises in turn. This tequila "martini" brings together the bright, fruity notes of strawberry-infused agave with a seasonal favorite, cranberry, then ties it all up with a Tequila bow.
$15 | Available through December 31, 2019