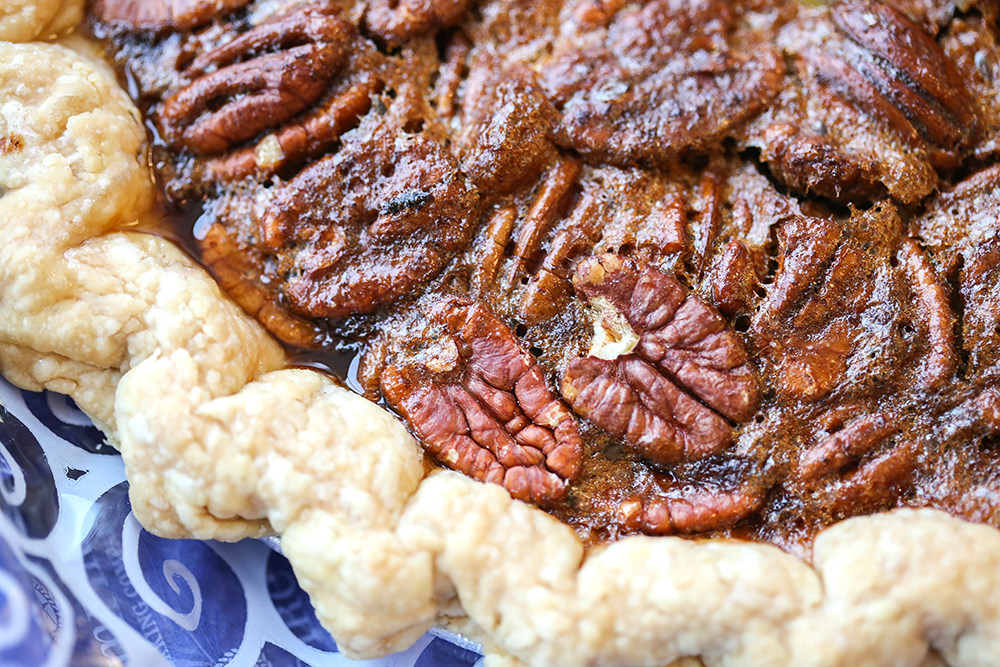 Make These Plant-Based Winter Holiday Recipes
Lentil-quinoa loaf, mashed sweet potatoes, and maple pecan pie, please.
James McGee of Peace. Love. & Eatz Smoothie Bar is one of the chefs we profiled in the April issue of D Magazine, in Dalila Thomas' stellar piece about the black-owned businesses spreading a gospel of enticing plant-based, vegan food. Re-read the profiles here. Then add these alternative vegan recipes to your holiday line-up. A hearty lentil loaf chock full of quinoa and stuffed with umami boosters, like nutritional yeast and coconut aminos. Silky sweet potatoes puréed with coconut milk and ginger. And a pecan pie whose guilt-free filling is sweetened with maple syrup and dates.
Lentil Loaf
INGREDIENTS
1/2 cup brown lentils
1/3 cup uncooked quinoa, millet, or similar cooking grain
2 bay leaves
2 1/4 cups of water
2 tsp grapeseed oil
3/4 cup diced onion
5 cloves garlic, minced
1 jalapeño chopped (optional) but do it
1/2 cup celery, finely chopped
1/2 cup carrots, thinly sliced or grated
1/2 tsp dried thyme
1/2 tsp dried oregano
2 tbsp flaxmeal or chia seed meal
1 to 2 Tbsp coconut aminos (an alternative to soy sauce, available at groceries like Whole Foods, Central Market, and Cox Farms Market)
2 Tbsp tahini (sesame paste)
1 to 2 Tbsp nutritional yeast
1/4 tsp coarsely ground fennel seeds
1/2 cup ground quinoa (can be ground in a food processor or blender)
GLAZE
1/2 tsp tamarind paste
1 tsp molasses
1 tsp vinegar
1/2 tsp ground mustard
2 to 3 Tbsp ketchup
INSTRUCTIONS
1. Combine lentils, bay leaf, and water in a pan over medium heat. Bring to a boil and cook for 20 minutes.
2. Wash the quinoa, add to the pan, partially cover and continue to cook until both are very tender and easily mashed. (You want to slightly over-cook the lentils). Stir after 10 minutes so they don't stick to the pan. (Total 10-15 mins) Drain any excess water, remove bay leaf and transfer to a large bowl.
3. Heat oil in a skillet over medium heat. Add onions, garlic, and jalapeño and cook for 5 minutes, or until translucent.
4. Add celery, carrots, thyme, oregano, and mix well. Cook for 5 minutes or until the veggies are tender.
5. Add raisins and mix. Cook for 2 minutes. Take off heat.
6. Transfer the cooked veggies and flaxmeal to the bowl of lentils and quinoa. Mash the mixture using potato masher or hands, so that at least half the lentils and quinoa get well mashed. (You still want some whole lentils.)
7. Add sauces, tahini, nutritional yeast, and fennel seeds and mix well. Taste and add more sauces, herbs, and salt if needed.
8. Add ground quinoa. (To check if the mixture is the right consistency, make a burger patty. If the mixture is too sticky or pasty, add more ground quinoa. If it is too crumbly and doesn't stick together easily, add some wet ingredients or a flax egg. To make a flax egg, mix 1Tbsp flax meal with 3Tbsp water and let it sit until it thickens, about 15 minutes.)
9. Line a loaf pan with parchment paper.
10. Press the mixture into the pan. Pack well and even it out.
11. Make the glaze and spread over the top of the loaf.
12. Cover the loaf with foil and bake at 375ºF / 190ºC for 25 to 30 minutes. Bake uncovered for 5 to 10 minutes. Let it rest for 15 minutes before slicing.
---
Mashed Sweet Potatoes
INGREDIENTS
5-6 large sweet potatoes
14-ounce can of coconut milk
3/4 tsp ginger powder (or use a smaller quantity of fresh, grated)
1/2 tsp curry powder
2 Tbsp avocado oil
Salt and black pepper to taste
INSTRUCTIONS
1. Scrub sweet potatoes, peel, and chop into large chunks.
2. Using a large pot, cover sweet potatoes with water and bring to a boil. Allow sweet potatoes to simmer for at least 15 minutes, or until they are very soft, then drain.
3. Mash sweet potatoes to the desired consistency, then add coconut milk, ginger and curry powders, and avocado oil, mashing or puréeing until fully combined.
4. Season with salt and pepper to taste and serve.
---
Pecan Pie
Crust
INGREDIENTS
1 cup + 2 Tbsp all-purpose flour
1/4 cup coconut oil (solid)
1/2 tsp salt
1 Tbsp coconut sugar
3–4 Tbsp ice water
INSTRUCTIONS
1. Place flour, coconut sugar, and salt in food processor and pulse to combine.
2. Add coconut oil (must be solid, not melted) and pulse until mixture is crumbly.
3. Add 3 Tbsp ice water and pulse to combine. It should look like a dough and easily roll into a ball. If it doesn't, add remaining Tbsp of ice water and pulse to combine once again.
4. Transfer dough to a floured surface and roll into a circle that fits your pie tin. Carefully lift and place into pie dish, tucking in along the sides to fit properly. Trim excess dough with scissors.
5. Refrigerate while you prepare your pie filling.
Filling
INGREDIENTS
3/4 cup Medjool dates, pitted (about 6 ounces)
3/4 cup maple syrup
2 Tbsp ground flax seed
1 1/2 cups pecan halves, divided
1/4 tsp fine salt
INSTRUCTIONS
1. Preheat oven to 350ºF.
2. Press unbaked pie crust in a 9-inch pan. (You can use an unbaked store-bought crust, if you like.)
3. In a food processor or high-speed blender, combine dates, maple syrup, flax meal, 1/2 cup of pecans, and salt. Process until dates are broken down and you have a relatively smooth batter.
4. Pour 3/4 cup of the reserved pecan halves into pie crust and spread evenly. Pour batter over pecans and use a spatula to smooth evenly. Top pecan pie filling with the remaining 1/4 cup pecans, sprinkling over the top.
5. Bake at 350ºF for 45 minutes, or until top looks dry and edges of filling are firm to a light touch.
6. Allow pie to cool completely, about 2 hours. Place in the refrigerator to speed the process, if you'd like to. Serve chilled or at room temperature.
7. Leftover pie should be covered and can be stored on the counter for up to 3 days, or in the fridge for up to a week.