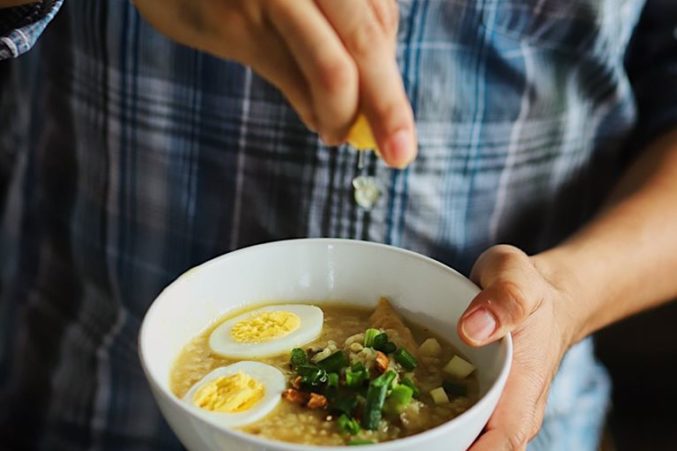 The Belmont Hotel Is Hosting an Arroz Caldo Pop-Up
Don't miss this soothing Filipino staple-with-a-twist from Not Your Lola's.
Daniel Gerona, Randall Braud, Jed Pajela, and Carlo Wayan, the powerhouse behind the modern Filipino pop-up Not Your Lola's, part of the exciting wave of groups introducing us to the food of the Philippines, wanted to squeeze one more pop-up in before year's end. They haven't done one since their kamayan in September, an evening of eating with one's hands from a feast presented on banana leaves in the intimate setting of Peja Krstic's Mot Hai Ba in Lakewood.
In the meantime, there were group events, among them the night market Hagfest at Sandwich Hag, Chefs for Farmers (Not Your Lola's were the only pop-up crew featured), and an appearance in Shreveport, Louisiana. But nothing solo. Their next pop-up will be at the Belmont Hotel on December 8.
They wanted to do arroz caldo. It's tied to the weather—and "the nostalgia aspect," says Braud. Arroz caldo is a classic creamy, savory rice porridge fragrant with ginger, laced with chicken, traditionally garnished with toasted garlic, scallions, and hard-cooked egg. It's not so different from the soothing Chinese rice porridge congee, which can be topped with fermented vegetables, a drizzle of sesame oil, dried shrimp or scallop, bits of cruller or shiitake mushrooms to pump up the umami flavors. Their idea was "tons of toppings and a lot of love and care into the base porridge," says Braud.
Each of the guys had a strong arroz caldo game: long-grain rice versus short, thicker like porridge or soupier in the style of congee. For their pop-up, that takes the model of the ramen shop, they'll offer bowls of porridge with mix-and-match toppings.
"We want to do something different that's exciting. [There's] everyone's traditional [arroz caldo] from their region [of the Philippines]. But we wanted to let it be open and free-form. Not so adamantly traditional," Braud says.
At the Belmont the weekend after next, you'll find bowls garnished with six-minute eggs, garlic chips, fried shallots, pork floss, chicken skin chicharrones, fried tripe, chile or scallion oil, and of course the traditional scallions. Bottles of fish sauce and tart calamansi juice can add more punches. And kimchi. "Jed's been going pretty hard with his ferment game," Braud says of co-founder Pajela. As so many groups picking up the mantle of Filipino food, Not Your Lola's is broadening the palette of references.
Also on the menu: champorado, a rich, warm, breakfast porridge bulked up with cocoa, traditionally drizzled with evaporated milk—essentially a bowl full of chocolatey comfort with strong associations to the holidays. In addition to condensed milk, you'll find optional toppings of brûléed banana, toasted rice puffs, or toasted coconut. A sheet of paper will record your order check-box style: a check-list for flavor and bliss.
Pop-up: Sunday, December 8, 11am-3pm at the Belmont Hotel
Looking ahead:
I love the thinking that has gone into a simple bowl of rice porridge, perfect for wintertime. But it's also a precursor to a project slated for next summer. Braud and Josh Harmon, who is currently opening Birdiebop, a Korean fried chicken join in Fort Worth, and the Belmont Hotel's dining facilities in Dallas, envision an arroz caldo shop as part of the new AT&T Discovery District development downtown–2.4-acres and $100 million worth of public space and dining between Commerce and Jackson Streets. They'll be part of the second run of openings, so sometime around July, Harmon says.
For that venture, they're envisioning something small by dynamic, with an adventurous arroz-caldo menu, maybe with Filipino coffee and taho, a goblet of silken tofu with caramel sauce and tiny tapioca pearls that's sold warm by vendors on the streets in the Philippines. Get hungry.