The Big Tex Choice Awards took 49 new foods and judged them, eventually picking 10 to go forward to the championship. At the State Fair this year, you can choose from 28 throughout the park. Here is where to find them. (For your reference: Best Taste—Savory went to Ruth's Stuffed Fried Cone; Best Taste—Sweet went to Big Red Chicken Bread; and Most Creative went to the Fla'Mango Tango. Open up this map in a new tab and plan your trip.)
And, of course, don't forget that you can vote for your favorite Fair foods right here.
Calypso Island Shrimp Bowl by Stephen Alade: cabbage stir-fry with carrots, kale, scallions, ginger, and sweet red bell peppers, served on a yellow tropical rice topped with grilled Caribbean shrimp and a sweet and spicy tropical glaze.
Location: Doc's Street Grill
Fernie's Fried Burnt End Burrito by Winter Family Concessions: a large flour tortilla is slathered with cream cheese, bacon, cheese, and diced jalapeños. It's then layered with pepper jack cheese and burnt ends. It is folded into a burrito. And fried.
Location: The Dock, The Funnel Cake factory
Ruth's Stuffed Fried Mexi-Cone by Ruth Hauntz: slow-cooked barbacoa served in an ice cream cone-shaped tortilla shell with black beans and cilantro-lime rice. It is topped with pico de gallo, queso fresco, and homemade salsa verde.
Location: Ruth's Tamales
Southern Fried Chicken Fettuccine Alfredo Ball by Greg Parish: a fried ball, filled with fettuccine Alfredo, Southern-fried chicken bites, and fresh mozzarella cheese. The ball is garnished with house-made alfredo sauce, grated parmesan cheese, parsley, fresh basil, and cracked black pepper. It comes served with a side of flash-fried lemon-pepper asparagus spears, and a toasted garlic parmesan baguette.
Location: Southern Fried Chicken
Deep Fried Bayou Fruit Bites by Terrence & Lisa Henderson: fresh fruit wedges are battered, deep fried, and coated in a "secret sweet confection." (I don't know.) The bite is topped with whipped cream and drizzled with warm caramel sauce. Additional toppings include candy, chocolate chips, walnuts, pecans, and assorted berries.
Location: Taste of New Orleans
Fla'Mango Tango by The Garza Family: a creamy mango pastry is fried and drizzled with a citrus glaze. It's topped with whipped cream and served with a side of strawberry-mango sorbet.
Location: Ranchero Deep Fried Love, Ranchero Norteno 
Peanut Butter Cup Snookie by Michelle Edwards: a warm peanut butter cup cookie with vanilla ice cream topped with caramel and chocolate drizzle, whipped cream, and a cherry.
Location: Highland Park Soda Fountain
Quick-Fried "Black Gold" Truffles by Glen & Sherri Kusak: thin chocolate cookies are crushed into crumbs and combined with rich cream cheese. Mini white chocolate chips are added. They hand-roll the mix into balls and coat them in crushed vanilla wafers, Corn Flakes, cinnamon, and nutmeg, then fry them. The balls are topped with whipped cream and then drizzled with chocolate syrup and a cherry.
Location: Hans Mueller, Yokum Meat
Big Red Chicken Bread by Brent & Juan Reaves: a Big Red frosted doughnut topped with fried chicken.
Location: Smokey John's BBQ
Good Ole Creole Boudin Egg Roll with Pepper Jack Cheese: Seasoned rice blended with melted pepper jack cheese is rolled in a flaky wonton wrapper. It's deep fried and served with a splash of sweet chili dipping sauce.
Location: A Taste of New Orleans
Cajun Crab Bombs: Jumbo lump and backfin crab meat are mixed with egg, panko, and seasoning. A jumbo shrimp is placed in each "bomb," with the tail sticking out. The Crab Bombs are dusted with fish fry and Cajun seasoning before fried. They're served with remoulade sauce.
Location: Gulf Coast Grill
Cotton Candy Burrito: This dessert comes in two flavors: Lavender Bean Cheesecake and Chocolate Caramel. Lavender bean ice cream is draped in cheesecake flavored cotton candy and topped with sprinkles. Caramel Sea Salt Ice Cream is covered in chocolate flavored cotton candy and topped with sprinkles.
Location: Trio on the Green
Champagne Jell-O Hot Shot: Champagne, Chablis wine, and watermelon Jell-O are blended with jalapeños. They're served in a 3.25-ounce portion.
Location: Bailey's Deli
Chicks in a Cone: Fried popcorn chicken is seasoned with Cajun spices and scooped in a waffle cone. It's then drizzled with either a sweet or hot sauce.
Location: Stuffed Wings
Texas Cream Corn Casserole Fritters by Clint Probst: cream corn, kernel corn, sour cream, cheddar cheese, and cornbread mix are combined into a batter. Chopped bacon and diced jalapeños are added. The batter is then fried into fluffy pillows.
Location: Gulf Coast Grill, Crazy Otto's
Chuco's Churro's: Just a bunch of delicious churros.
Location: Chuco's Churreria
Deep Fried Chicken Cordon Bleu Stuffed Waffles: Deep-fried chicken cutlets are stuffed with Prosciutto di Parma (Italian ham), and Swiss cheese. It's all baked inside a waffle. Each waffle is dusted with a sweet and savory seasoning and served with a dipping sauce made from chipotle syrup.
Location: Scrumbscious Pie Shakes
Deep Fried Energy Bites: An energy bite made of peanut butter, chocolate, honey, oats, and coconut is fried in a sweet rolled oat batter and drizzled with an espresso chocolate glaze. It's and served on a bed of fried coconut shreds.
Location: Carousel Concessions
Deep-Fried Nutella Custard Stuffed French Toast: a sweet French toast sandwich is filled with Nutella, house-made vanilla custard, and crumbled bacon. It's then coated with a blend of breakfast cereals and deep fried. The sandwich is topped with whipped cream and a blueberry, raspberry, strawberry, lemonade purée.
Location: Scrumbscious Pie Shakes
Deep Fried Potato Salad: Eggs, potatoes, sweet relish, and onions are mashed together and rolled into a ball. The ball is tossed in Pearlie's house seasoning and deep fried.
Location: Pearlie's Southern Kitchen
Fried Southern Bourbon Bread Pudding: Bread pudding is soaked in milk, bourbon, brown sugar, and spices and then formed into a ball. The balls are hand-breaded with breadcrumbs and flash fried. They come served with a side of sweet bourbon glaze.
Location: Eat Crispies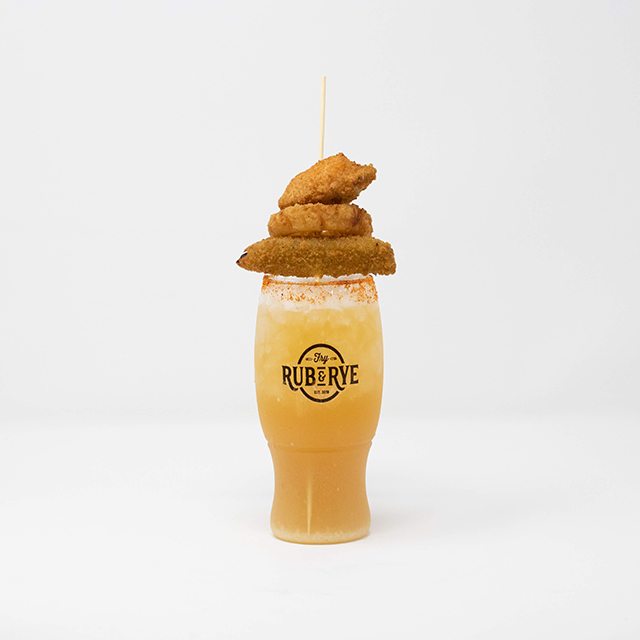 Fry Rub & Rye: Wine-based "whiskey" is mixed with egg whites, lemon juice, and maple syrup. The liquid is poured into a cup that's rimmed with mesquite barbecue rub. It's topped with a mango-infused beer.
Location: Rico's & Trio on the Green
Loaded Baked Potato Funnel Cake: A funnel cake that's dressed to resemble a loaded baked potato.
Location: Larry's
Nutty Bar-Bar:  Nutty Bars can be topped with items like colored sprinkles, toasted coconut, Butterfingers, or Rice Krispies, and nuts.
Location: Nutty Bar Stand
PB & J Bacon Pickle Dog: A dill pickle is rolled in batter and deep fried. It is served on a hot-dog-style sweet Hawaiian bun and topped with peanut butter and bacon jam.
Location: Benavides Nachos 
Pearlie's Parfaits: cream pudding is layered over a honey graham cracker crust and topped with whipped cream. Flavors: Death by Chocolate, Lemon Sunshine, Strawberry Fields, and Totally Nana' Sweet Banana Pudding.
Location: Pearlie's Southern Kitchen
Stuffed Turkey Leg: Smokey John's smoked turkey leg is topped with dirty rice, Cajun cream sauce, grilled shrimp, and a dusting of parmesan.
Location: Smokey John's
The "Ain't no Lie it's Fried" Steak: A 14-ounce strip steak is tenderized for five hours before it's fried.
Location: Vandalay Concessions
Get the SideDish Newsletter
Dallas' hottest dining news, recipes, and reviews served up fresh to your inbox each week.