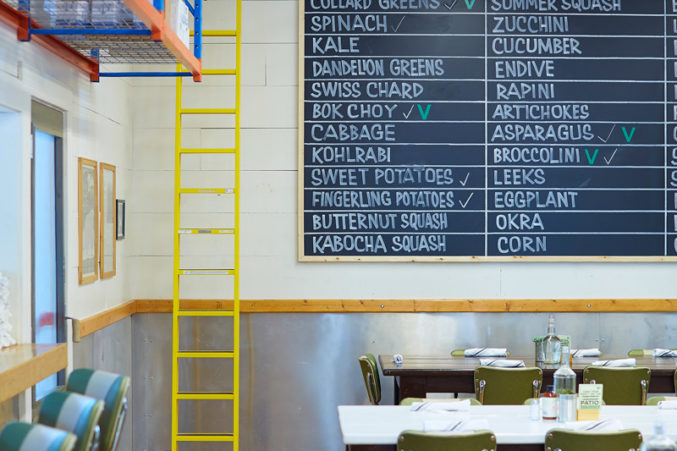 Mudhen Meat and Greens To Close Next Month
The anchor of the Farmers Market will shutter in November. Cry tears of vegetarian-vegan-paleo-keto sorrow.
Restaurateur Shannon Wynne has an announcement: Mudhen Meat and Greens' last day will be November 3. For those who hunted down vegetarian-friendly food, this is a death-knell to a spot that anchored the new Dallas Farmers Market from its inception. (There were jars of jams and mustards near the kitchen pass and hanging plants on the garden patio.)
"I apologize to all the folks in Dallas who appreciate clean and healthy options. I apologize to the vegans and vegetarians, locavores, paleophiles and keto-maniacs! We tried very hard to give you healthful options but in the end we were not successful in attracting enough people to drive all the way down to the Farmers Market to eat," writes Shannon Wynne in a press release.
"We firmly believe in a flexible low sugar, high plant-based diet, rare in the Dallas landscape. 'Killer food that won't kill you' was our mantra. We know all too well that many places claim to be "healthful" but still cram sugar and oil into their recipes. We were among only a few restaurants in town cooking meats at temperatures less than 300 degrees to avoid carcinogens, but in the end not enough people really cared. Lesson learned the hard way," Wynne continues. "Please join us to bid adieu to Mudhen before November 3rd and many thanks to all of our loyal customers."
It doesn't surprise me that, as a responsible restaurateur, Wynne is looking to re-shuffle staff into his other Moth Management restaurants in the city. No word yet on where chef Suki Otsuki will land next, though her vegan-paleo takes on everything from smoothies to desserts ( her carrot cake with parsnips, apples, raisins, and walnuts and her Chocovocado mousse topped with a raspberry and macadamia oil, for instance) were note-worthy. I still remember the version of cool key lime pie that whirled zucchini into magic a few years ago with coconut and lime.
We need more places that get us to eat veggies and think outside the box. And then we need to frequent them.