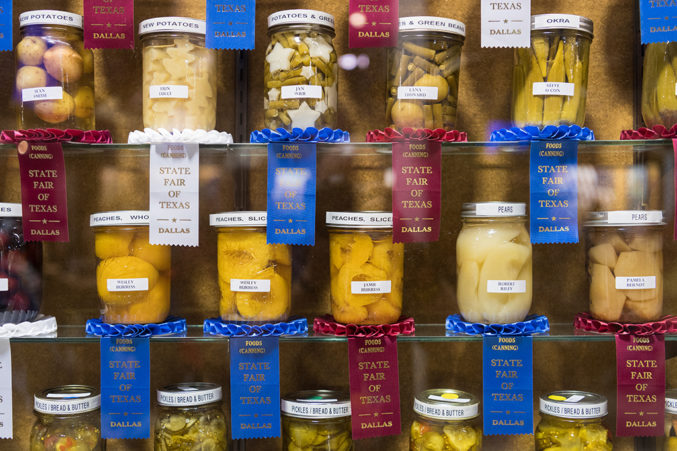 Meet the Canners: The State Fair of Texas Is Ready For Their Jelly (And Pickles)
Let's meet some of the winners of the annual pickling and jamming competitions at the State Fair.
If you've ever stopped to visit the butter sculpture at the State Fair of Texas, you've probably walked right past the canning wall in the Creative Arts Building. The colorful rows of jars contain a wide range of preserved treasures: vegetables, fruits, jellies, jams, marmalades, relishes, pickles, and fruit butters. We talked to three blue-ribbon winners to find out how they have managed to out-can the competition.
Rick DeOrdio, Arlington
2019 Awards: 1st Grapefruit Marmalade; 1st Orange Marmalade; 1st Two or More Fruits Combination Marmalade; 2nd Hot Jelly; 2nd Tropical Fruit Jelly; Honorable Mention Two Fruit Jelly; 1st Tropical Fruit Jam; 1st Three or More Fruits Combination
Day job: Assistant Director of Human Resources for DeSoto
Number of years entered: 6
Origin story: "Well, my mom used to make jams when we were kids. All the years I was growing up, we always helped my mom make jellies and jams every year. I've always loved citrus products, so I started experimenting with citrus for jams. My grandmother used to have marmalade when I would go over to her house, and I just thought I'd give it a try. It seemed to work out."
Fruit source: "My mom lives down in the Valley, and she's got an orange and grapefruit tree in her yard, so I go down there and pick my own and use that. My mom's got a grapefruit and an orange tree in her yard. She's got neighbors with lemons and limes, so they give me whatever fruit I want every year."
Sour secret: "Just time and patience. A lot of people don't like marmalade because they don't like that little bit of bitterness from the rind, but I like the balance it gives you with the sweetness of the jams."
Jam gems: "The three-fruit jam was strawberry, orange, cherry. I like the balance and the mixture of those flavors, so I did that as both a marmalade using the orange zest and as a jam without it, and they both won. My other favorite is my strawberry and ghost pepper jam. That one didn't win this year, but it seems to be a favorite of a lot of my friends."
Family affair: "My sister and I both make jam. She does it for a side business, and I do it just for fun and to give away as gifts for friends. She has about 56 different flavors that she sells at craft fairs. She's a pastry chef in St. Louis."
The mission: "My mom finally said, 'Stop sending me jam. I can't eat it all.' But I love it. To me, as a cook, there's nothing more satisfying than making something that your friends and relatives and people like. If you can make their taste buds happy, it's working."
Recipe: Rick DeOrdio's Blue Ribbon Cherry-Strawberry-Orange Jam
2 cups pitted, chopped cherries
4 medium oranges
2 cups crushed strawberries
1 package regular powdered fruit pectin
¼ cup freshly squeezed lemon juice
7 cups sugar

1. Cut the top and bottom off each orange. Going from the top down, slice off the pith and peel. Over a bowl, take the oranges and cut out each section and squeeze the remaining membrane to get as much juice and pulp as possible. Be sure to remove any seeds.

2. Place the crushed strawberries in a large, non-reactive pot. Add the cherries, orange sections, pectin, and lemon juice.

3. Heat the mixture on medium heat until a slow boil begins, stirring often to prevent burning the mixture. Then raise the heat to medium high and bring to a rolling boil. The mixture will start to thicken.

4. Add the sugar and stir constantly. Return the mixture to a rolling boil and check for consistency using a spoon until it no longer runs when you turn the spoon sideways.

5. Ladle the jam into hot jars, leaving a 1/4-inch headspace. Wipe the rims and lightly tighten the lids. Process filled jars in a boiling-water bath for 10 minutes.

6. Remove jars from water bath and place on a towel or wire cooling racks. Jam will set overnight.
Dianne Ragain, Dallas
2019 Awards: 2nd Apple Preserves; 1st Fruit and Berry Preserves; 1st Peach Preserves; 1st Pear Preserves; 2nd Plum Preserves; 3rd Strawberry Preserves; 1st Grape Jam
Former claim to fame: 1980 Miss Rodeo America
Former career: Flight attendant with Sunworld Airlines and airplane artist for Sunworld and Southwest Airlines. "In Las Vegas when I was with Sunworld, Jerry Tarkanian was the coach for the UNLV basketball team. The kids, they called him Tark the Shark. So when they were in the Final Four, they had me paint one of the 737s with the big shark mouth on it."
Origin story: "My mother used to have a cherry tree in her backyard, and she was so proud of her cherry jelly. The only way I really got into it was with my hand out, wanting jars on it. I never made it a day in my life. So last year, I decided I'm going to try my hand at making jelly. So I did it and I entered eight categories and won five. This year, I entered 10 and won seven categories. So I have had a ball. I never knew it would be so much fun."
Secret ingredient: "Well, just passion. My mother built in so much joy. She has inspired me through all of these baking contests, and pretty much everything I've won has been with one of her recipes that I've tweaked a little bit or done something with. I guess her passion for canning just kind of sparked an interest with myself. I just wanted to do it, too, and to more or less honor her, I think."
Fruit source: "You want to hear a funny thing? I found out my peach preserve won first place out of 37 entries. I was so shocked because my husband and I had made plans to go to Weatherford, to Kaufman, to all of these different peach farms. They even had the Georgia peach truck roll through in different places, and I totally forgot the weekend they were coming. I just totally spaced. So all my co-competitors were posting all these pictures of all of their beautiful peaches that they got at all the peach farms. And I missed it. I told my husband, 'I cannot believe this. I'm just going to have to run up to the grocery store and get my peaches.' So I went up to Tom Thumb and bought my peaches, and I'm like, I don't stand a chance. And I'll be darned if I didn't win first place out of all of these people picking up their peaches at the peach farm. That was such satisfaction."
New flavor: "My favorite one that I made was Candy Snap jam. It's a new variety of grapes that have come out. They have a strawberry, tropical flavor to them. I'm not a big fan of grape jam or jelly or anything like that, but this has got kind of a different flavor.
Side hustle: "I did enter the hobby categories. My husband gets in on that, too. That's kind of a fun category for us because we can pretty much just walk around the house and gather stuff up to enter. My whole house is vintage items and collectibles."
Cake walk: "The most exciting contest I entered was the cake contest last year. I had decided that I would never enter cake contests because I always think that's way out of my league; the ladies that enter this, they have the most beautiful cakes. They look like something out of a magazine, and they're sitting up on these beautiful pedestals always looking so pretty. Well, I didn't have a contest that I was planning on entering until later in the week, but I knew all my friends were going to be at the cake contest. So I thought, You know what? I need to just throw a cake in, and just make something and take it up there.
Well, you can enter five categories. Everybody that enters wheels in five cakes. So I brought my little wagon in. I had one cake, and I told my husband, I said, 'I guess I'm going to enter my grandmother's pound cake and we'll just see how it goes.' I've always had really good luck with my toffee. I said, 'I'm going to tweak it a little bit, and I'm going to crush toffee and put that across the top of it.'
I just wanted to enter this contest because I wanted to sit and visit with everybody. I didn't want to come empty-handed. So there's probably 10 different categories of cakes. Layer cakes, angel food cakes, upside-down cakes. And there's a pound cake category. So there's probably about 25 or 30 pound cakes on the table. And I look up and they pulled my pound cake for first place. Well, I just about died. So you know, I'm sitting there waiting to get my blue ribbon. Next thing you know, they start calling out the first place winner. They call out best of show, out of 159 entries, and mine won it. I got a standing ovation from the judges. It was the most surreal moment of my life."
Recipe: Dianne Ragain's Strawberry-Peach Preserves
2½ cups strawberries, roughly chopped
2½ cups peaches, roughly chopped
6½ cups sugar
½ teaspoon butter
2 tablespoons lemon juice
1 package powdered pectin

Directions: Combine fruit in a large sauce pan. Add powdered pectin, butter, and lemon juice. Stir on high heat to a rolling boil. Stir until mixture bubbles. Add sugar and bring to a roiling boil, stirring constantly, for one minute. Remove from heat and pour into hot sterilized jars. Seal jars and store in a cool, dark place.

Yield: 7 cups.
Rebecca Gaskin, Rhome
2019 Awards: 1st Canned Carrots; 1st Canned Corn; 1st Canned Whole Tomatoes; 3rd Canned Blueberries; 1st Canned Cherries; Honorable Mention Wild Plum Jelly
Number of years entered: 8
Number of ribbons: 25
The sauce that started it all: "We live on a ranch, and when the kids come and help us with cows or whatever, I would always make big meals. And I always made homemade barbecue sauce. On a dare back in 2012, I entered it in the state fair and it won first place. The next year I entered the barbecue sauce again; it won again. And so I am now bottling my barbecue sauce, and am trying to get it on the market. Right now you can order it on my Facebook page.
Down on the farm: "I grow all my own carrots, tomatoes. My wild plum jelly has won several times, and it's from the plums at my own place. The other fruits I always buy in local farmer's markets, because I want to support everybody as well as I want them to support me."
The legacy: "My 12-year-old granddaughter can cook just about anything, because she's learned from me. And the canning process, I really think it's important to pass this on. I mean, sure, I could go buy a jar of jelly or a jar of pickles for a lot cheaper and easier. But I'm teaching my grandchildren how to do it the way we used to do it, when our grandmas used to do it. It's something we should keep going."
Recipe: Rebecca Gaskin's Wild Plum Jelly
"There are wild plums growing at our ranch. We usually pick a couple of bushels each season. I boil the plums to extract the juice and then sift it through cheesecloth. I use enough juice to make two batches of jelly and freeze the remaining juice."
4 cups prepared plum juice
6½ cups sugar
1 pkg. liquid pectin

Directions: Prepare lids and jars, boiling in water. Place juice and pectin in a large saucepan and bring to a rolling boil. Add sugar and bring back to a rolling (the boil should continue even while stirring). Once a rolling boil is achieved, boil for one minute. Fill jars leaving ¼-inch headspace. Tighten seals and lids. Turn jar upside down for one minute, then place upright on the counter to cool.

Yield: 5–6 half-pints.