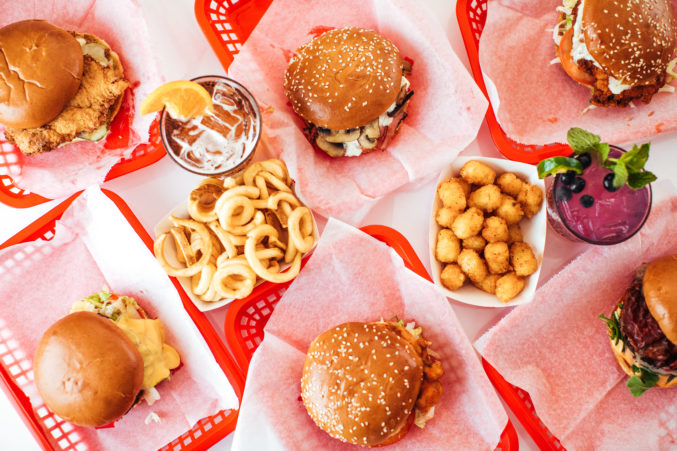 First Look: Top Round Brings Roast Beef and Burgers to East Dallas
It's the California restaurant's second foray into the city's dining scene.
The Old East Dallas intersection of Fitzhugh and Bryan has lately become one of my favorite food corners in this city. Some places like Jimmy's Food Store and Mai's have been there for a very long time. Some like Pickletopia and Bon Appetit darling Khao Noodle Shop are more recent additions. As of last month, Top Round is the newest member of the squad and has brought beef—and cheese "wizz"—to the mix.
Top Round's original North Texas location near Toyota Music Factory in Las Colinas—its first outside California—closed earlier this year, but this location will likely be better. It's in good company and has a cheery dog-friendly patio. But let's cut to the good stuff.
It was fairly empty on a recent Tuesday evening, but I did show up on the later side of dinner. The weather was temperate, so I opted to sit outside on one of the orange patio chairs and was greeted by a sign on the side of the building that said, "Hungry? That's What I Tot!" Having just finished a workout, I was indeed quite hungry, and so were my companions.
I went inside to order from the life-size menu, which was organized into four main sections: roast beef, chicken, burgers, and plants. From the roast beef, the man at the register recommended the Horse & Hole, a beef sandwich with roasted mushrooms, horseradish cream, and provel cheese. I also ordered the OG Chicken sandwich with pickles and mayo; the Wizz Burger with housemade cheese "wizz," caramelized onions, lettuce, and tomato, and the Buffalo Cauliflower sandwich that came with lettuce, tomato, and ranch on a sesame bun. I threw in a side of curly fries and a side of tater tots because they clearly take their tots seriously. To drink, we got a TR Ranch Water with pineapple jalapeño tequila and a frozen whiskey coke. The nice man at the register gave me a treat for my dog, which stopped her from begging for beef and tots for about 30 seconds.
The items came out on red trays that made for easy sharing. It's not meant to be fancy, and it doesn't need to be. This is the kind of place you visit super sweaty from a run and ready to get your hands messy with cheese "wizz" and spicy mustard and tangy horseradish cream. It's kid-friendly and adult-friendly, with a separate bar that has an order window outside, so you don't need to stray far to grab another drink.
Of everything I ate, my favorite was surprisingly not the roast beef. The flavors were there, but the beef could have been juicier. The burger, however, was tender, with the delightful cheese "wizz" oozing down the sides and taking me back to my childhood. And the cauliflower sandwich with buffalo sauce was a more-than-solid meat substitute for the vegetarians who might be dragged along. But the best thing I had was the chicken sandwich. Its buttermilk and pickle juice brine kept the surface perfectly crispy and locked the flavors into the meat. Between bites of burger and chicken, the tots were hard to put down. The fries, though, needed more seasoning when ordered plain. If I got them again, I'd slather that cheese "wizz" all over them.
At the end of the meal, we needed something sweet and ordered the banana cream pie custard combo with banana, wafer, brownie, and whipped cream. We finished every last spoonful. I've never seen my dog more jealous.