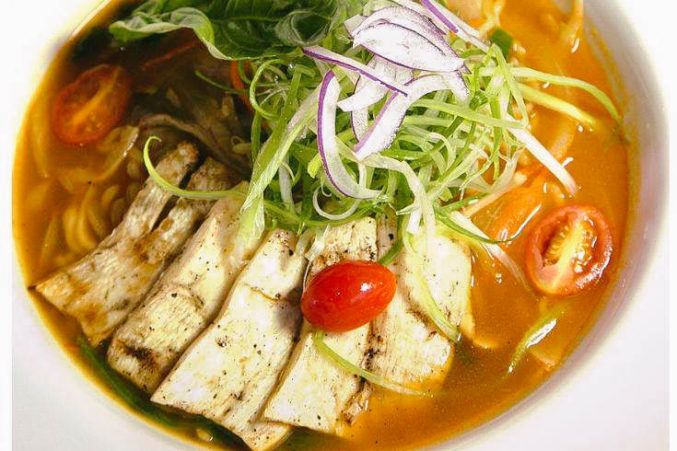 K's House Brings a Wide Variety of Korean Fare to Trinity Groves
Grill the meat at your table, and prepare yourself for practically never-ending banchan.
By Steven Lindsey
Published in Food & Drink
August 15, 2019
2:20 pm
At far too many Korean barbecue restaurants around town, there's such a fend-for-yourself aspect that it can lead to a lengthy meal with ho-hum results. It's dependent upon your personal grilling prowess and ability to hold a conversation while remembering when to flip your meat. Not sure about you, but undercooked chicken and shrimp terrifies me almost as much as overcooked beef makes me want to cry.
But the recently debuted K's House at the multi-use development Cypress at Trinity Groves (320 Singleton Blvd.) aims to do things differently.
My first visit was with a group of friends celebrating a birthday, so we opted for the traditional barbecue experience. Yet it was different—better, even—than expected. Owner Sammantha Kang was in the house that night, training her son in the fine arts of both grilling and customer service. When we ordered soju, the first thing Kang asked us was whether we knew the Korean custom for serving each other. None of us did, so she taught us that you never serve yourself, but always pour for others. Cheers to learning something new.
K's House allows  customers to order exactly what they want, unlike many all-you-can-eat places where everyone at the table has to opt in for the privilege. Here, you choose your own adventure. For the five of us, we decided to order from one of the set menus, which run $29.95 for what's technically one serving.
We mixed and matched three choices, which included a variety of beef, pork, and chicken. Each comes with a choice of three appetizers, so we opted for one each of dumplings, seafood pancakes, and Japchae, a popular noodle and vegetable dish. Combined with the nonstop delivery of banchan and rice, we had more than enough food.
Best of all, Kang coached her son throughout the grilling process. We never had to touch a set of tongs, other than to grab more meat from the ever-growing mound in front of us. Also worth noting, the down-draft grilling tables keep the place completely smoke-free and we actually left not smelling like we'd worked the lunch rush at Whataburger.
Quickly circling back to the banchan, those Korean accompaniments, K's House really steps things up. The kimchi features cabbage imported from Korea (Kang insists that's what makes it better), and other options change daily depending on seasonality and the whims of the chef. This point was proven on our second visit because nearly half of the banchan selections were different than those served to us a week prior.
For this second dinner, we strictly ordered kitchen-prepared items of the menu (and the grand-opening special of $1 house sake). As fun and communal as the traditional barbecue situation is, we enjoyed the carefully-crafted dishes even more. We plowed through hot stone beef short rib bibimbap, chicken bulgogi bibimbap (sans the hot stone) for two, pork bulgogi tacos, and Korean-style dumpling ramen.
Even without asking, not every dish hit the table at once, which is always a nice touch for anyone wanting their food hot and fresh from start to finish. Surprisingly to us, especially on a 100-degree-plus day, the ramen was the winning dish. Silky, spicy-red broth cradled a thick cluster of noodles, four plump vegetable-filled dumplings, and a variety of herbs and fresh vegetables for one slurptastic, bowl-licking experience.
When you visit—and you must—don't be afraid to ask for help or guidance if you opt for the DIY grilling. You'll be much happier than winging it. Also, on our second visit, we weren't offered any insight into Korean dining customs, so we hope that will become a standard practice for all waitstaff, not just a bonus when the owner's around. Because imagine how wonderful it would be if every meal offered at least one new experience, whether it's trying an unfamiliar ingredient for the first time or learning a centuries-old tradition.