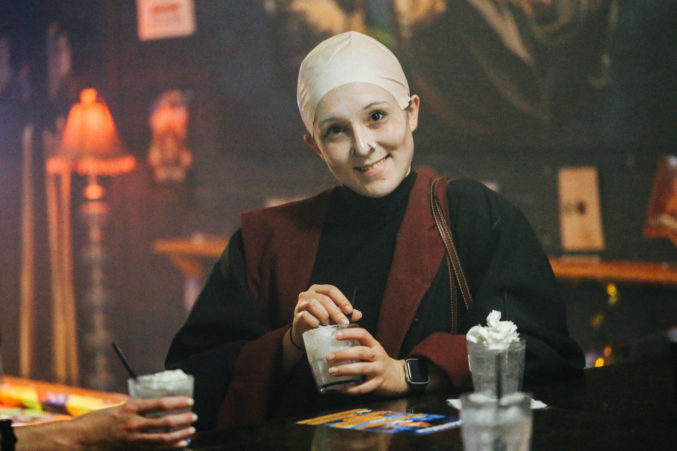 D Magazine's Biggest Harry Potter Fan Went to The Leaky Cauldron
The Harry Potter-themed pop-up bar is serving Butter Beers through September 7.
The Leaky Cauldron opened on August 8. The 31-day Harry Potter-themed pop-up bar, located inside what is generally known as The Whippersnapper, is bedecked with memorabilia and Potter-themed decor. There are Hogwarts House banners. There are floating (OK, dangling) battery-operated candles. There's a mostly-nude painting of Hermione Granger. On opening night, the staff was dressed as Harry and Dobby the House Elf. One woman was wearing a metallic gold bodysuit—she was the Snitch.
Harry Potter-themed cocktails flowed. There was a Fire Whiskey (basically an Old Fashioned), Dumbledrop (Deep Eddy lemon vodka, Sprite, whipped cream, and lemon zest), and a Butter Beer, which is simply a 40-ounce Miller Highlife.
Now, I'm a Harry Potter fan in that I've read all of the books and have seen all of the movies and have played Harry Potter and the Half-Blood Prince on a Nintendo Wii. (Fine. I beat the entire game 🤓) But there are millions of more qualified Harry Potter fans out there in the world. Heck, even in the D Magazine office. One such person is Carly Mann, the magazine's brand marketing manager.
Carly's House is Gryffindor. Her Patronus is a fox terrier. Her wand is elm wood with a phoenix feather core, 9 ¾, and solid flexibility (when she's dressed up as Voldemort). And her Ilvermorny House is Wampus. I don't even know what that means. But this is what she told me. And I believe her.
Last Wednesday, Carly, who was dressed in a bald cap and cape (She's Volde! Duh!), checked out The Leaky Cauldron. Here's what she thought.
So what makes you D Magazine's No. 1 Harry Potter fan?
My mom read the first three books to me because I was so young, and I probably couldn't read long books like that. But I started reading them with the fourth book. I went to every single premiere of every single movie. My mom actually was friends with someone who worked for Warner Brothers, so I got to go backstage.
Harry Potter was just such a big part of my childhood and as cheesy as it sounds, when I got older, and there was something tough going on in my life, I would play the Harry Potter movies and they always took me back to that time when I was five or seven years old, and watching Harry Potter for the first time. And when the soundtrack came on, I was like, 'You know what, no matter what's going on in life, everything's OK.'
I watched it a lot when I was first going abroad, and I was sad and it was dark and all my friends were back home. Harry Potter really brought me back home. It's always been kind of like a safety blanket for me.
What's your favorite book?
The Sorcerer's Stone.
Who's your favorite character?
Ron. For sure.
Why's that?
Because he's the funniest.
Would you go out with Ron Weasley?
He can make me laugh, so I think I would.
What would you do on your date?
We'd start with some Butter Beers at Three Broomsticks, then we'd head to the Shrieking Shack and have a shrieking good time. (That's probably not appropriate. Ha-ha.)
You're dressed as Voldemort. Why?
I've dressed up as Hermione twice now, so I thought, what's the next best thing? Harry Potter? Sure. But everyone's done that. I've dressed up as a dementor for a Harry Potter premiere before, but I thought, what is the craziest thing you could do? Buy a bald cap, be Voldemort. Be the person no one wants to be. Be Voldy.
We are here at the Harry Potter-themed pop-up bar. What are your initial thoughts? What do you think of it so far?
I really like it. I really do. I love the floating candles and I love all of the different houses on the wall. It feels great and they're playing the Harry Potter soundtrack, which really helps. And there's a lot of smoke. It's kind of grungy.
What are you drinking?
The Dumbledrop, which is Deep Eddy lemon vodka, Sprite, whipped cream, and lemon zest. It's a little sweet but I like how they put whipped cream on top to mirror Dumbledore's beard. Feels nice. Feels right.
How do you feel about the nude painting of Hermione on the wall?
I don't like it, I honestly don't. She's not a sexy character; there's a reason why she didn't pick Harry to be with her. She wasn't attracted to Harry, because she doesn't need him. She is a strong female lead, and she doesn't need to have a love interest with the hero, with 'The Chosen One.'
What about the painting of Dobby drinking a 40-ounce beer?
You know, it's OK, he's drinking, Dobby's allowed to have a good time, he's a free elf. He wears shoes, he does his thing. He is a single, independent elf, who don't need no master.
Would you return to The Leaky Cauldron?
I would, absolutely.